We use affiliate links. If you buy something through the links on this page, we may earn a commission at no cost to you. Learn more.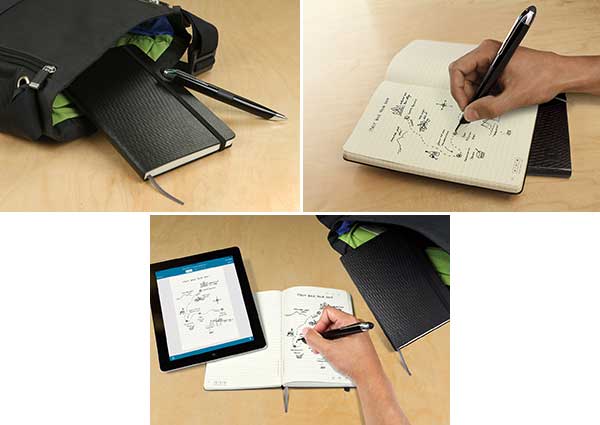 Livescribe smartpen fans who also happen to be fans of Moleskine notebooks will be happy to learn that these two companies have teamed up to offer a new series of Livescribe Notebooks by Moleskine. These notebooks have Moleskine's classic design features which includes ivory-colored acid-free paper, rounded corners, ribbon bookmark, elastic closure and an expanding inner pocket. Included in the notebook's back pocket are 2 bookmarks that include a full set of controls for each Livescribe smartpen. If you aren't familiar with Livescribe smartpens, they are an actual ink pen with electronics built in that sends each pen stroke in real time to an iOS device via Bluetooth, or via WiFi to Evernote or via USB to a computer depending on the Livescribe pen model. The pens can be used to capture drawings and notes from special Livescribe paper like the paper used in these new Moleskine notebooks to a computer or mobile device. The pen also records audio that can be linked to the written notes.
Limited stock of the new Livescribe Notebooks by Moleskine, including the #1 and #2 series journals, can be purchased now in the US and Canada on Livescribe.com and globally on Moleskine.com/Livescribe for $29.95.