We use affiliate links. If you buy something through the links on this page, we may earn a commission at no cost to you. Learn more.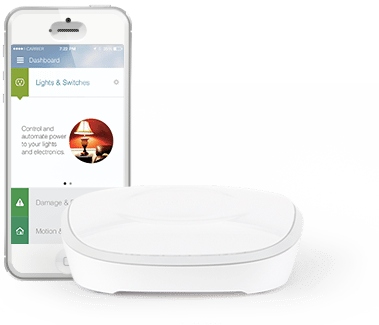 There are a lot of home automation devices out there, each with their own app. As you work towards the smart home of your dreams, before long, you'll have multiple apps for your multiple devices. You can simplify things by controlling everything with the SmartThings Hub and iOS/Android app (you'll need at least iOS 7.0 or Android 4.0). The Hub connects to your router via Ethernet cable and there are no monthly fees. "The SmartThings app and Hub will instantly connect to different sensors, locks, light switches, outlets, thermostats, and other compatible devices in your home… SmartThings is compatible with hundreds of smart devices from a variety of manufacturers." Some of those manufacturers are Honeywell, GE, Kwikset, Schlage, Trane, Phillips Hue, Sonos, Foscam, Belkin, Withings, and Ecobee. SmartThings uses an open platform that supports a myriad of Zigbee, Z-wave, and WiFi devices. In addition to the hub, you may buy other home automation devices from SmartThings like presence sensors, touchscreen or keypad locks, smart outlets and switches, and multi sensors (to detect changes in movement, temperature, etc.) to help you toward your smart home goal. Now when you leave the house you can turn off your lights, lock your doors, turn down your thermostat, open/close your garage door, and monitor your house while you're away – all from one app. It's almost like Sarah (the house) from the TV show Eureka!
The SmartThings Hub is available from SmartThings or Amazon for $99. The SmartThings Mobile app is available from the App Store on iTunes and Google Play for free.