We use affiliate links. If you buy something through the links on this page, we may earn a commission at no cost to you. Learn more.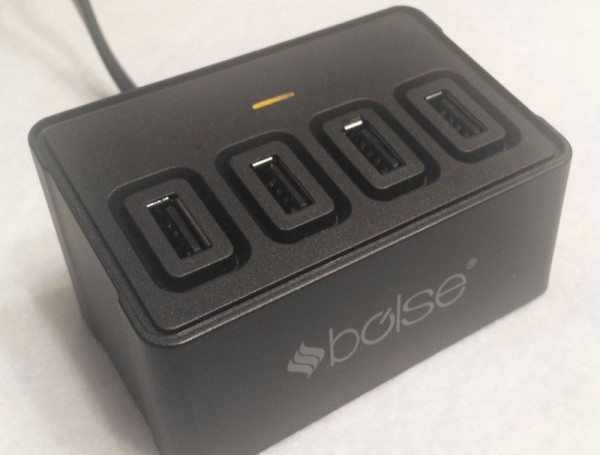 In my never-ending quest for power, with thirst-hungry gadgets all over my house, my car, and my office, one of the biggest problems I have is being able to charge multiple devices at once.  For example, when you travel and stay in hotel rooms, if you are lucky you have one of those lamps beside your bed that has a power outlet in the base so you can easily charge your phone at night. And maybe you'll have a power outlet on the room desk.  If not, then you have to do the dance of moving furniture and crawling around the floor to find an empty power outlet.  Or better yet, plug up your phone in the bathroom.  Yeah baby.  So I was excited to test the Bolse 4-port USB desktop charger to see if perhaps it could solve one of my biggest problems.  Let's find out.
At home the power outlet beside the bed is actually behind the headboard.  So when I have to unplug/plug up my gadgets to charge, I have to move the bed slightly and then do Olympic gymnastics to plug the cable up.  It's even worse in hotel rooms.  I hate it.  Plus, when you have as many gadgets as I and my wife do, we end up with gadgets plugged up all over the house because there simply aren't enough outlets in our bedroom to charge our gadgets and still have other stuff plugged up like lamps, radios, TVs, etc.  I imagine we are not alone.
Bolse Specs
Output : USB 5V 5A
Weight : 6.84 ounces
Product Dimensions : 3.35 x 1.77 x 1.97 inches
Cable Dimension : 4.9 Feet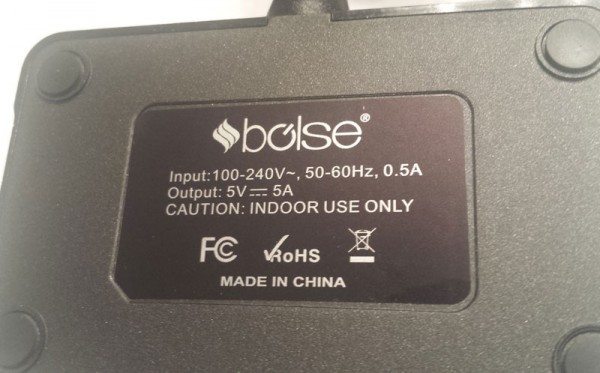 So the Bolse 4-port USB desktop charger is perfect for solving my main problem of having enough outlets.  For anything that charges via USB, the Bolse can handle it.  I can plug up the Bolse to the wall outlet behind the headboard and its 4.9 ft cable is plenty long enough to set it on my bedside table to gloriously charge 4 of my devices at the same time simply using the cable that came with the device, without the power brick that came with the device.  Here is a picture of my bedside table with my Nexus 7, Plantronics headset, and Galaxy S4 charging.  So aside from the mass of tangled wires, it's perfect.  Nothing a few rubber bands can't solve.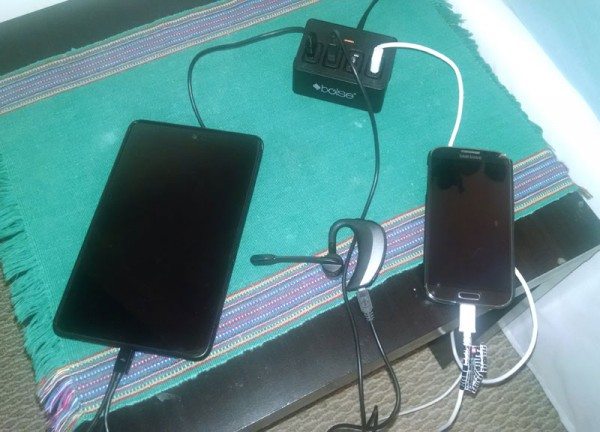 But now the question is how those ports perform, because as you know every device charges at different rates.  Some require a 1A charger and some require a 2.1A charger.  And larger devices like iPads and 10-inch tables pull more power than cellphones and require a bigger 'pipe' to charge their battery.
I have numerous portable power adapters that I have reviewed here on the Gadgeteer and I still use those devices daily.  The problem with those devices is that the number of ports is usually limited to 2 or 3 ports max, and each port is designed to work with specific devices.  So tablets that normally require a 2.1A port have to use that port to get the correct charge at the right speed, and cellphones that require a 1A port have to use those ports.  So the portable power adapters, while very convenient and handy, are somewhat limited because of those port limitations.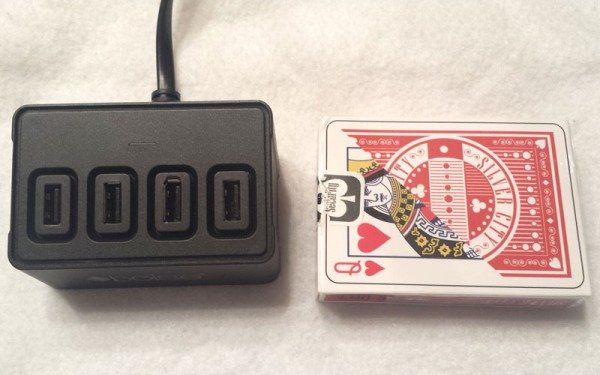 So the question is: how well do these ports work with various devices?  Bolse states that each port has SmartIC technology which senses the power requirements of the device and delivers a full-speed charge.  So you are supposed to be able to use any port with any device, and the Bolse will detect it and deliver the power needed at the full-charging speed of the device if you use the original cable that came with the device.  In my testing, this auto-detecting, full-charging speed feature worked with my Nexus 7 tablet and my Plantronics headset. Both of them charged at the exact same speed regardless if plugged to the wall with the original power brick or plugged via USB to the Bolse.
My Galaxy S4 however did not fair so well. The fist time I tested and compared the results I thought I timed it wrong.  So I did 3 more tests to confirm it.  The Bolse did not charge my Galaxy S4 as fast as the wall outlet using the same white cable that came with my phone.  Granted, my phone does not charge as fast after 1 years as it did when I first got it.  That's to be expected I think as a battery ages.  But if the Bolse claim is correct, that shouldn't matter. It should charge just as fast as a wall outlet. My phone takes 3 hrs and 20 min to charge via a wall outlet.  My phone takes 5 hours to fully charge with the Bolse. I am sure a battery expert can explain that, but I can't.  And I got consistent results all 4 times I tested it.
I do not have an iPad anymore, but I do know that iPads require much higher power output requirements to charge at full speed, and based on the wattage required for the iPad and the 25W limit of the Bolse, you can't charge 4 iPads at the same time with the Bolse.  It can't handle over 25W at a time, so if you are experiencing problems with the Bolse shutting down and a light on top of the device that is flashing, then you might want to check the total wattage requirements of what you are trying to charge.
Bottom line
The convenience of the Bolse is enough reason alone to buy this device, and the price of $18.99 on Amazon makes it almost a no-brainer.  But you might experience some spotty charging times like I did with my phone, so going into the purchase with that possible expectation will leave you with a better taste in your mouth.  I use it daily beside my bed and I now take it with me traveling and plug it up in the hotel room on the bedside table.  No more charging devices in the bathroom.  Who knew it could be this good??
Update 04/05/16
The Bolse is a gadget that is still in use on our bedside table. The long cord enables us to plug it up anywhere behind the bed, and it is super convenient to be able to plug up 4 devices at once to charge. My wife refuses to let me have it on my side of the bed… it must be on hers!
Source: The sample for this review was provided by MyBolse. Visit their site for more information and Amazon to order.

Product Information
Price:
$18.99
Manufacturer:
Bolse
Retailer:
Amazon.com
Pros:

Great size to carry with you
Awesome price
Charge 4 devices at once

Cons:

Limited to 25W
Still no way to clean up the wires