We use affiliate links. If you buy something through the links on this page, we may earn a commission at no cost to you. Learn more.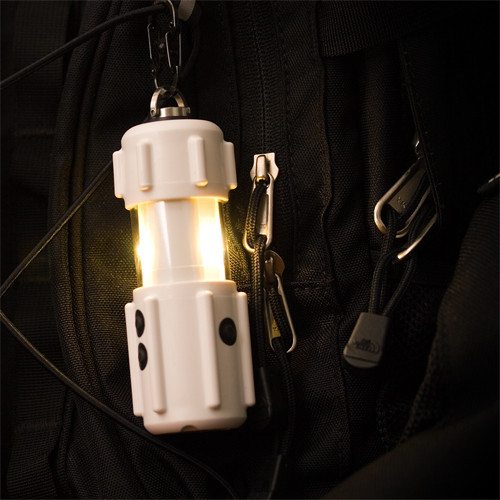 My son just entered Cub Scouts not too long ago, and that got me thinking about camping lights… or just any light.  I grew up with bulky steel flashlights that never lasted long, or fidgety gas Coleman lights that some unlucky adult was constantly pumping up.  How does a modern LED lamp, such as the RTG R-PAL Personal Area Light hold up?
All photos can be clicked for full size.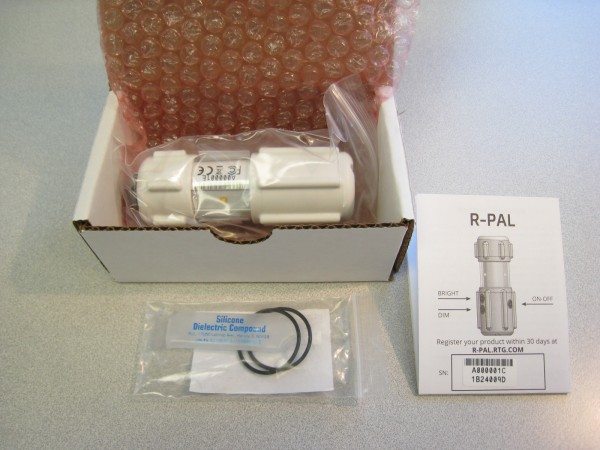 RTG is based out of Torrance, California, and the R-PAL was designed and built in the USA.  In the box you get the lamp, two extra o-rings, a small tube of ring lubricant, and instructions.
Model R-PAL
Weight 3.0 oz / 86 g (without battery)
4.7 oz / 134 g (with battery)
Dimensions Diameter = 1.6 in / 42 mm
Length = 4.1 in / 104 mm
Mounting Holes (2) 1/4″-20 x 0.28″ (For Tripod or Camera D-Ring)
O-Rings (2) AS568A-024
Fractional Size: Width = 1/16″, Inner Diameter = 1 1/8″, Outer Diameter = 1 1/4″
Battery (not included) Lithium-Ion 18650 Protected 3.7V
Average Battery Life 30 hours
LED Cree XLamp XB-D
LED CCT Range 3000K
LED Typical CRI >80
Light Output 2.3 – 300 lumens
Projection Angle 360°
Brightness Settings 15 logarithmic settings
Modes Normal, Flashing, SOS
Automatic Shut-Off Capable Yes
Automatic Shut-Off Time 18 min
Waterproof / Dustproof Rating IP67 (Protected against water immersion – Immersion for 30 minutes at a depth of 1 meter)
Temperature Rating -4 to 104°F / -20 to 40°C (limited by battery)
Impact Resistance 5 ft / 1.5m (excludes scuffing)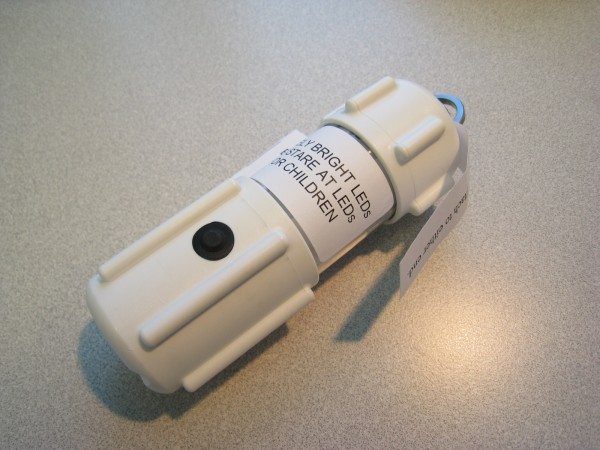 There's a warning label on the light.  Summary:  Very bright.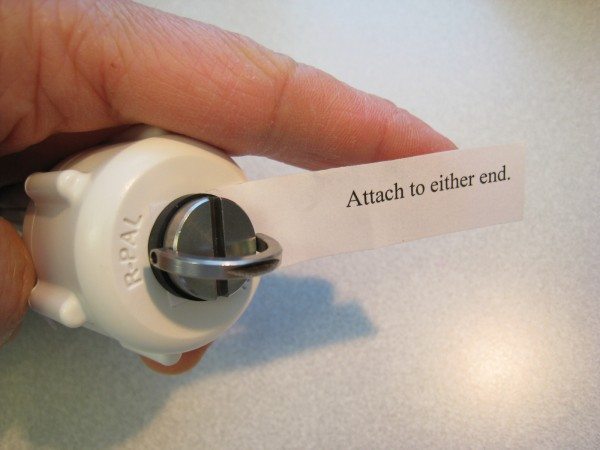 I found this fortune-cookie note looking thing at the end.  The R-PAL comes with a standard 1/4-20 threaded insert (same as camera tripod).  A nice D-Ring lanyard attachment came with it.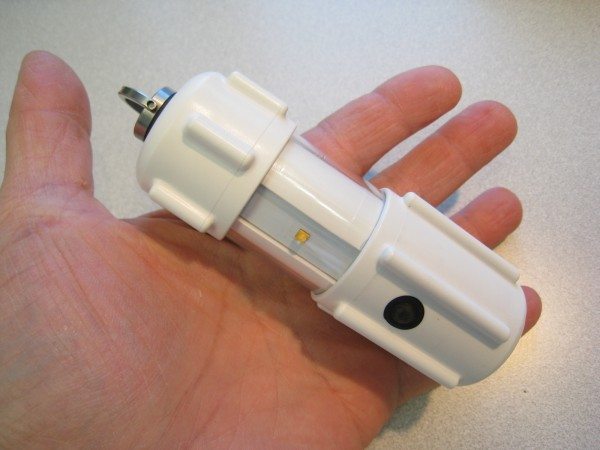 The R-PAL is impressively compact.  I can't help but think it resembles a home-made pipe-bomb made of hardware store bits.  I don't think I'd want to carry this through airport security.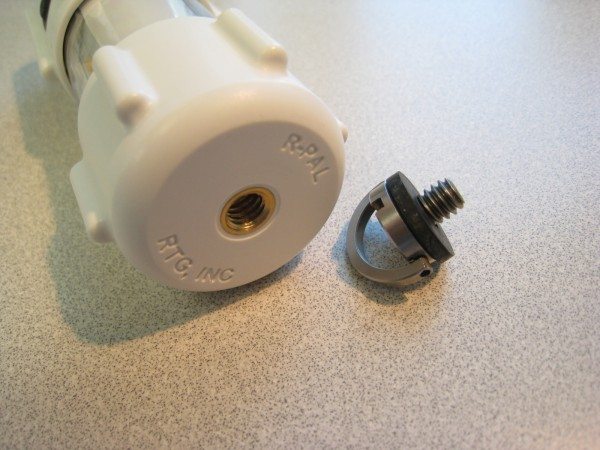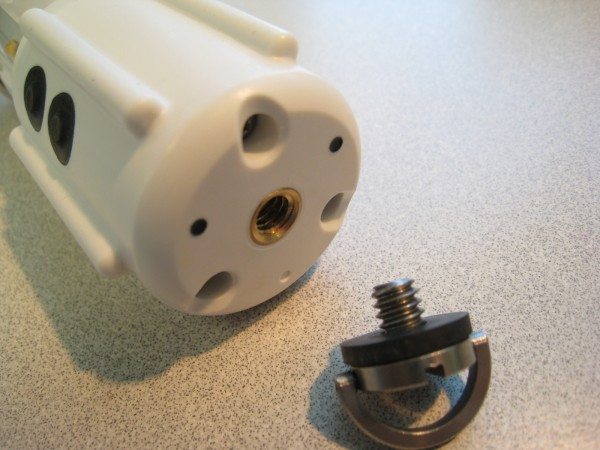 Closeup of the 1/4 -20 threaded ends.  To be clear, you get one single D-Ring attachment.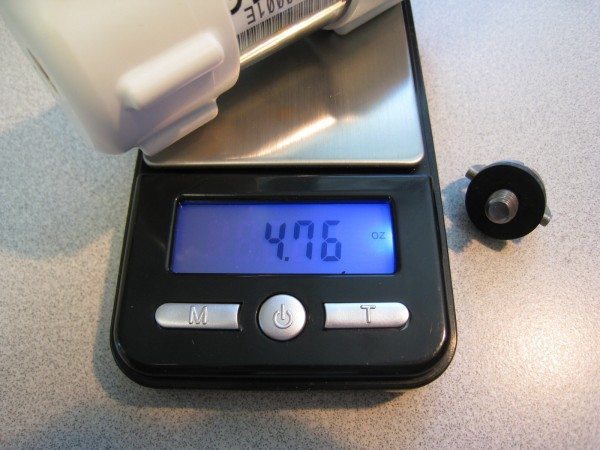 RTG boasts the R-PAL is lightweight.  Weighs under 5 ounces without the battery or D-Ring.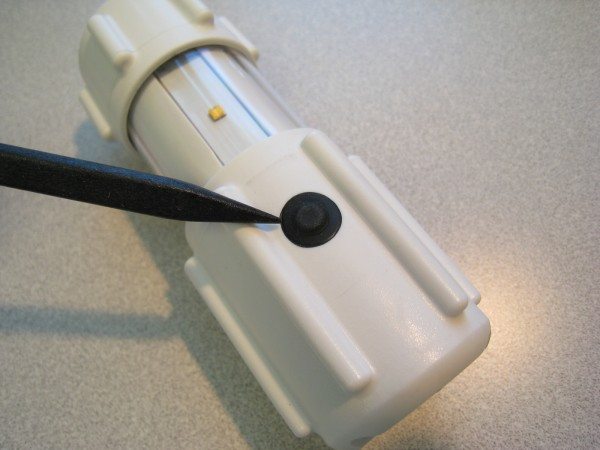 The R-PAL turns on and off with a single black membrane button.  There is little to no tactile feedback.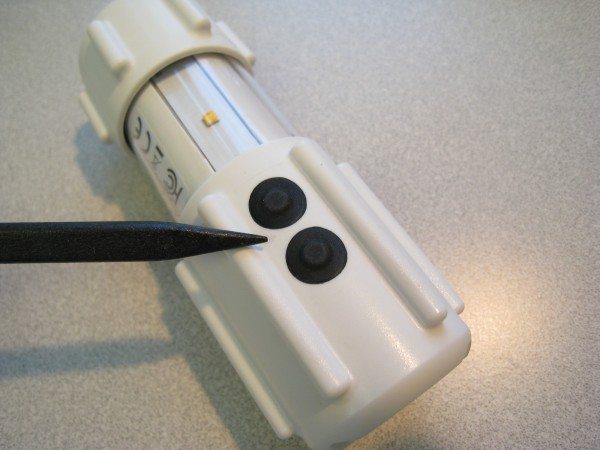 Around the corner you'll find two identical buttons.  These are the brightness controls.  There are 15 steps of brightness, up to 300 lumens maximum.
The two buttons also set other features, such as auto shut-off (15 min), flashing and SOS modes.  All modes retain memory, that is, the R-PAL will remember what mode you had it in after you turn it off.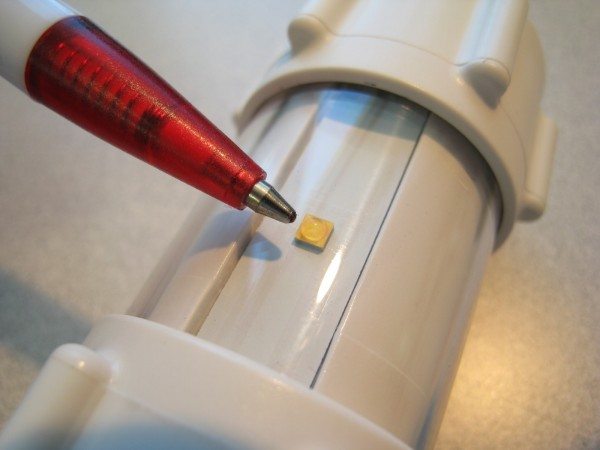 The actual LED itself (there are 3) is very tiny.  Here is one of them next to a ball point pen.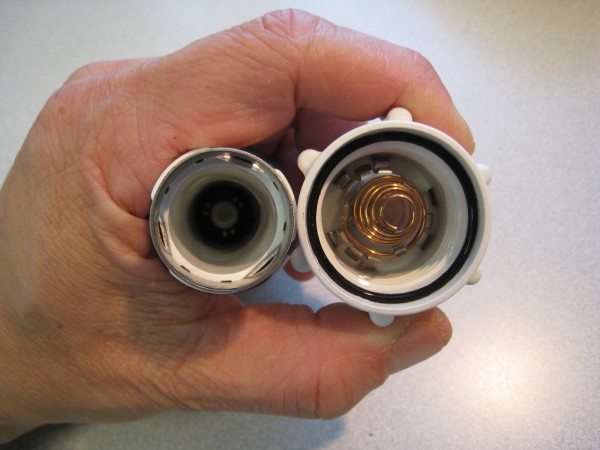 Unscrew the cap to load batteries.  The o-ring is lubricated, and the goop gets EVERYWHERE.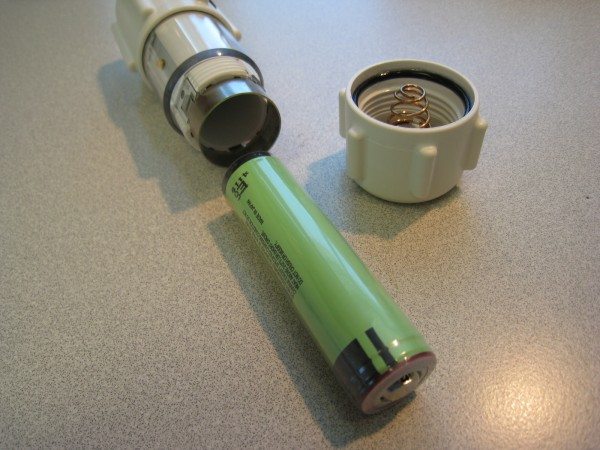 Battery is not included.  It takes a single lithium-ion 18650 rechargeable button-top.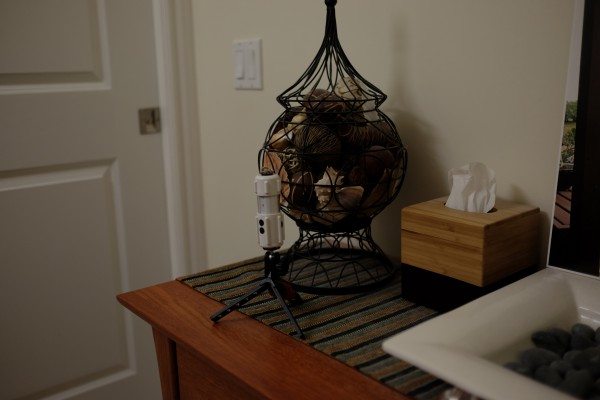 To test the the light, I placed it on a small tripod and stuck it in the only room I have that gets completely dark- the guest bathroom.  All photos were taken at f1.4 at 1/125 second, ISO400 (hence, the really crappy control shot above). Lowest setting (about 2.3 lumens)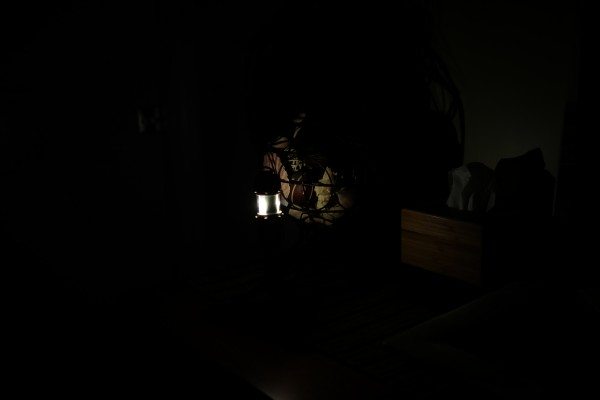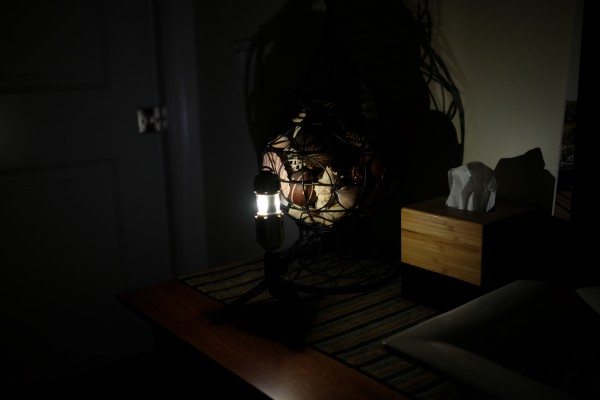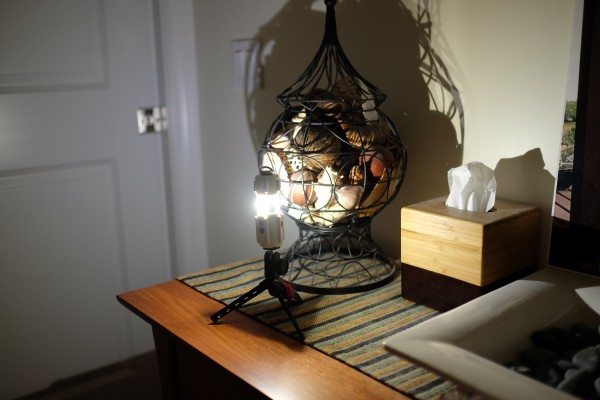 Brightest setting (about 300 lumens)
Remember that warning label?  Yes, the R-PAL is insanely bright.  It really hurt to look at it, and I was seeing spots for quite a while afterwards.  I think the R-PAL needs a diffused lens to "spread out" the light and make it not so intense.
You'll notice in the photos that the color temperature is pretty close to a regular incandescent bulb, which is "warmer".  The R-PAL is rated at 3000K.  "Hotter" color temperatures may appear whiter, but I think are a little less easy on the eyes.  I love the feel of the R-PAL's light.
I tested the light on a full charge, at full brightness, and stuck it in the closet.  It stayed pretty bright the entire time, then I went off to eat.  I came back at four hours (on the dot) and the lamp was off.  Turning it back on just let out a blink or two.  I was a little surprised there's no "moonlight" mode… where the light slowly tapers off to nothingness.
Despite being insanely eye-searing bright, the RTG R-PAL Personal Area Light is a compact, seemingly bomb-proof light I would happily carry with me on my next camping trip.  The tripod mounts and included D-ring attachment just make it that much more versatile.
Source: The sample for this review was provided by RTG. Please visit their site for more info.

Product Information
Price:
$129.95
Manufacturer:
RTG
Requirements:
Pros:

Compact and water-resistant
15 brightness settings and flash/SOS modes
Mode retention when shut off. Very bright 360-degree pattern
Pleasant 3000K color temperature
Handy D-ring included

Cons:

The non-diffused lens can be harsh on the eyes
Cost
Charger not included