We use affiliate links. If you buy something through the links on this page, we may earn a commission at no cost to you. Learn more.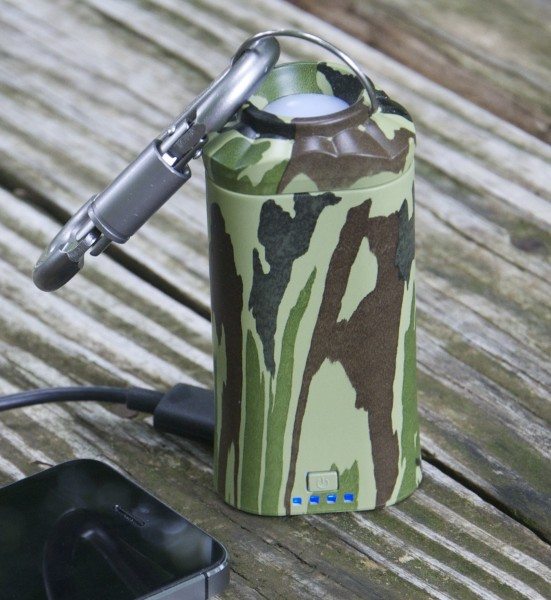 Flashlights are a long-time geek obsession. Recently, we've had to add USB chargers, just because so many of our devices charge this way. Imagine combining the two into a single, portable device. Mmmmmm… Geek heaven! Well, that's what the fine folks at RAVPower have done. The Dynamo On-the-Go Power Bank is a flashlight, a reading light, and a 7800 mAmp charger for your smartphones and such. I was sent one to try out in the only color available – camo!
Note: Images can be tapped or clicked for a larger size.
The overall form factor is that of a triangular cylinder just under four inches tall. The corners are very round, and the sides are just under two inches, so it fits easily in the hand. At 7.4 ounces, it's not going to wear anyone out to carry it.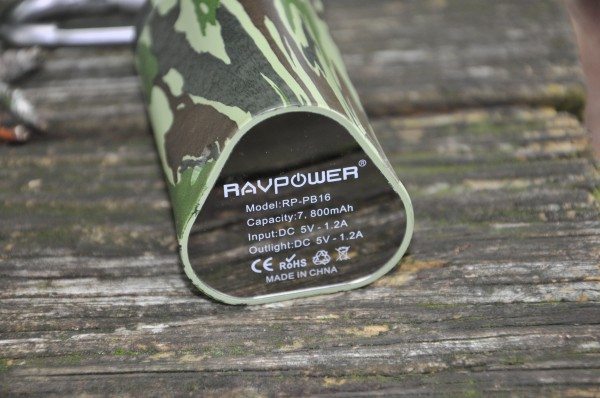 The base is a smooth stainless steel with power info etched in, and the top contains the focusing lens for the three LED bulbs in the top. (The specs say eight LEDs, but I can only see three working in either lighting mode.) Around the lens is a hanging hasp, so that the unit can be suspended from a hook or line with the included (not for climbing) carabiner.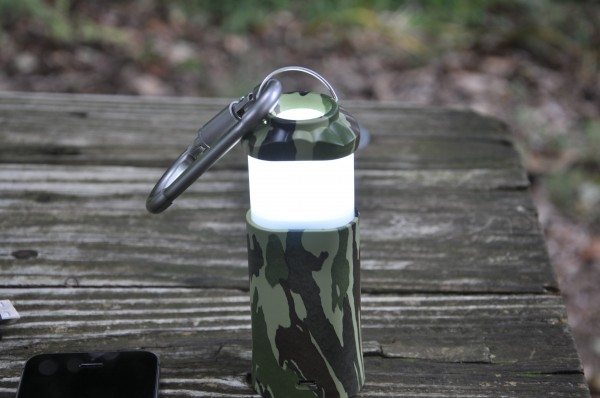 The top portion extends about an inch to reveal a frosted diffuser, turning the unit into a hanging area lamp. It will easily light most rooms at night, and sitting close by it, there is enough light for reading dead trees. The sides are covered with a flat, non-textured camo pattern, which makes this a nice unit for camping, hunting, and the like. Hanging this from the eave of any tent will give plenty of light for most camping needs.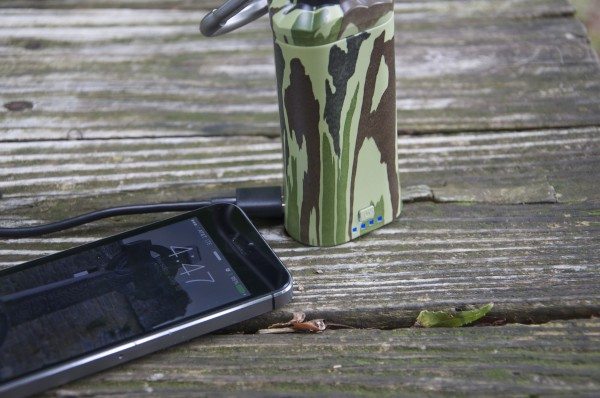 Along the three sides at the bottom are two ports and a button. Holding the button down for 2 seconds activates or deactivates the light. Holding it down briefly lights up a 4-LED "gas gauge" that will tell how much juice is left in the charge/light. Another side has a standard USB port, for charging your devices, and the last side has a miniUSB port for charging the RAVPower itself. (These are conveniently labeled "IN" and "OUT".) It will charge from any USB charger that works with computer, tablet, etc. Once I got it charged, it was work to discharge it. Output, however, is limited to 1.2 amps, which means that a phablet is not gonna charge quickly, and neither is your iPad. But the capacity is there to charge regular phones 3+ times, if you're not using them while they're charging. The included USB-to-miniUSB cable will work with all needs for everything but Apple devices. You'll need your Apple-specific cable for them.
The unit powers on as soon as you attach a cable to the "OUT" port, and turns itself off after a few seconds if no load is placed on the line. If you've connected a cable and one device is full, connecting another device will require you to unplug/plug in the output cable, or push the power button briefly to have the Dynamo start charging the new device.
All in all, this is quite a nice unit to have around. It's easy to drop in a pocket or bag, and while it's not going to endanger low-flying planes, it's enough light to see things inside the tent or spotlight things a few feet away, or to wreck your night vision, depending on how you like your outdoor adventures! The safety features (auto off when charged, holding down the button for 2 seconds to engage the light, so that it doesn't turn on in your bag) make it a step or three above some of the "no name" chargers you see in banner ads and in the dollar stores. Retails for $90, but I've seen it as low as $36 online. Full price, it's a nice unit, at the lower price point, this thing is a steal!
Source: The Dynamo On-the-Go Power bank sample was provided by RAVPower.
(Now only available through Amazon UK. See retailer link below)