We use affiliate links. If you buy something through the links on this page, we may earn a commission at no cost to you. Learn more.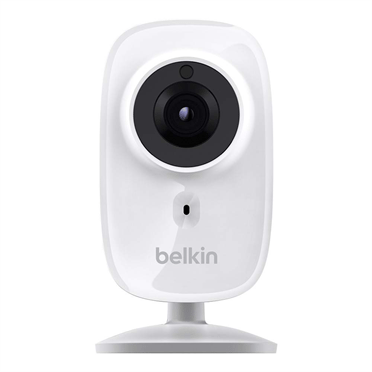 I've avoided playing with "home" monitoring cameras because (1) I live in a tiny condo in San Francisco, and (2) my son is 8 now and we're past the baby monitoring stage.  I do have friends and family with small children, so I figured I owed it to them to stay on top of this technology.  Today I'm looking at a Belkin Wi-Fi camera that boasts better image quality due to an actual glass lens.  This caught my attention.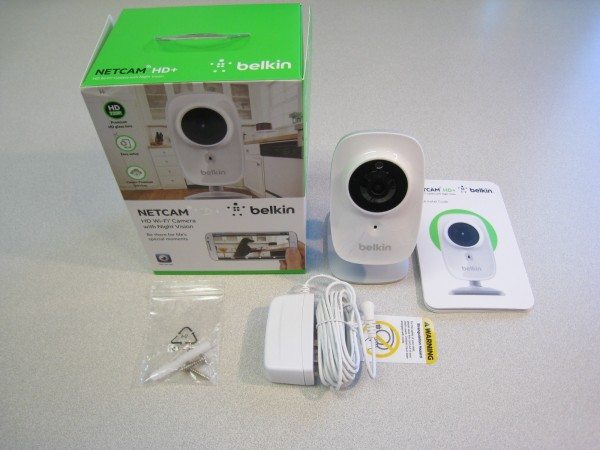 The Belkin comes with the power supply with a longer-than-average cord, instructions and some mounting screws.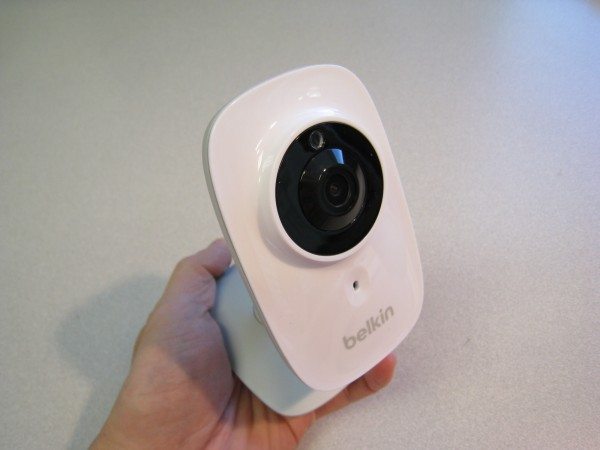 Antenna Form Factor: Internal
Lens Focal length: 3.37mm, F2.4
Image Sensor: 2M 1/3.2 inch CMOS sensor
Audio Compression: G.711, PCM
Buttons: Reset Button
Radio Frequency Band: 1 802.11b/g/n
Codecs: H.264
Resolution: 1280×720, 640×360, 320×180
Frame Rate: Up to 25 Frames per Second
Still Image Capture: 720P Still Capture
Video Features: Adjust Image Size and Quality
View Angle: Horizontal: 76°, Vertical: 57°, Diagonal: 95°
IR Mode: 4 IR LEDs, 850nm, IR-Cut, 8-meter illumination distance
Ambient Light Sensor: RoHS-compliant 560nm luminance detector
Audio In: Built-in microphone, -38 dB ± 2dB
Switch: Setup Mode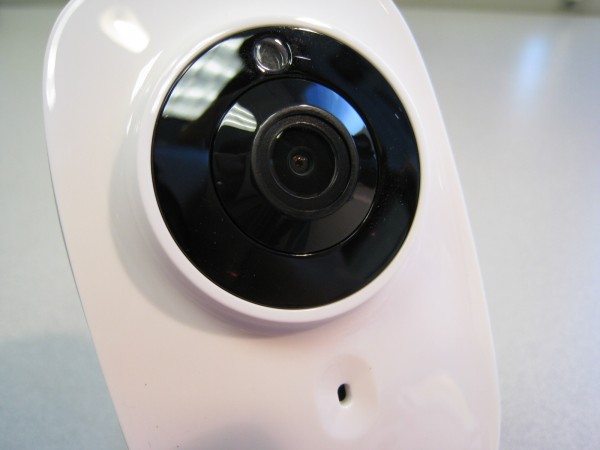 A closeup of the camera.  Somewhere, there's the much ballyhooed glass lens.  Belkin says the glass lens "allows for vibrant color and pristine detail".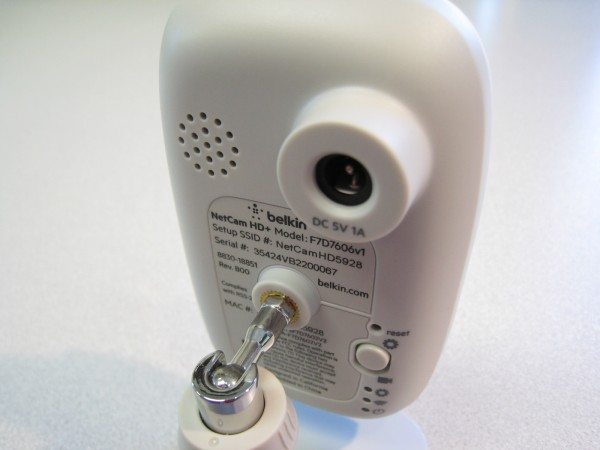 The back of the camera.  There's only one switch (the gear means setup, the camera means… uh, camera).  There's also a tiny reset hole above the switch.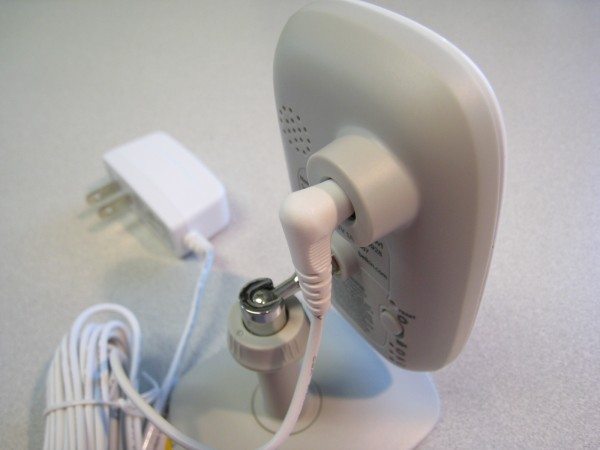 The included power supply plugs in the back.  I was pleased to see a sensible right-angle power plug.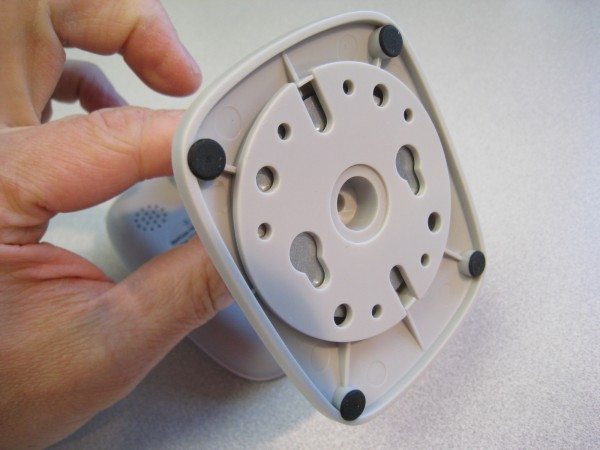 The bottom of the base has holes for mounting the camera with the included screws for a more permanent installation.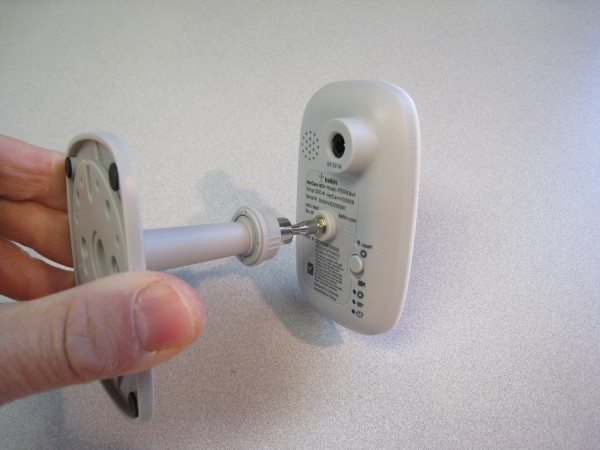 This is the camera set in a "vertical" position, if you were mount it against the wall.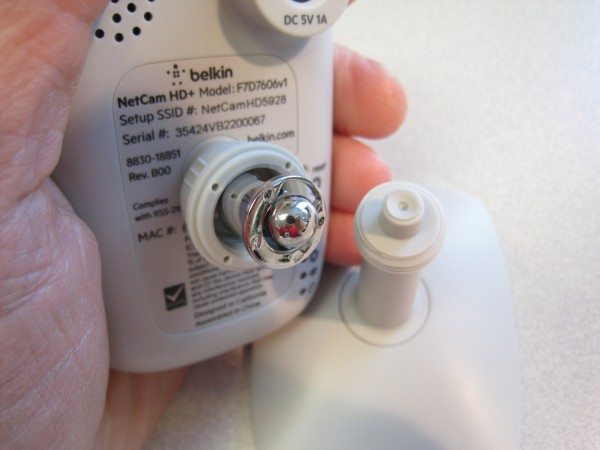 I took the ball joint apart and found the socket was just plastic.  That's okay.  The camera doesn't weigh much to begin with.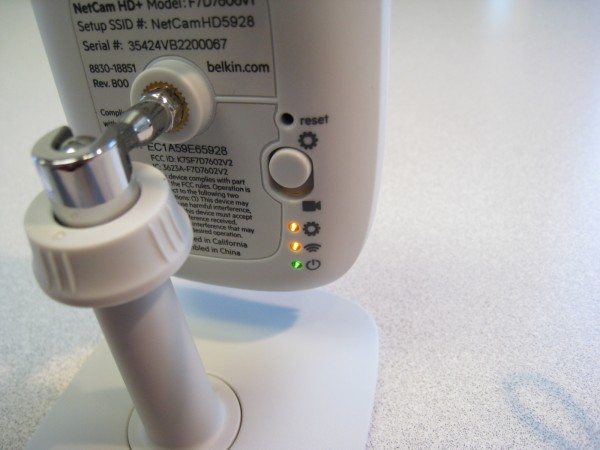 There are three LEDs for setup, signal, and power.  Amber means "not ready" and green means go.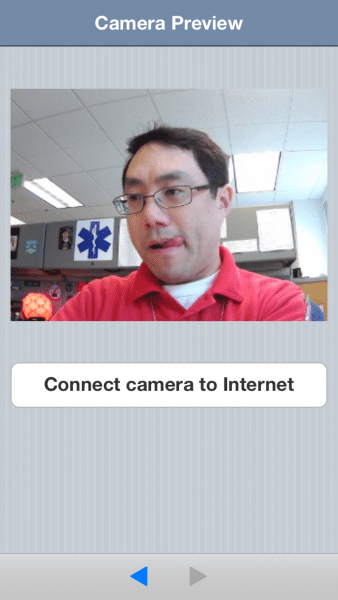 Belkin claims you don't need a computer to use the camera.  There is an iOS app on the App Store or an Android App.  Here I used my iPhone 5S to set things up.
To use the app, you connect your phone via wifi to the camera's on-board wifi.  Follow the on screen prompts from there.

From there, the app will reboot the camera and start up.
After that I ran into some problems.  The iOS app just kind of locked up, endlessly searching.  I may have gotten it to work once.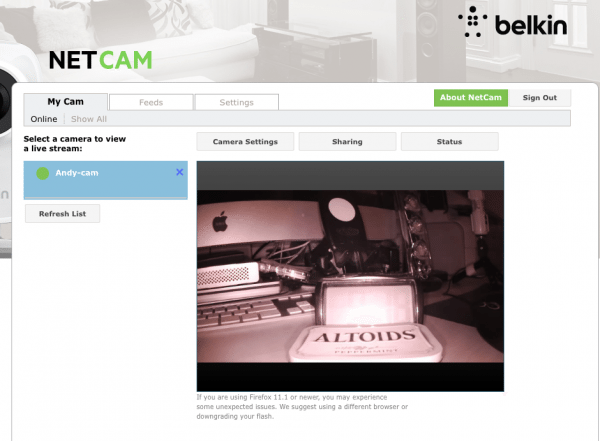 Fortunately, with nothing more than a browser, you can log in at netcam.belkin.com instead.  From there you can choose the camera you want to see, change settings, setup sharing and more.
Here is a control shot I took in low light of a clock and a box of mints.  To ensure this really worked, I logged in from the office, so I was sure this wasn't just limited within the same network.  Yup, no problem.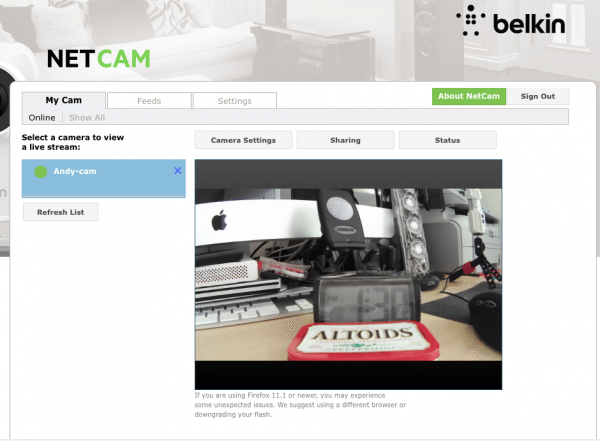 Here's the same clock and mints in the early afternoon.  Colors aren't bad, and you can definitely notice a bit of a "fisheye" effect.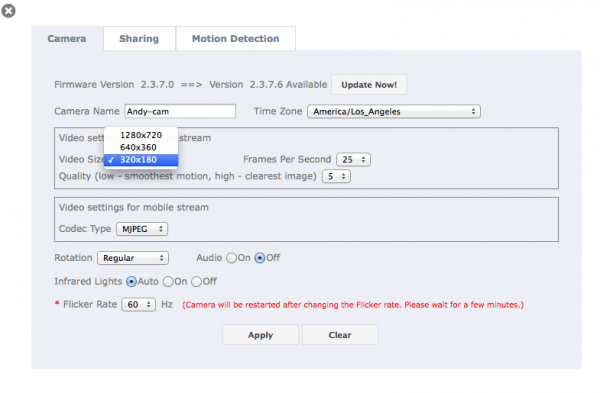 The setup screen allows you set from three different resolutions (up to 1280×720), framerates, and "quality".
Click on the full size screen captures for a bigger view.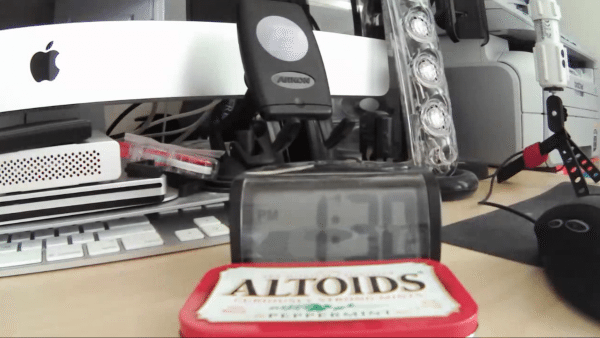 "Clock and Altoids" screen grab.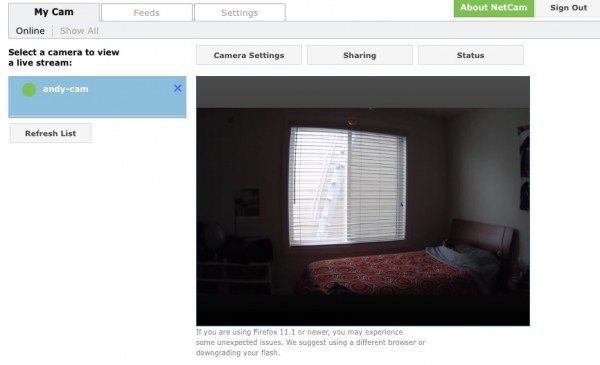 What practical use would I have for such a thing?  Well, kid monitoring comes to mind, so I set this up on a shelf in my son's room.  First I tested this during the day with an open window.  As predicted, the light alters the exposure so most of the room is dark.  There are no metering options on this camera.
Again, click on each image for full size.  There is quite a bit of image compression, but that's also due to the fact that I grabbed these off my 27″ iMac.  Camera resolution was set at 1280×720 at the time.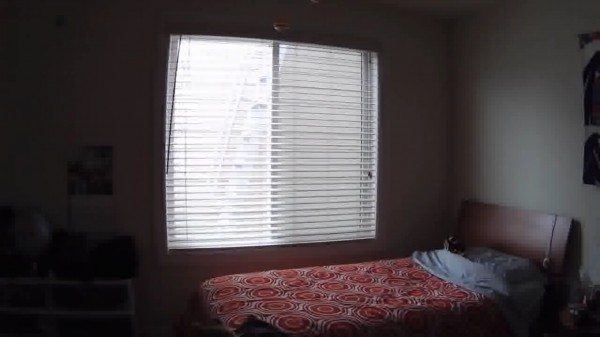 Blinds open, daytime.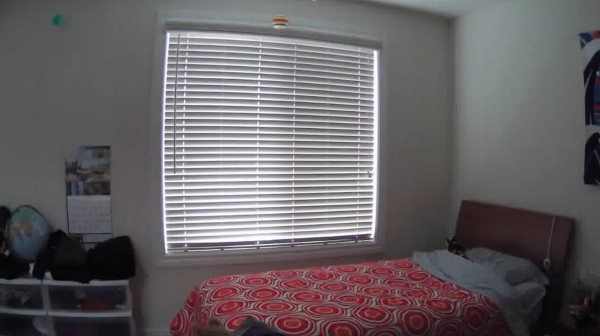 Blinds closed, daytime.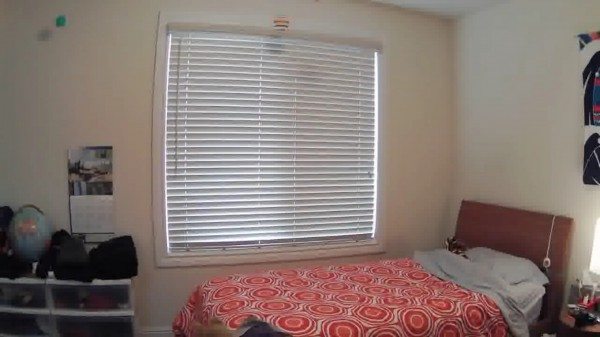 Blinds closed, daytime, with ceiling and desk lights on.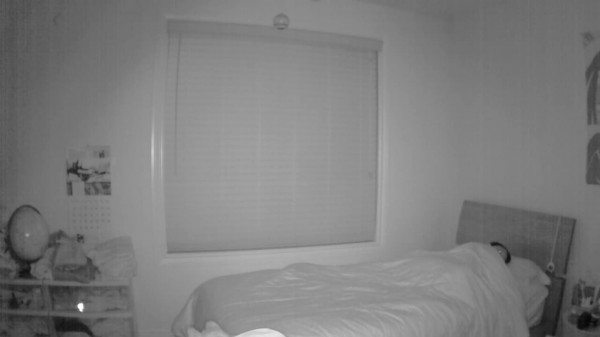 And bedtime!  This was taken at night, blinds closed, total darkness.
Four IR LEDs turn on to provide light for the camera.  Good enough to tell my son is in bed.  It's interesting to note that the orange circles on the bed spread are completely washed out.  The IR LEDs aren't good for stealth, however:  You can see faint red lights on the camera since they're of the 850 nm variety.
It's also worth noting that all of this is completely free to use.  However, if you want to be able to store video with push notifications, Belkin offers a Cloud+ Premium service.  Because I could not get the smartphone app to work correctly, I didn't set up the pay-to-play service.
The camera is also compatible with Belkin's WeMo series of home automation products
For ease of setup, the Belkin NetCam HD+ Wi-Fi Camera with Glass Lens and Night Vision is a pretty straightforward device that worked well once I got past the smartphone app hiccups.  I liked the night vision performance, though I wasn't crazy about the visibility of the IR LEDs.
Source: The sample for this review as provided by Belkin. Please visit their site for more info.
Product Information
Price:
$149.99 MSRP
Manufacturer:
Belkin
Requirements:

Apple devices with iOS 4.2 or higher: iPod touch, iPhone, and iPad. It also works with Android devices with version 2.2 or higher. A Wi-Fi router with an Internet connection is required.

Pros:

Easy setup, ready to go out of the box.
No additional subscription needed for basic operation.
Built-in IR-assisted night vision recording.
Belkin WeMo compatible.

Cons:

iOS app (at this time) doesn't work very consistently, but you'll only truly need it for setup.
IR LEDs are slightly visible (850 nm) in the dark.