We use affiliate links. If you buy something through the links on this page, we may earn a commission at no cost to you. Learn more.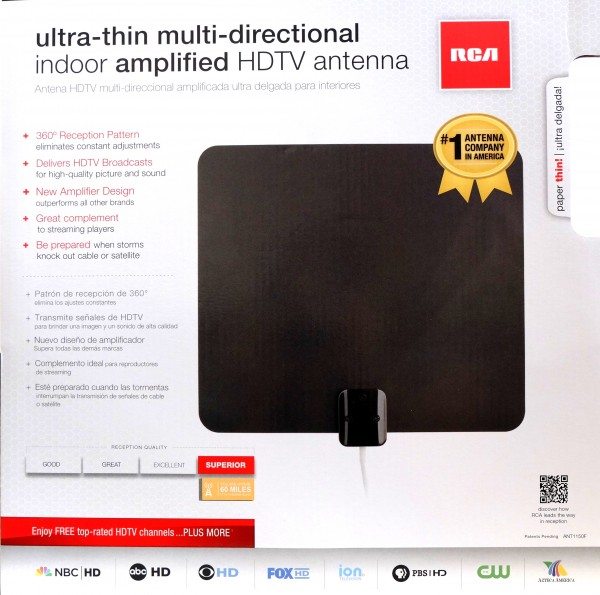 It's been about 12 years now since we've dropped cable TV. At the time, we were living paycheck to paycheck and decided that cable (among other things) was one of those expenses that was not necessary. We bought an antenna (rabbit ears style – they were cheap) to receive over-the-air (OTA) channels and dealt with the frustration of having to continually adjust the antenna to receive all of our channels while living in rural Wisconsin. Even though things have been better for us financially since we moved to Texas five years ago, we made the conscious decision not to go back to cable or satellite TV. Instead, like many people out there, we decided to continue using our antenna for OTA free channels and pay for streaming services like Netflix and Amazon Prime. The only thing we've neglected to do was update our antenna. Now that we live in Fort Worth, Texas, we get most of our channels clearly with our rabbit ears antenna and only have to adjust it for certain stations. This is still a frustration, so when given the chance to review the new RCA Ultra-thin Multi-directional Indoor Amplified HDTV Antenna, I was eager to give it a try.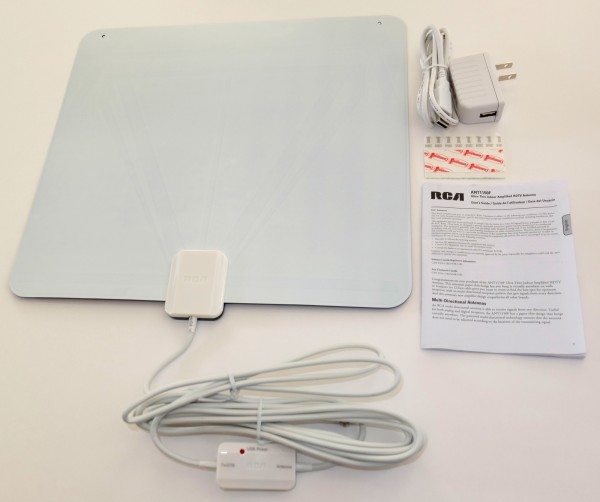 Package Contents:
Ultra-thin Indoor Amplified HDTV Antenna (ANT1150F – 60 mile range) with built-in 12′ coaxial cable and in-line amplifier
Removable two-sided mounting tape (3M Command Strips)
3′ USB to mini-USB power cable
USB power adapter
User's guide
Design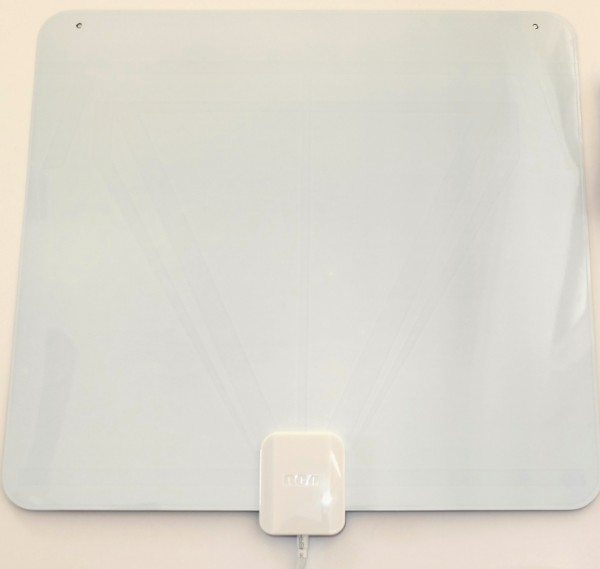 The white side of the antenna is shiny and reflective. The antenna itself is flexible but not flimsy and measures 13″ x 11.25″.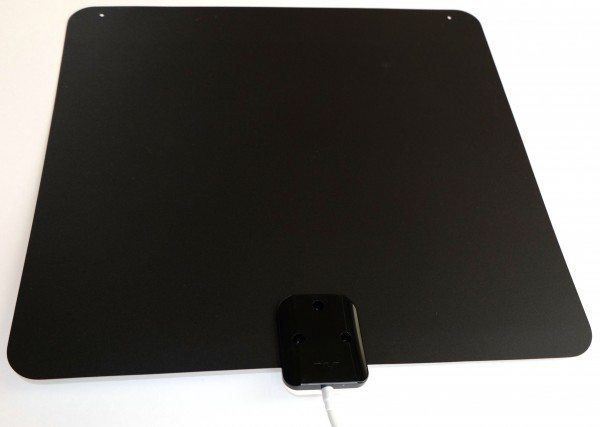 The reverse side of the antenna is black and has a matte finish. The antenna may be attached to the wall with either the white or black side showing.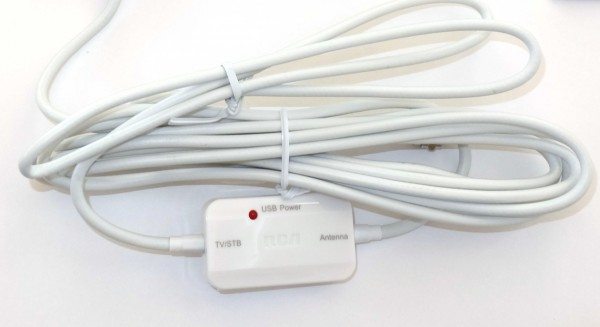 The antenna has an attached 12 foot length of coaxial cable with an in-line amplifier which uses RCA's SmartBoost technology, a "new amplifier design [that] outperforms all other brands and enhances reception of weak signals".
Setup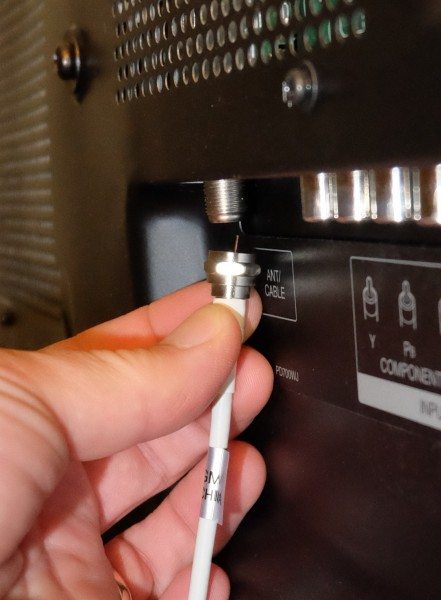 Setup was easy. The 12 foot length of coaxial cable was fully uncoiled and connected to the "Antenna" port on the TV (the TV was off).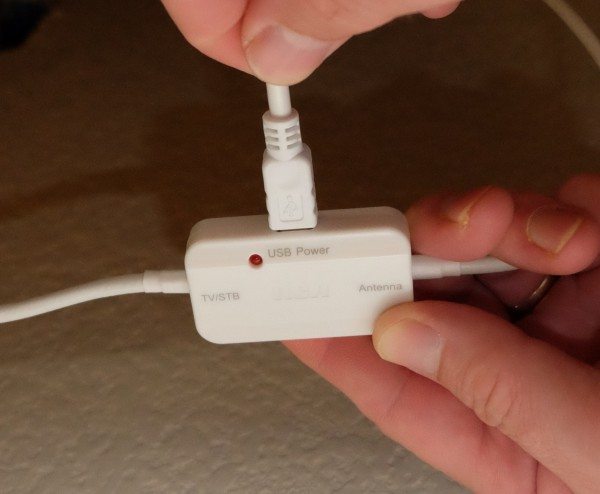 The mini-USB end of the USB power cable was inserted into the amplifier.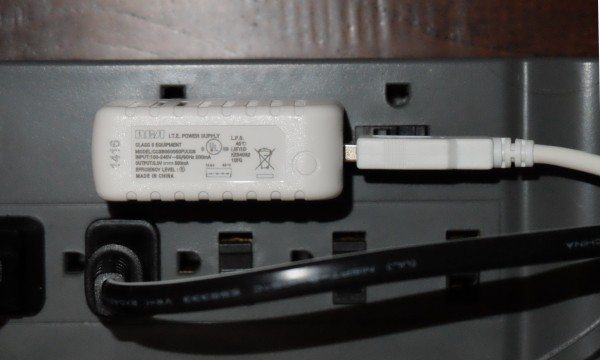 The USB A end of the power cable was then inserted into the power adapter but could also be plugged into a USB port on your TV.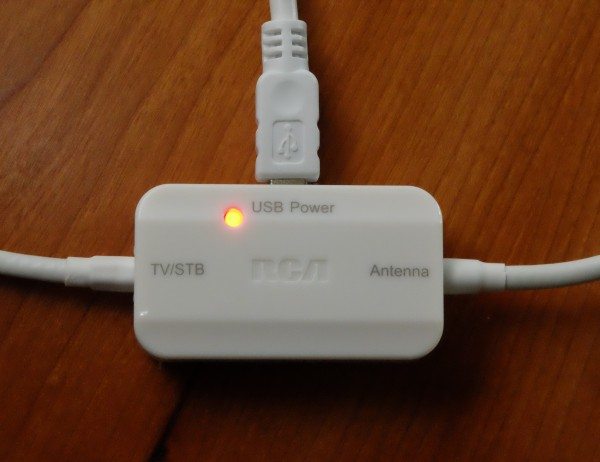 The indicator light on the amplifier shines red when receiving power.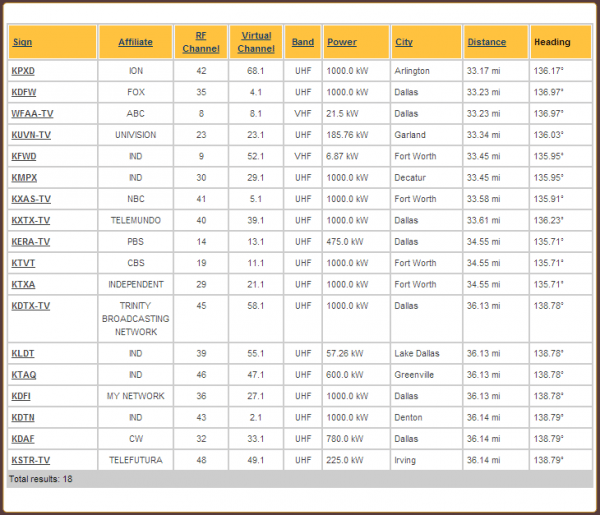 I used AntennaPoint.com to locate and determine the approximate distance from our area to the TV tower transmitters. From our location in northern Fort Worth, we were a little over 30 miles away from the major cluster of TV towers located near southern Dallas.
I also used the TV Set Free website to find all of the OTA channels available to us in the Dallas/Fort Worth area. There are 49 total channels available in our area; 34 English speaking channels, 14 Spanish channels one of which was analog, and one Asian channel.
Using the Antenna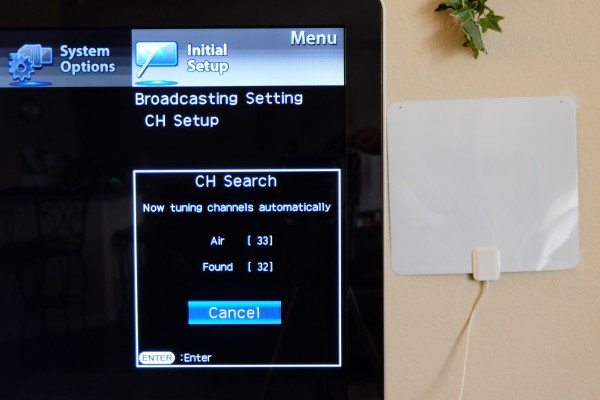 We live in a single family home within the city limits of Fort Worth and the terrain is relatively flat. Our TV is located on the north wall of our living room, thus the antenna had to be placed on that wall due to its 12 foot cord length. We used scotch tape to hang the antenna up temporarily in order to easily move it to find the most optimal placement before using the 3M Command adhesive strips. Initially, we tried hanging it right next to the TV and then performed a channel search. Even though all but one of the channels available to us but one were found, reception was not the best. There was some pixelation on many of the channels.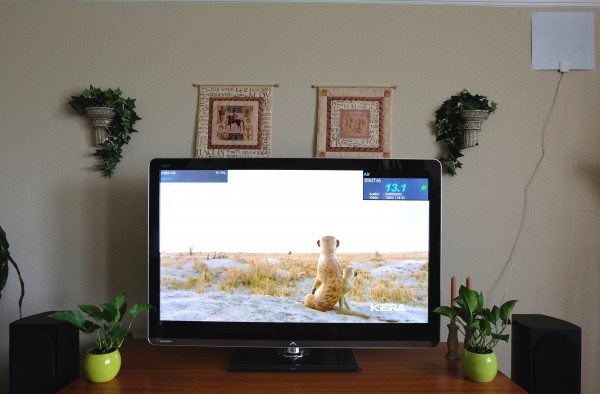 We then moved the antenna to a much higher position and performed the channel search again. The RCA indoor antenna has a 60 mile range and my expectation was that it should pick up all available free stations near me and display them clearly on our TV. I was not disappointed. It found all but one of the 49 channels available to us and reception was perfect on the digital channels, including the major stations (in HD) such as NBC, ABC, CBS, FOX, PBS, CW, and ion. The above photo shows our local PBS station, which was one of the more difficult stations to tune in with our old antenna.  There was one digital channel that was missed – VHF channel 52.1, a 6.87 kW independent station. This is a channel that I do not watch. The one analog channel that was found in our channel search had poor reception but was another independent station that I do not watch.
The amplifier on the antenna uses RCA's SmartBoost technology to enhance the reception of weak signals. However, the signal strength of our TV stations are strong enough such that even when the amplifier was unplugged, all but ABC came in clearly. And interestingly, when I tried plugging the USB power cable into our TV, even though the amplifier indicated that it was receiving power, the ABC station still had trouble coming in clearly. The reception for the ABC station improved only after plugging the amplifier into an outlet.
The RCA antenna is also a multidirectional antenna (like other flat antennas) and does not need to be adjusted.  I only noticed some pixelation when there was interference from a nearby lawn mower on one set of digital channels. I also checked the reception as it steadily rained here in Fort Worth one day (no lightning or thunder) and did not detect a loss of signal on any of the channels.
Thumbs Up or Down?
I love this antenna. In the past, I was always having to adjust my old antenna or having to tolerate those rabbit ears being in the way of the TV. Using the RCA Ultra-thin Multi-directional Indoor Amplified HDTV Antenna (whew, what a mouthful!), all channels came in clearly, were HD quality, and the antenna did not need adjustments. There are only a couple of drawbacks to using this antenna: the exposed coaxial cable running down the length of my living room wall is unattractive and that each TV in the house needs its own indoor antenna versus an outdoor antenna which could serve all of your TVs. However, these problems are common to all indoor antennas. The $69.99 price tag may be high for some people, but this antenna has a greater range (60 miles) than both the Mohu Leaf 50 HDTV Antenna (50 miles) and the Winegard FlatWave Amped Indoor Amplified HDTV Antenna (50 miles) for about the same price. It also saves you on the cost of cable or satellite TV!
Update 01/01/15
We have used this antenna for 5.5 months now and like other antennas, once you've found the perfect position, don't move it! It worked perfectly until I moved the coax cable around and now I have yet to find the perfect position again.
Source: The sample of the RCA Ultra-thin Multi-directional Indoor Amplified HDTV Antenna was provided by RCA. It comes with a 12 month warranty and is available through RCA's website for $69.99.
Product Information
Price:
$69.99
Manufacturer:
RCA
Requirements:
Pros:

Easy to set up
High quality reception (up to 1080i), even on a rainy day (no storms)

Cons:

Unsightly cable while antenna hangs on the wall
You need an indoor antenna for each TV which gets expensive