We use affiliate links. If you buy something through the links on this page, we may earn a commission at no cost to you. Learn more.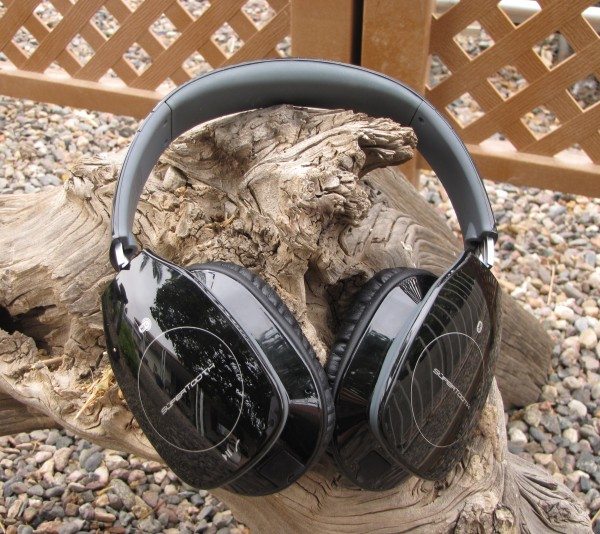 If you are an old timer like myself (allegedly born, not hatched in the 60's) then you probably remember early personal headphones. You know the ones, that were called "cans", I guess because the looked like two cans on your ears. The ones with the coiled cords and the big plugs that went into your phonograph or if you were real high end, a reel to reel player. But as personal listening devices became smaller and more portable (raise your hand if you had a Sony Walkman) so did headphones. Now that we are in the digital age of music, we seem to have headphones that run the gamut of sizes, shapes and the ability to go cordless. The Freedom Bluetooth stereo headset from SuperTooth falls into the mid to large size wireless category.
Note: Images can be clicked to view a larger size.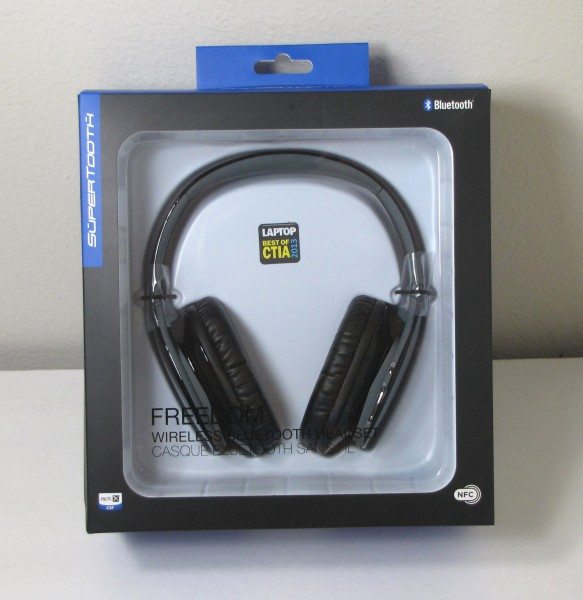 Larger size now days is not necessarily a bad thing. If you look on the market today you can see a trend back to larger over the ear headphones mainly for the perception, right or wrong, of better sound quality. And with larger size often comes a larger price tag. If you are looking at wireless or Bluetooth over the ear headphones you can often expect to add around $100 to the price. The Freedom Bluetooth headphones from SuperTooth is bucking that trend.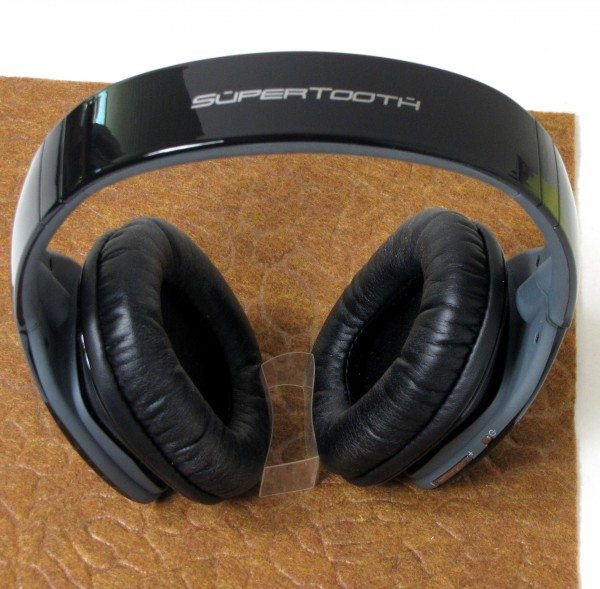 The Freedom headphones combine great features in a comfortable package. The Freedom headset has the following technical specifications as listed from their web page:
Bluetooth version 4.0
NFC connection
Stereo streaming of music files via Bluetooth A2DP profile, from any mobile phone or PC equipped with the same technology
Portable product, listen to your favorite music anywhere thanks to its rechargeable battery
Superior sound quality
Omni directional microphone to use the headset as a Bluetooth hands-free kit
Operating range : 10 meters
Frequency : 2,4 GHz
The Freedom headset is 6.299 inches high x 7.362 inches wide x 2 79. inches deep and weigh 7.054 ounces. With a listed charging time for the Lithium-ion battery of three hours, a stand-by time of 1000 hours and a listed playback time of 15 hours.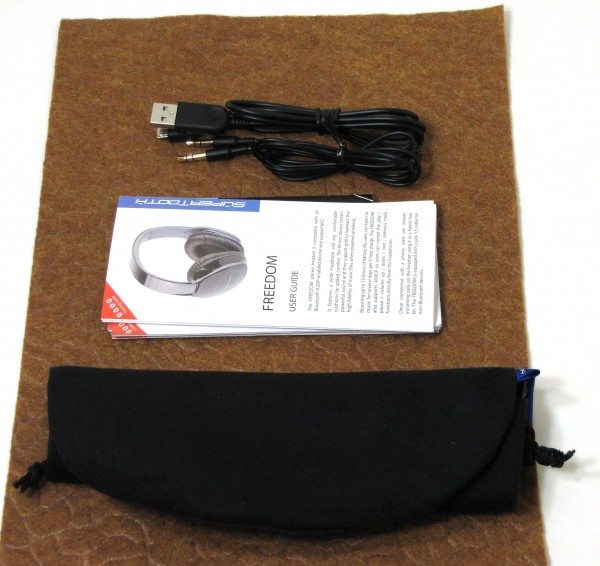 The SuperTooth Freedom headset come with the following:
One pair of Freedom headphones
One USB to Micro USB charging cable
One 3.5 mm male dual male jack end cable
One carrying and accessory bag
User manuals in several languages including English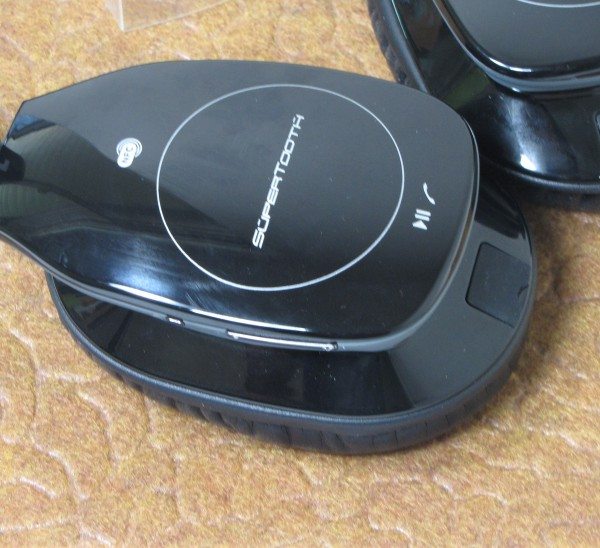 The right side of the Freedom is the main business side of the headphones it has the following:
On/Off button
Volume up/down toggle
Multi-function button for pause/play/stop mute and answer
Microphone
Charging port
NFC pairing zone
Indicator light
As you can see there is a lot going on here. One of the Freedom's unique features is the NFC (Near Field Communications) feature. This will allow you to pair the Freedom with a device by basically touching your NFC device to the headphones. Sadly, I do not own any devices capable of doing NFC pairing so I did not get to test this feature out. Another nice feature is the charging port's rubber cover. The cover is a shaped piece of rubber that it permanently attached to the headphones by a short cord, this gives the Freedom a clean look and protect the charging port.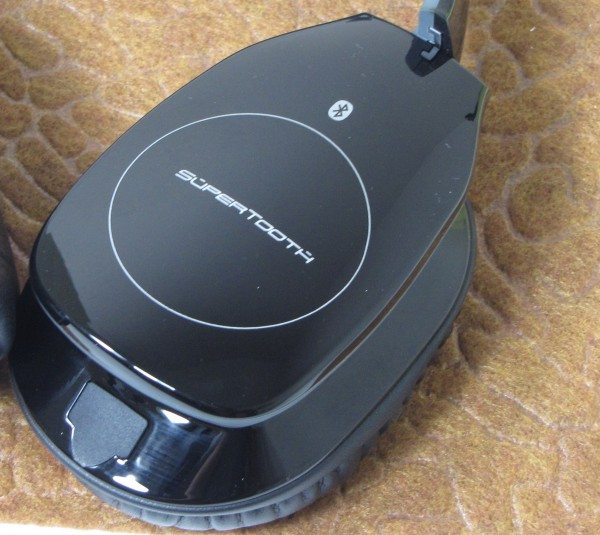 Unlike the right side of the Freedom headphones the left side only has one feature a 3.5mm jack input. The 3.5mm jack along with the supplied cable allows you to use the Freedoms with devices that do not have Bluetooth capabilities as well as use them when you have no charge left in the headphones.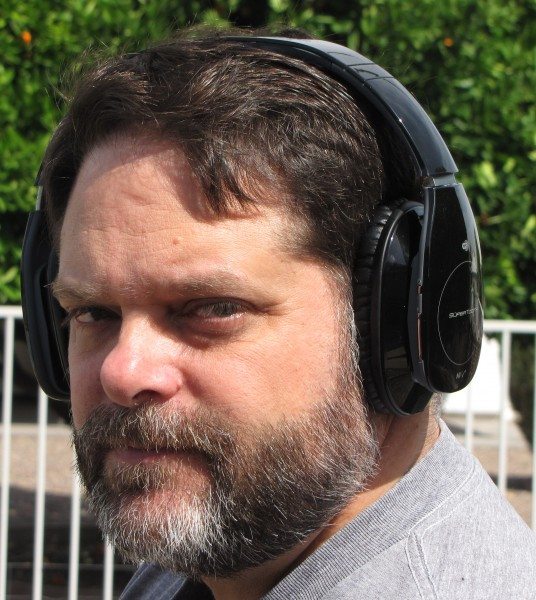 The Freedoms themselves are very comfortable to wear, the ear cups are fairly well padded and swivel to allow them to fit firmly around your ears. The top inside of the headphones headband has a rubber like padding that add to the comfort for long wearing. The shell and the outer covering of the Freedom headphones is shiny plastic, the material seems sturdy and resilient but it is a fingerprint magnet. The Freedoms are available in three colors schemes black and grey, black and blue and white and blue.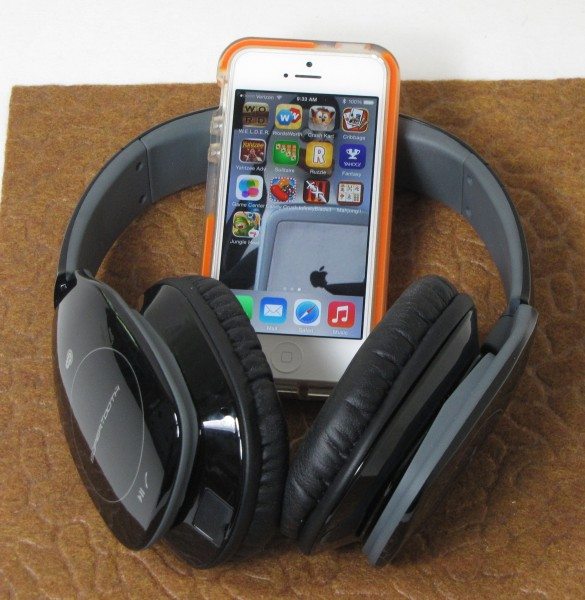 Pairing the Freedom was simple, put them in paring mode, set my iPhone 5 to discovery mode and wait for them to find each other. It was the same with my iPad Air. As I mentioned above, the Freedom has the ability to pair via NFC, a nice and unique feature. The Freedom has a built in mic for phone calls, I tried using them for calls it works ok. The caller on the other end did experience some echoing but I did not.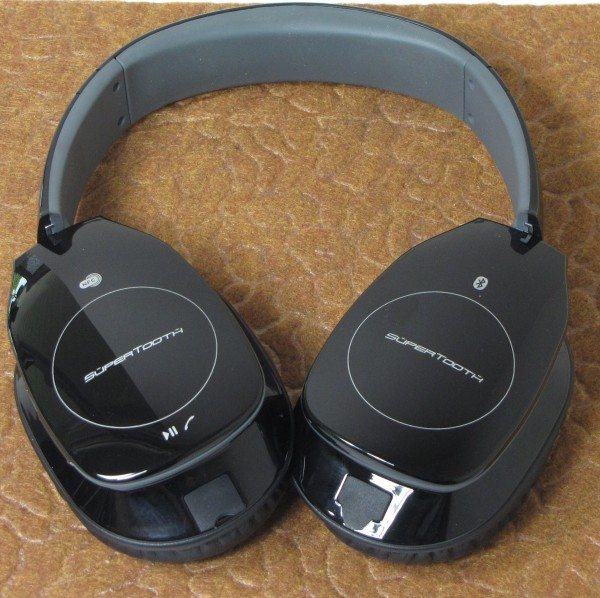 Like its competitors the Freedoms are designed to be easily transported, unlike a lot of their competitors, they approach this by folding the ear cups flat as opposed to folding the headphones in on themselves. I do not find this to be an issue and they fit better into my carry-on. The supplied carry bag is a nice feature that helps protect your Freedom headset from scratches.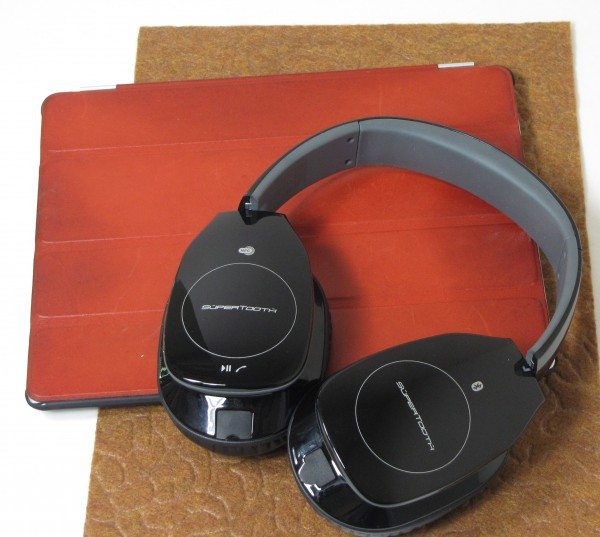 The sound is what you buy headphones for and I will tell you the sound from the Freedom is great. If you are a bass junky, I will tell you these headphones may not be for you, but if you like clean crisp sound with decent bass, great mids and highs you will enjoy the SuperTooth Freedom headphones. In my opinion the trend to manipulate earphones and headphones for a heavier bass sound kills a lot of non bass heavy music I listen to and I appreciate SuperTooth for bucking that trend especially in this competitive market. I was fortunate enough to be able to test the Freedoms on a recent flight and although they are not "noise canceling" they performed well. The Bluetooth range well exceeded the 10 meter range when I was in my house. I did get some break up when I was outside the 10 meter range and blocked by a couple of walls but I would expect that. I listened to a wide variety of music through the headphones. To get a good barometer of how these headphones perform, I listened to some over produced 80's bands (Yes 90125 and Vangelis Chariots of Fire) to see how they handle the complex layers of music. The Freedom handled it well. Anything from soft mellow music to hard pumping metal, the Freedom handle it well. As an overall listening experience these things rock.
Updates 08/04/15
Honestly, I don't wear headphones around the house anymore, but I do when I travel. These headphones hold a charge well, sound great and are still comfortable to wear on long flights.
So, what's my bottom line? I love them. At $149 the SuperTooth Freedom may  be one of the most competitive Bluetooth headphones on the market. The sound is great, they are feature rich and with 15 hours of play time, they can carry you through almost any trip. The ability to use the Freedoms with an included cord means you will never miss a beat.

Product Information
Price:
$149
Manufacturer:
SuperTooth
Retailer:
superTooth
Pros:

Price
NFC connectivity
Ability to be used corded or via Bluetooth

Cons: