We use affiliate links. If you buy something through the links on this page, we may earn a commission at no cost to you. Learn more.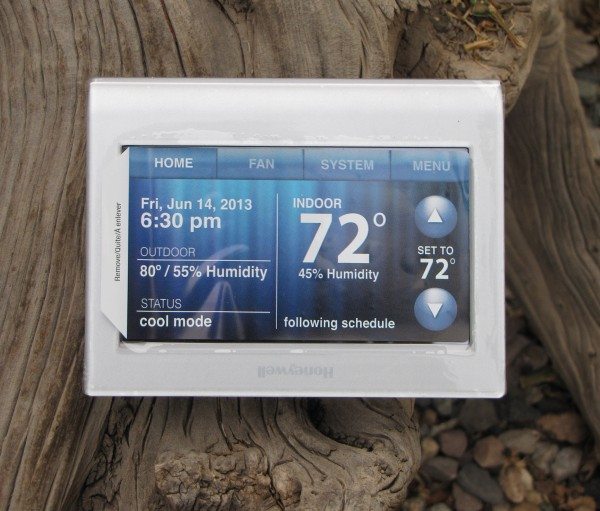 Thermostats, in my day they only came in two varieties: round and rectangular . Today, thermostats are still available in rectangular and round, but now they also come in smart versions and programmable versions as well. With features such as digital and touch screens, humidity sensors and even some that will learn your habits. Thermostats have come a long way since my youth. So, when Honeywell offered us a chance to review their new Wi-Fi Smart Thermostat I could not resist.
Note: Images can be clicked to view a larger size.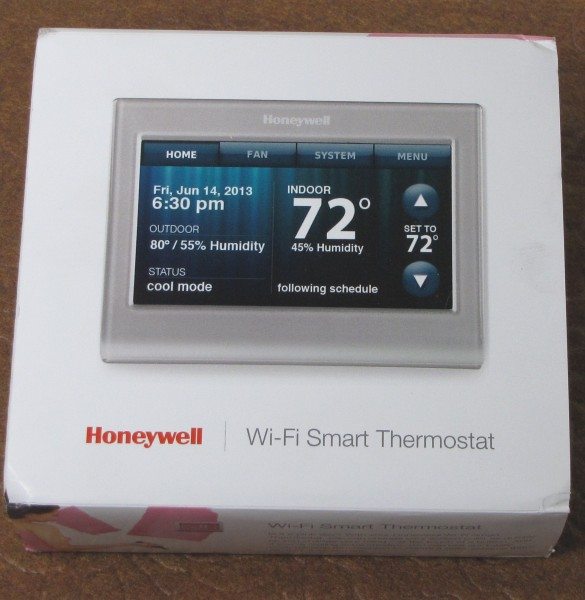 The current thermostat in our house is a unit specifically designed for the heating and air system we have, so why did I want to review the Honeywell WiFi Smart Thermostat? I thought it would be the perfect thermostat for our rental house next door. We have a wonderful senior renter who travels a lot and it would be nice for her or even us to be able to monitor the house temperature when she is away or even being able to use the Wi-Fi feature to remotely assist her when we are away if she needs help. The Honeywell Wi-Fi Smart Thermostat with its connectivity and iOS app will allow us to do that.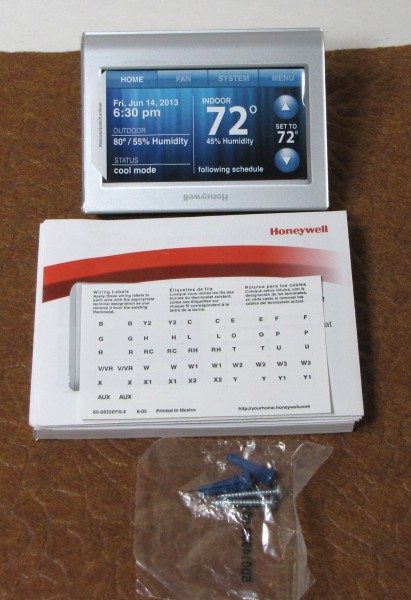 The Honeywell Wi-Fi Smart Thermostat (Model number RTH9580WF) has the following listed features from the Honeywell website:
Control from Anywhere – Honeywell's reliable and highly-rated app allows you to program your thermostat from your computer, tablet and smartphone, whether you're across the room or around the world
Simple Setup – The Wi-Fi smart thermostat's simple setup guides you through a few basic questions to get your 7-day program up and running and save you money fast
Customizable Color Touchscreen – The bright, easy-to-read touchscreen can be color customized to fit your mood, match your paint, or support your favorite team!
Smart, Flexible Scheduling – Our Wi-Fi smart thermostat offers flexible programming options for business and residential needs
Smart Response – This smart thermostat even learns your heating and cooling cycle times to deliver just the right temperature, right when you want it
Advanced Fan/Comfort Control – Improves air circulation and helps regulate the temperature throughout your home
Auto Alerts – Extreme temperature alerts and filter change reminders are sent to your connected network devices and are display on your Honeywell Wi-Fi smart thermostat, so whether you're home or away, you'll never miss an alert
Reliable App – This highly rated app is backed by Honeywell's reliable network, for dependable access and peace of mind. Available for iOS and Android devices
Indoor Humidity Sensor – Your indoor humidity is displayed right below the temperature
Locking Touchscreen – Advanced locking features and password options provide smart security and convenience
Compatible with heating, cooling and heat pumps
Does not work with heat pumps with electric baseboard heat (120-240V)
1-Year Warranty
The thermostat comes with the following items:
Honeywell Wi-Fi Smart Thermostat (model RTH9580WF)
Quick start guides
User manual
Installation hardware
Thermostat ID card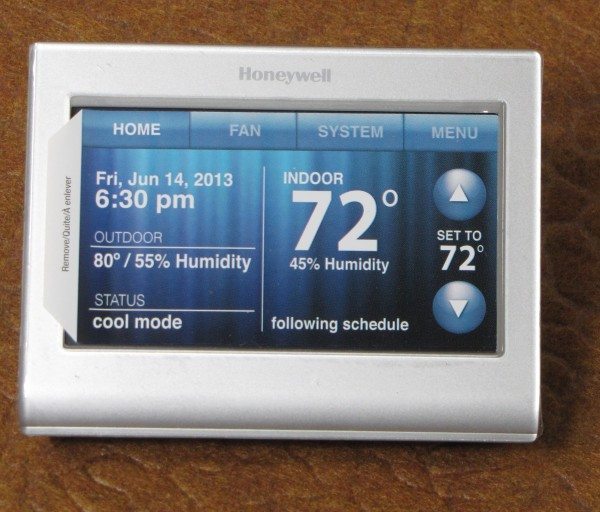 I must admit the thermostat was a little smaller than I had expected it to be. The dimensions are 3 3/8″ tall x 4 1/2″ wide x 1 7/8″ thick, it is not the smallest thermostat on the market, but far from the largest.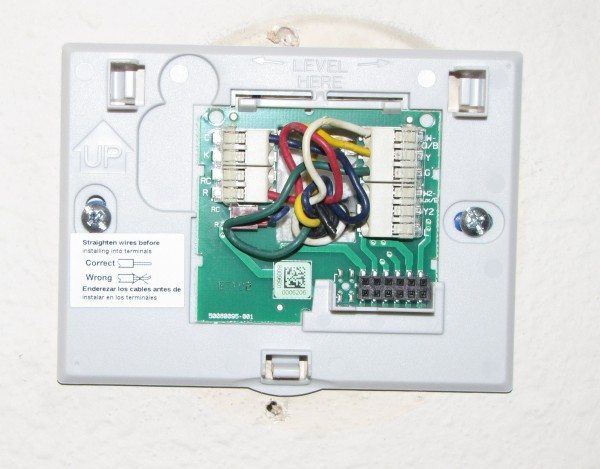 Installation is where this project can become a little difficult. The Honeywell Wi-Fi Smart Thermostat is designed to be used with a five wire setup because the thermostat is powered by the HVAC system and not batteries. That is not saying that you cannot use a four wire setup but it takes some re-wiring at the AC unit control board and the loss of independent fan control, so take this into consideration. Another issue we found when researching the four wire setup was the URL given for video help in the quick start guide made it a little harder to find the correct video that you need. A better URL for this purpose would be http://wifithermostat.com/Products/WiFiSmartThermostat/
That being said, the five wire installation was a fairly straight forward process. As described in the user manual, you remove the old thermostat and wall plate, install the new wall plate, wire up the thermostat and connect to the wall plate. I will admit there are a few more steps to it then that but it is straightforward.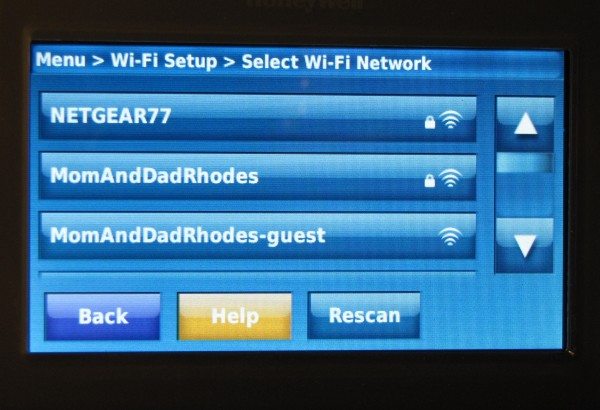 After connecting all the wires, turning the HVAC power on and getting through the initial setup screens it was time to connect to the Wi-Fi. Setup is straightforward, just follow the on-screen instructions and you will be notified when the thermostat is connected. Once connected you can program your thermostat via the touch screen or computer/mobile device.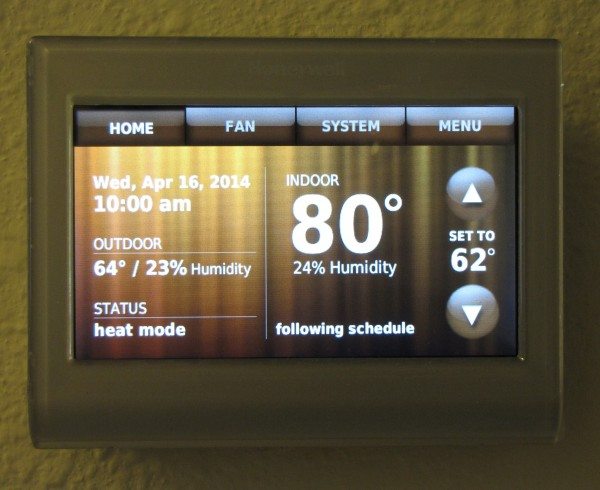 A nice feature of this thermostat besides the connectivity is your ability to change the screen color to match your home decor or mood. With several preset colors and the option to create your own custom colors almost anyone can find a color to suit them. Changing the color is as simple as going to the menu and selecting the option to do so.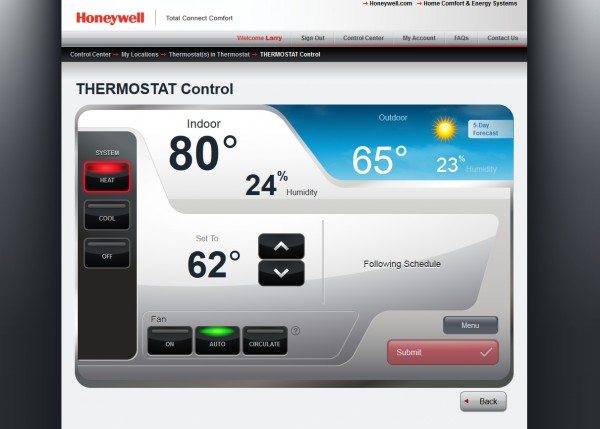 Custom scheduling is a feature that has become almost essential in todays higher end thermostats. The ability to change the temperature in your house just a few degrees while you are at work or not home can mean big savings on that electric or gas bill. Custom scheduling can be done via the thermostat or the online interface. I personally think the online scheduling is the way to go. As I do not go into an office, the scheduling feature did not help me as much as it would others, so I did not really get into a lot of detailed scheduling.
The feature that really made me want to try this thermostat was the computer interface. As I stated earlier, this thermostat will be used in my rental property. I happen to live in an over 55 community so my renters are at least of that age. The ability to check the temperature when they are out of town or to assist them remotely is a great feature to me. To connect to the thermostat from your computer you go to the website listed in the quick start guide and follow the directions. Basically you create an account, fill out the required information and then connect to your thermostat using the MAC ID and a MAC CRC. Honeywell was nice enough to include both of these on a Thermostat ID Card. Once registered and connected you will be able to set up your thermostat and a schedule.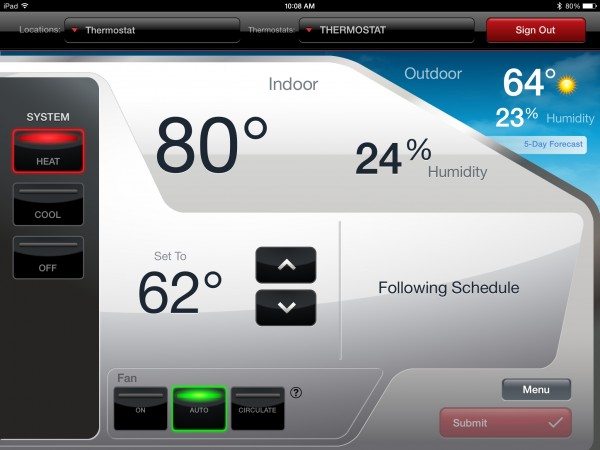 Honeywell also has apps for iOS and Android devices that allow you to access your thermostat from just about anywhere. To use these all you will need to do is download the app for your device and log into the site using your login and password that you already created. This app is really useful when you are coming home early or going to be out all night and need to adjust the thermostat's schedule.
So what's my bottom line here? At around $249 the Honeywell Wi-Fi Smart Thermostat is on par or a little cheaper price wise with compatible systems of its type. The screen size is good, the touch pad works well and the included features are great. I will say that I am a big fan of the online connectivity and my ability to set and change the thermostats programming. The only negative I can see, and it is not unique to Honeywell is that you have to do some creative or rewiring for older homes with four wire systems. In my opinion this should not dissuade anyone from using this or any of the newer five wire thermostats because in this day and age when new HVAC systems are more efficient you want to be able to take advantage of the savings you can gain. All that being said, I really like this Honeywell Wi-Fi Smart Thermostat.

Product Information
Price:
$249
Manufacturer:
Honeywell
Retailer:
Various
Requirements:

Minimum of 4 wire connectors to existing thermostat (5 preferred)

Pros:

Wi-Fi enabled
Online programable
Changeable color schemes for the touch screen

Cons:

Designed for a newer five wire thermosta setup