We use affiliate links. If you buy something through the links on this page, we may earn a commission at no cost to you. Learn more.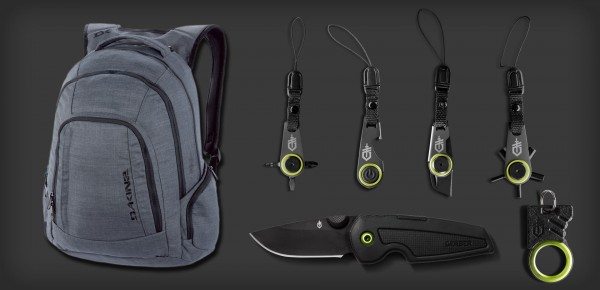 I'm guessing that a lot of our readers have some sort of EDC (Every Day Carry) setup that they carry about with them for those just in case moments. The folks at Gerber (the knife a survival tool company, not the baby food maker) have embraced the concept of EDC with their own line of tools called the GDC – Gerber Daily Carry. The GDC line includes the following:
GDC Money Clip (money clip with a 1.75″ knife, not shown in the picture above)
GDC Belt Tool (belt buckle with a small multi-tool, not shown in the picture above)
GDC Zip Driver (screw driver tool)
GDC Zip Blade (.68″ utility blade)
GDC Hook Knife (2″ hook blade knife)
GDC Zip Light+ (LED flashlight with a bottle opener)
GDC Zip Hex (5 different size metric hex bits)
GDC Tech Skin pocket knife (pocket knife with a 2.25″ drop point blade)
Dakine Backpack (sold with GDC Tech Kit only)
As you may have noticed, most of the GDC gear is designed to be attached to zipper pulls for easy access. Items in the GDC line up run from $11 for the GDC Hook Knife, all the way up to $119 for the GDC Tech Kit. For more info or purchase visit Gerber.