We use affiliate links. If you buy something through the links on this page, we may earn a commission at no cost to you. Learn more.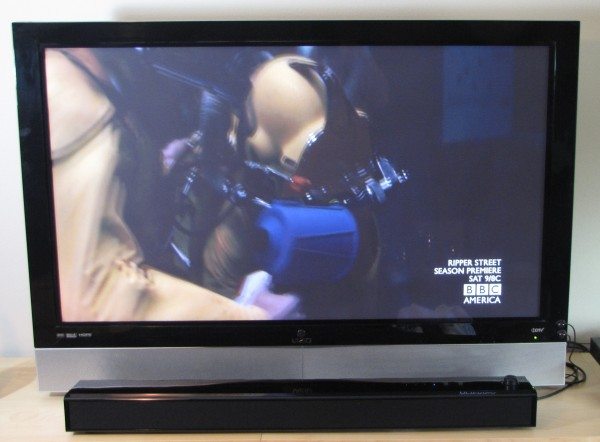 In the world of home theater systems everything seems to be getting bigger and bigger. With digital media providing immersive sound for movies and TV programs, your sound system needs to be first-rate to take advantage of that immersive quality. But what happens when you don't have the space to install an expensive multi-speaker sound system? A soundbar may be the perfect solution and the Sherwood S-5 Panoramic Soundbar with Bluetooth, sent to me by Petra, seems like a reasonable system for my situation.
Note: Images can be clicked to view a larger size.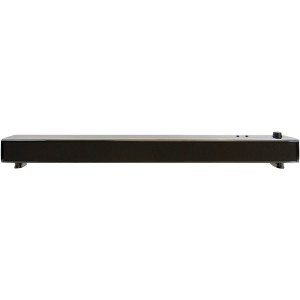 Soundbars seem to be the latest craze for home entertainment over the last couple of years, and why not with technology allowing for smaller components and better sound quality, it only makes sense. The Sherwood S-5 Panoramic Soundbar with Bluetooth (hence forth known as the Sherwood S-5) is Sherwood's mid level entry into the soundbar game. Unlike a lot of other soundbar manufacturers, Sherwood has decided to put the bass speakers in the soundbar instead of having an external one. This allows the system to be placed in areas with size restrictions.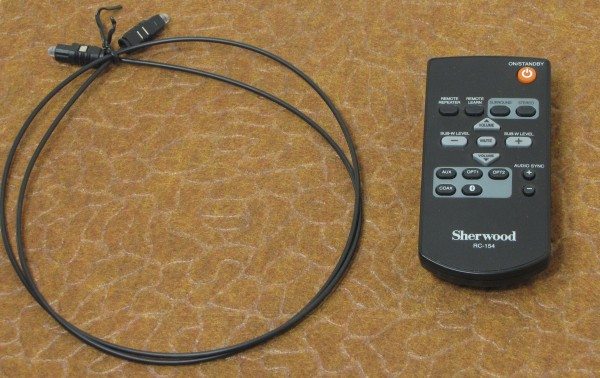 The S-5 has the following technical and key features:
Wireless music streaming via Bluetooth®
Speaker type: full range 2.5″ x 2 & 3″ woofer x 2
Total 120W output power (30W x 2, 60W subwoofer)
2.1 channel
LED color indicators
Spectrum 3D sound
Dolby Digital®/DTS®
2 optical inputs, coaxial input & mini aux input
2 built-in active subwoofers
192KHz/24 bit for all channels
Power requirements: 120V AC/60Hz
Power consumption: 30W/0.5W standby
Dim: 4.13″H x 39.37″W x 4.33″D
Weight: 9.92lbs
Modern, slim line & stylish shape
Black, high glossy finish
Includes remote
And comes with the following:
S-5 Panoramic Soundbar
Remote
Optical cable
Users manual

The bottom of the soundbar has a set of legs to keep the sound bar up off of what ever you are placing it on and two 3″ sub woofers.
The front of the Sherwood S-5 has a mesh like cloth covering that conceals the 2.5″ main speakers.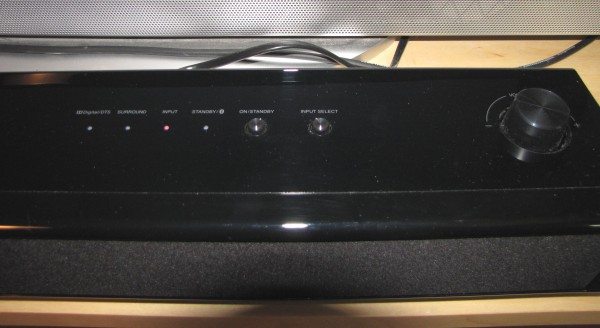 The top of the Sherwood S-5 has the following:
Volume knob
Input select button
Standby button
Standby indicator light
Input indicator light
Surround indicator light
Digital DTS indicator light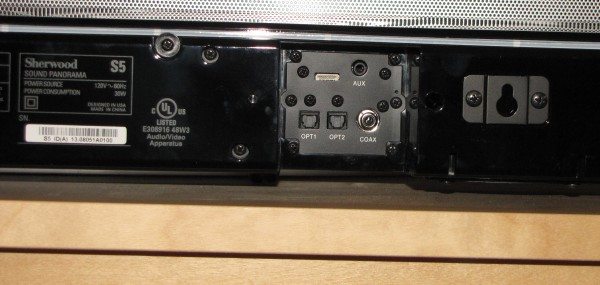 The rear of the S-5 has the following inputs:
Aux connection input
Coaxial audio input
Optical input x 2
Power cable input
As well as two mounting points to allow you to mount the soundbar on the wall
With most of the technical info out-of-the-way, let's talk setup and testing. My testing area is approximately an 11′ x 15′  room which I think is a good size for this size soundbar. Setup can be a little tricky, not because of the Sherwood S-5, but because of the number of inputs devices you may want to use. I have three devices that I need to input into only two optical inputs (cable box, blue ray player and Roku) again this is not an issue with the soundbar itself, but you may want to take this into consideration when looking to purchase any soundbar. I solved my three into two issue by using a three into one digital optical switcher. Another issue you may encounter is that the Sherwood S-5 only ships with one optical cable. If you are using more than one device you will need to get more cables as I did. Although you can input other devices to the soundbar via the inputs at the rear of the Sherwood S-5, it is noted in the user's manual that you cannot connect a TV to this unit without an optical output jack.
After running all my cables (optical and power) it was time to fire up the Sherwood S-5 and take it for a spin. There are two ways to set up and control the Sherwood S-5. One way is with the remote, which I will get to later. The other way is by the buttons and lights built into the top of the unit. This is where you will need to do some reading to understand how the system works. Basically, the system uses different colored lights and light locations as its only visual indicators of your input source, your surround settings and input learning. This was a little confusing at first, but with a little reading and testing it becomes clearer. This is by no means a deal killer on this device, but it does take away from that plug and play ease of use we all like. After getting the initial set up done and the fact that I was only using one optical input, running the sound bar was a breeze.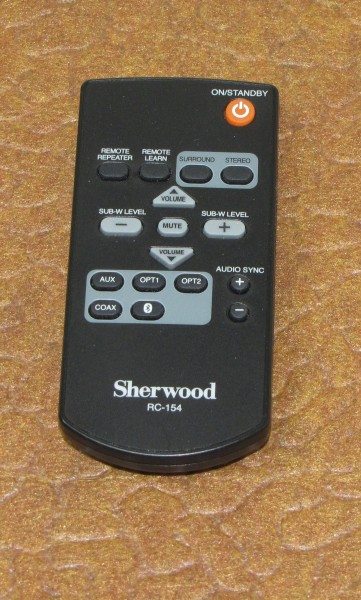 The other way to control the Sherwood S-5, is with the remote. My assumption is that this would be the preferred method of running this soundbar as it has a lot of the options setup buttons on the remote. So choosing something like your input is as simple as pressing a button. You will still need to look at the top of the soundbar if you want to confirm your choice, but in most cases the fact that sound is coming from the device is confirmation enough.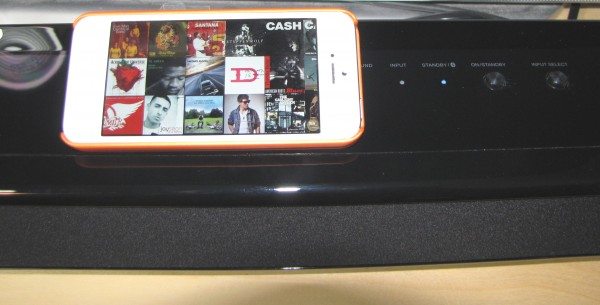 One of the nice features of the Sherwood S-5 is the multiple input capabilities it has and one of the more useful ones in my opinion is the Bluetooth integration. In my particular setup I had no way of easily listening to my music, but with the Bluetooth feature on the soundbar all I had to do was sync and play. Syncing was easy, sound playback was good and needing only one device to serve multiple functions in a space limited area is always a plus.
Now to the all important question, how does the Sherwood S-5 sound? For what it is, a soundbar, I thinks it sounds really good. The sound separation is good, the base is there, but not over powering and I was surprised by how well the virtual surround sound worked. I will admit that this will never take the place of a full surround sound system with multiple speakers, a big amp and a sub woofer, but for a system that can be used in smaller spaces, it performs well.
So, what's my bottom line here? If you are looking for a good budget home theater system with a lot of features, you should take a look at the Sherwood S-5 Panoramic Soundbar. For a no frills system it does deliver, especially in a size constrained environment. I will admit that the lack of easy to understand visual indicators on the Sherwood S-5 was kind of a negative to me. But the Sherwood S-5's versatility and performance allowed me to overlook these issues. With a price of $259.95 from Petra it is comparable to similar systems on the market.