We use affiliate links. If you buy something through the links on this page, we may earn a commission at no cost to you. Learn more.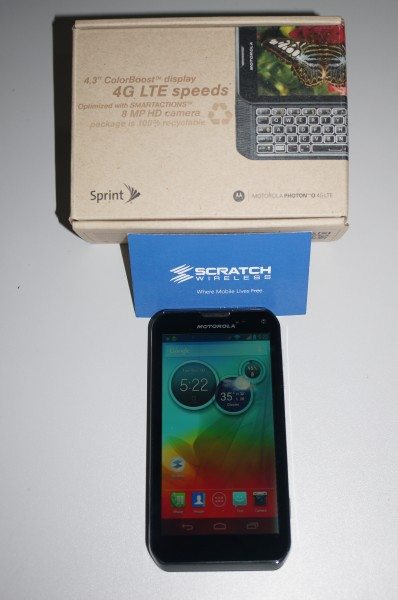 A cell phone is the one tech item that almost everyone has.  It's the most useful daily tech item that everyone uses, but it's also one of the most expensive items to own.  A decent voice+data service will cost over $1,000 every year per person.  There are cheaper cellular services out there that can get you down to $35/month, but how about a service that's absolutely FREE?  What's the catch?  I'll tell you about a new service provider called Scratch Wireless.
Before we start, let's talk about the prices. Currently Scratch Wireless only works with one phone which you must get directly from Scratch Wireless. You will be getting the Motorola Photon Q. I'm not going to get indepth with the phone since this review is all about their service. But the phone is a slider phone with a qwerty keyboard, runs on Sprint's 4G LTE, 4.3″ display, and runs Android 4.1 Jelly Bean. The Motorola Photon Q will cost you $269. After the phone purchase, the service is technically free for the life of your device.
Free? What's the catch? The catch is that voice+data+texting is 100% free when you're connected on a wireless network. But texting is ALWAYS FREE even when you're NOT connected to a wireless network.
So the question is: What type of cellular user are you? If you mainly use your phone for texting and the occasional phone calls, then definitely get this phone. If you're always by a wireless network, then get this phone since even voice calls are free if you're on the wireless network.
But what if you want to make calls when you're away from a wireless network? Scratch Wireless offers a 24 Hour Pass or a 30 Day Pass plans for you to purchase and use.
24 Hour Pass
Data pass: $1.99
Voice pass: $1.99
30 Day Pass
Data pass: $14.99
Voice pass: $14.99
A 24-hour data pass offers up to 25 MBs of cellular data, and a 24-hour voice pass offers up to 30 minutes of cellular calling. A 30-day data pass offers up to 200 MBs, and a voice pass offers 250 minutes. The passes don't seem to be a great value, but it's useful for emergency usage. Plus most users are on WiFi 80% of the time. And of course texting is free on WiFi and cellular, and voice and data are free on WiFi!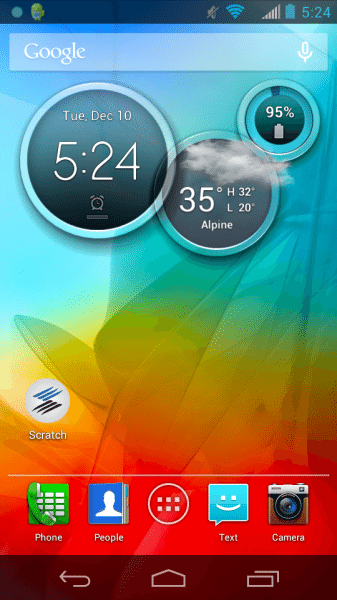 There's a Scratch Wireless App that comes preloaded with the Photon Q.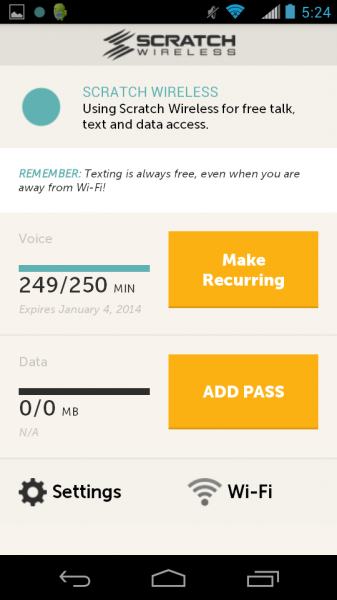 The app allows you to view your remaining usage for the data or voice passes.  It also allows you to purchase passes directly from the app.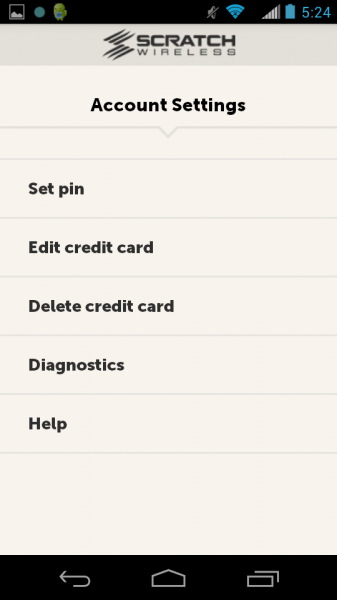 The app also makes it convenient for you to add a credit card to be associated with your Scratch Wireless account.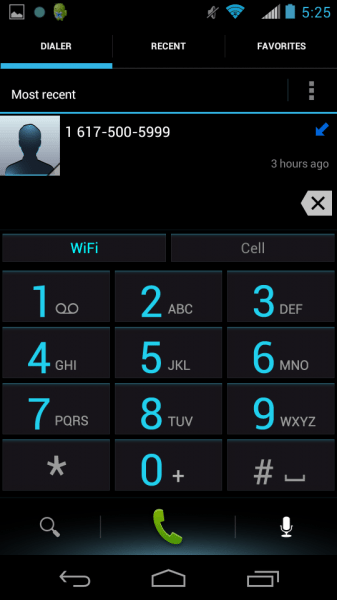 On the dialer screen, you'll see 2 buttons which allows you to switch between WiFi or cell calls.
Under Call Settings, you can see that Scratch Wireless is using SIP (Software Internet Phone) for WiFi calls.
Call quality is extremely clear on both WiFi and cellular calls. The cellular service part is provided by Sprint, and I got full 5 bars in Northern NJ and in Manhattan. Scratch Wireless also allows you to port over your old existing phone number. Another great thing about Scratch Wireless is that there are no ads and no contracts at all. I definitely recommend Scratch Wireless if you're a heavy texter or always near WiFi areas.
Product Information
Price:
$269 for the phone
Manufacturer:
Scratch Wireless
Pros:

Keep your old number or get a new one.
Take full control of your service.
Unlimited free texting on Wi-Fi and cellular.
Unlimited free voice and data on Wi-Fi.
No contracts, no ads, no catch—just free wireless service.

Cons:

A bit expensive on the paid passes