We use affiliate links. If you buy something through the links on this page, we may earn a commission at no cost to you. Learn more.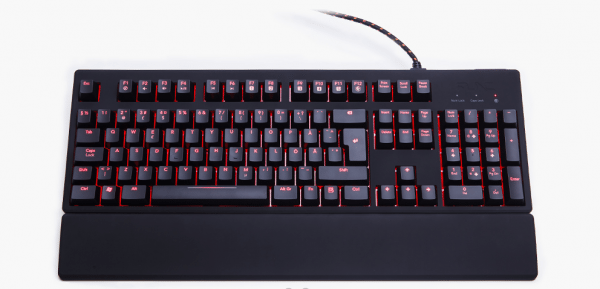 I have a thing for nice computer keyboards.  I type all day, both for work and at home, so having a good keyboard is important to me. I've always been on the lookout for a nice PC keyboard, especially for gaming and frequent typing.  Along came the opportunity to review the Func KB-460 Gaming Keyboard, by Func, so let's see how it stacks up!
Note: Images can be clicked on to view a larger size.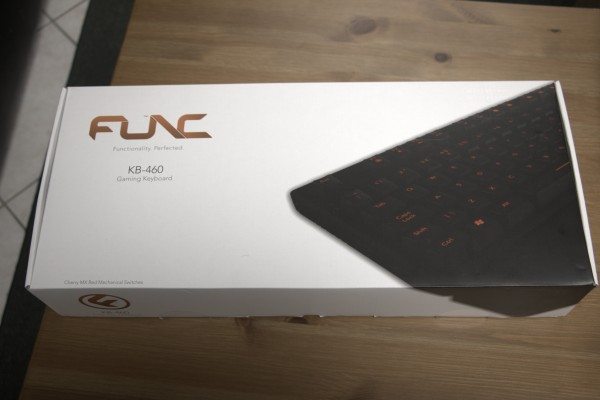 The Func KB-460 is a gaming keyboard that has a standard US Qwerty layout with Cherry MX red mechanical switches.  When I first pulled it out of the box, I was impressed at how nice it felt in my hands.  It has a smooth feel and good weight to it.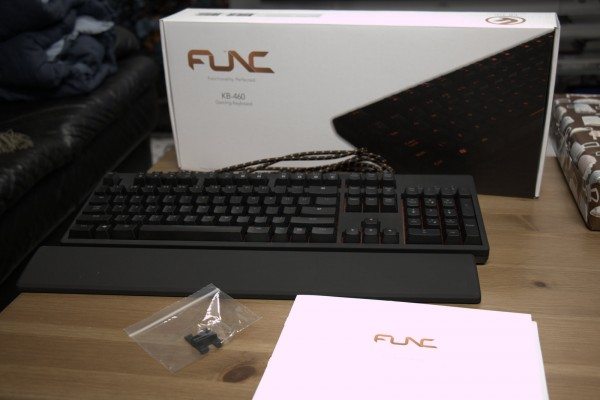 Tech specs:
Switch type: Cherry MX Red linear switch
Key design: Cylindrical
Actuation force: 45 g
Responsiveness: 2 mm
Anti-ghost: Full N-key roll over USB
Backlit: Individual LED's on each key
Memory: Onboard 128 KB
Connect-through ports: 2 x USB 2.0
Cord length: 1.8m (braided)
Connector: USB 2.0 (gold plated)
Weight is about 2.8 pounds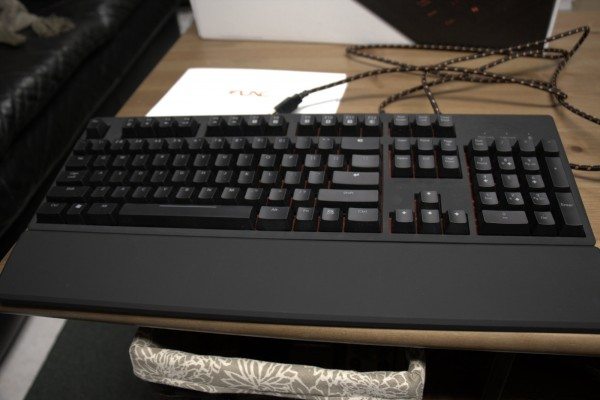 It also comes with an optional palm rest that you can attach to the bottom using little hooks. I prefer no palm rest myself.
As the tech specs mention, the USB cable is braided with a woven orange and black design, and the USB port is gold plated.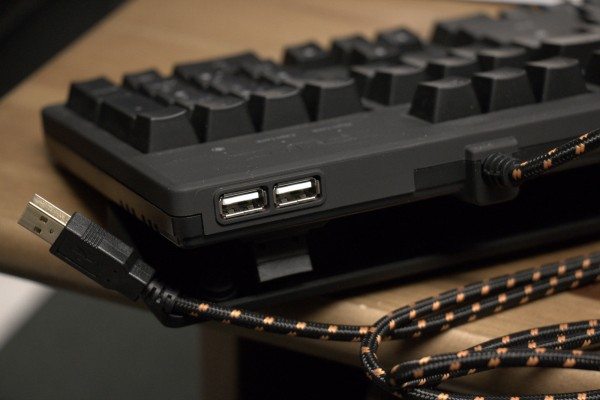 A nice feature is that it adds two additional USB ports to your computer. Useful for connecting your mouse, thumb drive, or any other items you'd want quick access to.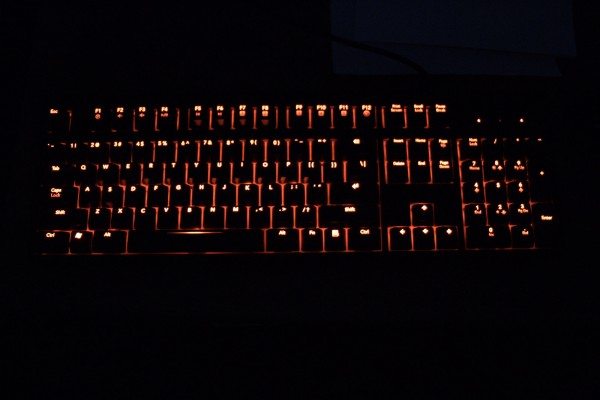 I love the red backlit keys. When activated by pressing the "Fn" and number pad, you can change the brightness of the red light.  You can set it to be off completely or up to 3 steps of brightness.  There are also integrated media controls for volume and play/pause video and music.

If you download the Func software (for Windows only), you have the ability to program up to five different keyboard profiles.  This allows you to store different macros to keys and customize your layout. The profiles are stored in the internal memory of the keyboard (128k total), so it's pretty nifty if you switch the keyboard to another machine.  There is also a "Func Mode™" which will activate re-assigned keys and disable the Windows key if you so choose.
Using this keyboard was super nice while gaming since the keys are made to be pressed repeatedly. I loved typing on it the keys felt springy, and have a loud "clack" sound. Some users might not like the mechanical key feeling. It is geared for gaming, so take it as you wish.  The Func KB-460 is available in a variety of layouts including US, French, German, Nordic, Russian and UK keyboards. You can buy it from many retailers online, but in the United States NCIX.com has it available for $129.99.