We use affiliate links. If you buy something through the links on this page, we may earn a commission at no cost to you. Learn more.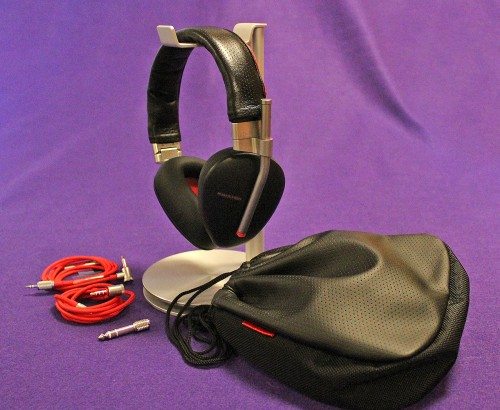 It seems that many (not all) headphones fall into two categories; those that look fashionable and sound not so great and those that sound great, but you'd wouldn't want to be seen in public wearing them. Then there is Phiaton. Their headphones and earphones are pure eye candy. Nothing looks like them, and while some headphones can best them in audio quality, they can hold their own quite well, thank you very much. The Bridge MS 500 headphones follow the Phiaton Moderna Series design ethos of black with bright red accents. At first glance, you might think that they are a bit too metrosexual looking for a macho man to be seen with. I thought that. But over time, I grew to appreciate the bold look. I can remain secure in my manhood wearing the MS 500 phones.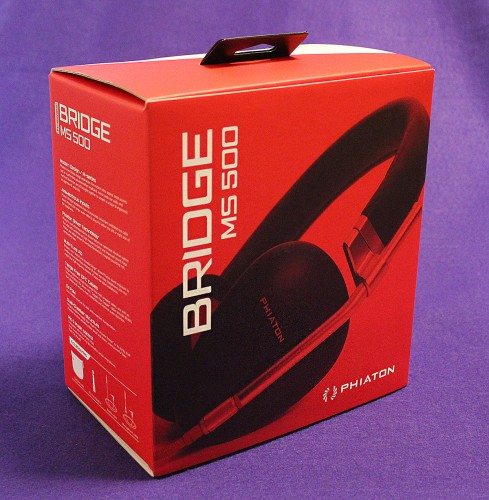 When I received the Bridge MS 500 headphones, I was impressed with the packaging. Granted, a good box does not guarantee good headphones, but it does show an attention to detail that many headphone makers fail to grasp.  Apple does this, too. Opening the box becomes an experience, like you're getting something really nice and impressive. In this case, you are.
The first thing I noticed is the build quality. The MS 500 headphones are beyond nice. They are almost exquisite. I had a chance to audition the new Bang & Olufsen headphones in our local Apple store in Florida. B&O are famous for their Danish design and quality, and the BeoPlay H6 phones were all that, but they weren't as impressive as these. The difference was shocking. Plus the MS 500's were well over $100 cheaper. It's something to consider when it's your money.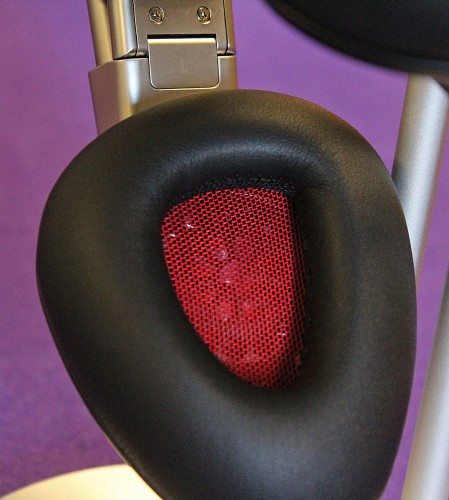 The MS 500s wrap around a brushed aluminum frame with leather padding and plastic ear cups. Don't let the plastic scare you; it's high-grade and solid feeling with a nice matte-black finish. The whole look is classic, but bold.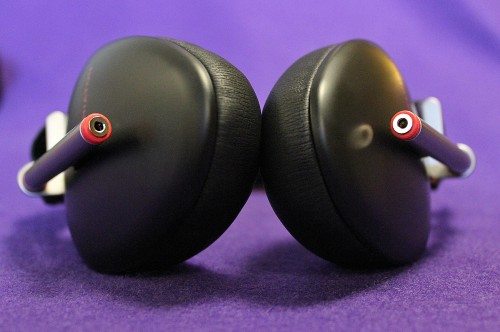 The cord can be attached to either side of the MS 500 in a clever, ambidextrous way. This can come in handy when sitting at a desk and the headphone jack is to the left or right of the listener. It also helps because the cord should be about 6 inches longer – it's too short. The mini plug that connects to the MS 500 is not a standard size; it's more like a mini-mini plug. I assume Phiaton did that to conserve space and prevent a reversed connection. The cord contains oxygen-free copper ,and the cloth wrapping helps prevent tangling. I've managed to tangle other so-called tangle-free cords, but not these.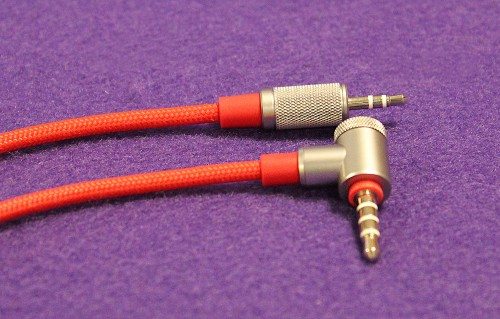 The MS 500 headphones come with two cords: one with an in-line control/mic and one without. I prefer the cord without mic. I've never cared for making calls with headphones, but it's nice to know that the option is available for those who depend on being connected at all times. There's also a leatherette bag. I would have preferred a hard case, but this bag is nicer than many bags I've seen. Also included is a 1/8th inch plug adapter.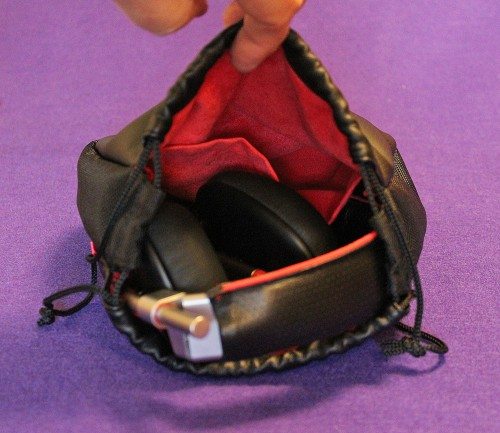 I have an issue with comfort from the MS 500s. I can easily listen with them for 3+ hours, but any longer and I grow tired of them. The problem seems to be in the size of the cups. The MS 500s are technically over-ear, but they don't cover my ear completely, so I'm constantly having to adjust them for fit. After time, it just gets annoying. I would have preferred a smaller, on-ear cup, or at least, a larger cup size to cover my ears completely. It's that in-between size that bothers me. If they are on-ear, they are too big. If they are over-ear, they are too small. However, if your listening habits are under 3-4 hours at a stretch, this shouldn't be a problem.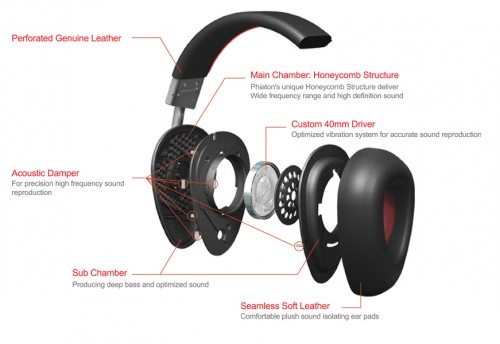 The MS 500s ear cup has what Phiaton calls a dual-chamber structure and multi-tune acoustic design. This simply means that the cups have two chambers: one that helps with clarity and an additional sub chamber that allows for deeper bass. Plus there are acoustic dampers which help with the higher frequencies. Anyway, that's what Phiaton says, but who cares? I only care that they sound as good as they look.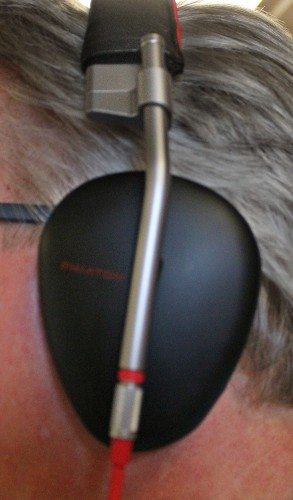 While I don't think they sound quite as good as they look, that's not a complaint. Frankly the MS 500 headphones look much more expensive than they are, and if they sounded like that, they really would cost much more than they do. Like I said, no complaints.
What I like about the MS 500 headphones is the ease of listening. The sound is on the warm side, so if you like bass, but are not a bass-at-all-costs person, these are for you. The passive noise isolation is very good, which allows you to concentrate on your music without too many outside distractions.
Since the  MS 500 headphones are warm sounding, more modern mixes and jazz fare well. Classic rock (my favorite) suffers a bit, but don't let that discourage you, because a small equalizer (EQ) tweak can easily fix that.
Moby's music seems well suited for the MS 500 headphones. His songs are a mix of sampling, soulful vocals, and sometimes gorgeous melodies. I've become a huge fan. His style is generally bass friendly — sometimes too friendly. The MS 500s present a smooth bottom end without smothering the middle frequencies or highs. The gospel inspired "The Perfect Life" is a good example of this. Guest vocalist Wayne Coyne from The Flaming Lips helps with the soaring chorus that backs up Moby's vocals. It all blends together into a glorious noise.
There's bass a'plenty in Honeyroot's "Sound Echo Location." Its thumping rhythm almost vibrates in your head – but is held back just enough, preventing any distortion in the MS 500s. That's a good thing.
Violinist Jerry Goodman's "On the Future of Aviation" is a pulsing showcase for Goodman's technique. His mixture of violin with synth backup allows the song to move smoothly forward toward an energetic finish. The MS 500 headphones don't let the song become too bright, which I've heard with other headphones.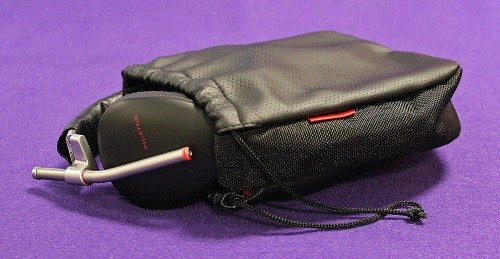 Phiaton has shown once again that fashion and good sound can exist in the same audio package. The MS 500 headphones are stylish, well-made, comfortable, and sound quite good for the price.
Product Information
Price:
$269.99
Manufacturer:
Phiaton
Requirements:
Pros:

Sound more expensive than they are
Amazing build quality
Look terrific
Unique sound chamber

Cons:

Expensive
Uncomfortable for longer periods
Too big for on-ears, too small for over-ears