We use affiliate links. If you buy something through the links on this page, we may earn a commission at no cost to you. Learn more.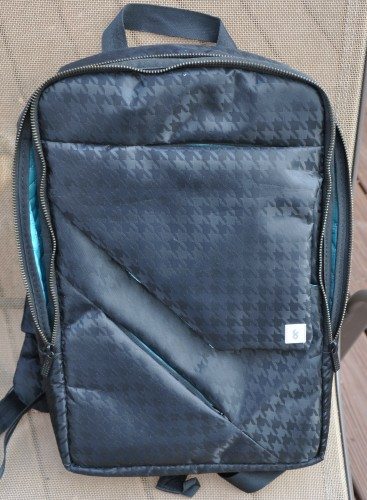 As our devices have shrunk in recent years, so, too, have carrying cases. Sling bags, messenger bags, and even the trusty backpack are slimmer, more focused on those slimmer devices, and more attuned to organization and ease of access, rather than capacity. Blue Flame, a fairly new entrant into the market place, has developed an entry into this growing space, and dubbed it "The Pack." It comes in one size, one color combination, and one fabric. Let's take a closer look.Note: Pictures can be tapped or clicked for a larger version.
The Pack exterior is a black nylon in a houndstooth textured finish with bright turquoise piping around some of the pockets. All interior surfaces are finished in a turquoise quilted fabric.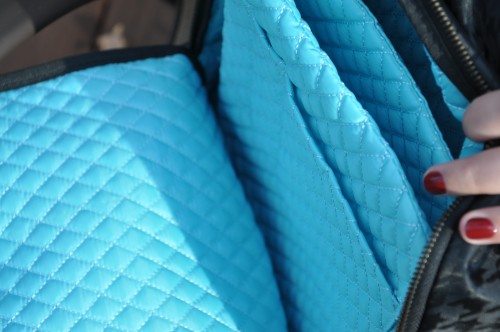 The straps are attached on the lower corners, but the user can easily unhook them and change it to a sling bag, rather than a full backpack. This can be done with either strap, and the extra one can be hidden in a flat, full pocket over the rear face of the bag.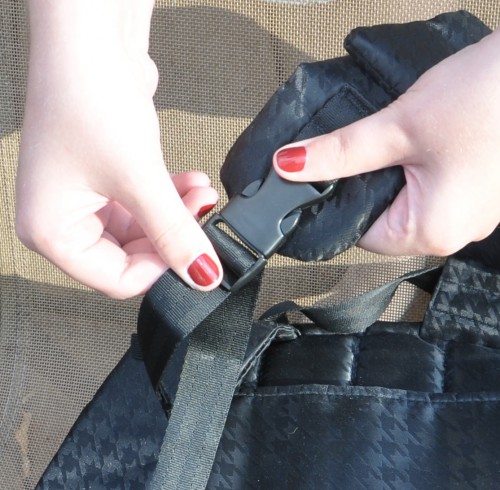 The left strap (if you're wearing it) has a fold-out zippered pocket that can hold bills, earbuds, or an iPod nano-sized device. The Blue Flame folks clearly missed the message that the "shrinking device" syndrome does not apply to phones. I could barely fit in my iPhone 4S, and would be hard-pressed to retrieve it in time to answer a call. Between the straps at the top rear seam is a haul loop of 1″ belting well-sewn into the structure of the straps and back. It's not going to pull free, no matter how much you shove into this bag.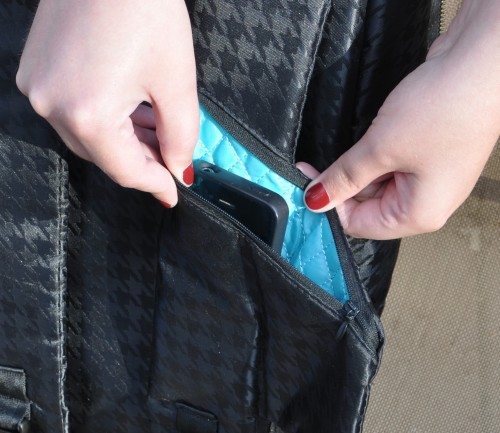 On the back, there is a zippered seam pocket two inches or so below the top of the bag designed for a thin, narrowish item. It's 5″ x 5″, so, again, not gonna hold that Galaxy S4.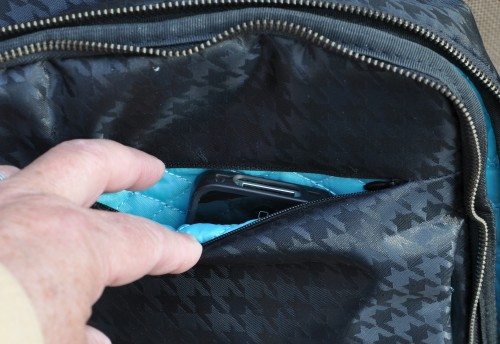 There is a full-width flap that covers the front opening, which, when lifted from it's magnetic latch, reveals a slim, lined pocket at the midline of the bag. This pocket extends to the full depth and width of the bag, with pen loops and business card pockets against the back wall.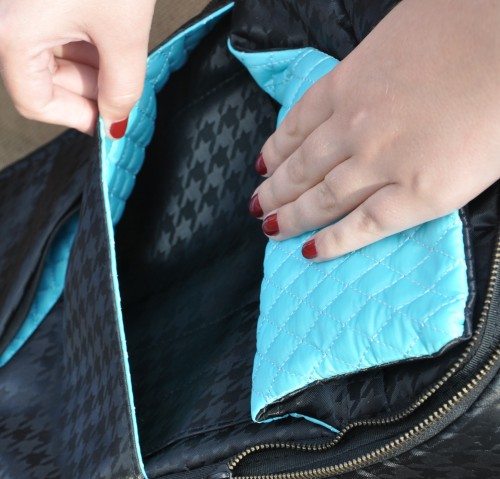 Below this pocket, there is a diagonal zippered pocket that can hold small items, but, again, will just barely hold my iPhone 4s.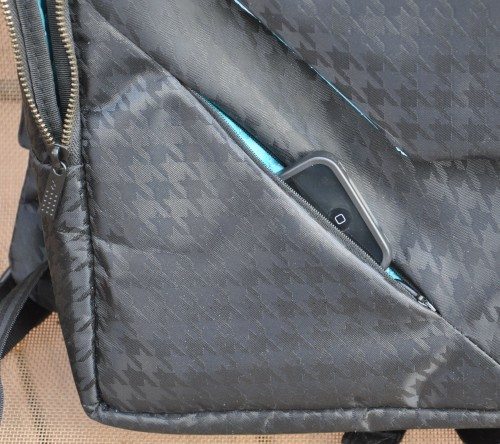 Inside the large 3-side zipper is the main compartment, divided with the quilted nylon into a rather thick pocket against the back (12″ x 9.5″ x 1.5″), joined to a slightly smaller (12″ x 9″ x 1″) pocket with slip pockets for pens and CDs sewn on the front.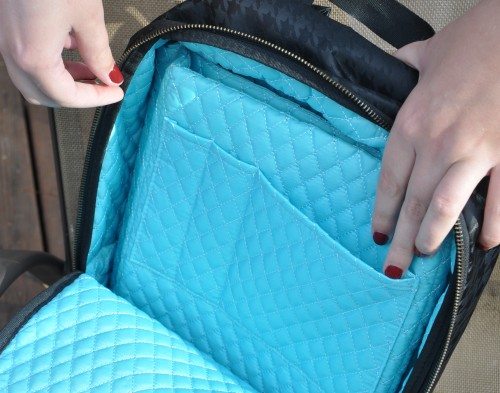 The entire interior is about 4″ deep, 10.75″ wide, and 14.5″ inches tall. With those two pockets suspended above the bottom of the bag, there is a spacial padding effect that would protect the laptop, tablet, or any other item carried in it.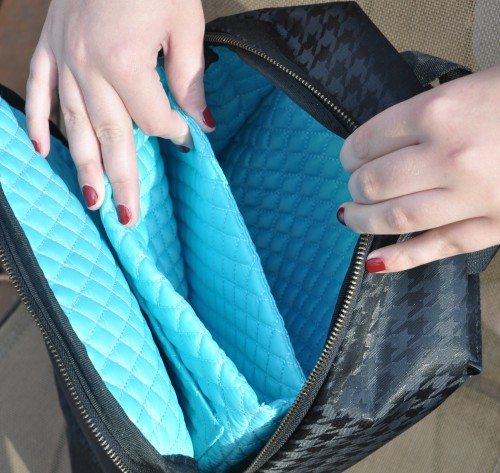 The remainder of the interior is free to stuff with anything needed. I stuffed it with a work shirt, Keurig cups, and other items for my job. The two pockets held my iPad third gen and the Lovely Bride's 13″ MacBook Air with no problems. Without her laptop along for the ride, I placed my full-sized Apple Bluetooth Keyboard, inside it's InCase Origami Case, and was rewarded with a bit more room in that main pocket. The loaded Cocoon Grid-It carrier fit in as well, providing organization and holding items out of the bottom of the bag.
So, what's the verdict? It's a mixed bag (pah DUM!) in many ways. Zipped up, slung on one's back, it looks fine, but the interior is an assortment of spaces too small to really use effectively. Pen loops and flat pockets need to not be sewn tight against the wall of a bag. They need a bit of extra fabric so that you can actually insert items into them. Zippers need to be heavy duty and run smoothly. The main zipper reminded me of something from a bad military surplus store from my childhood, not a high-tech 21st century product. Rough metal, finicky to work, and not really attractive.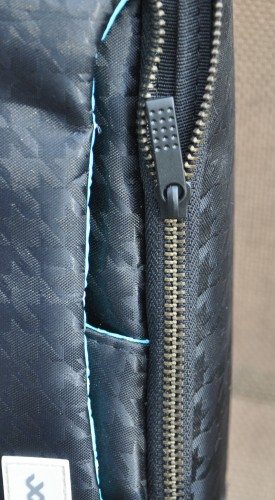 The zippers on the diagonal pocket and the top rear pocket were at the other extreme. They look for all the world like they were designed for a ladies' evening dress or handbag. The pulls are so thin and dainty that I was literally afraid I'd break it each time I opened one of them.
The last thing to mention is the look. It's very chic, but, alas, I am not. My Lovely Bride kept telling me it looked like something a middle schooler would use. A middle school girl. Between the petite size, the shiny outer fabric and the turquoise quilted lining, I have to agree, it's quite … dressy. I don't fault the color or fabric choices for my final disappointment with the bag, but I don't think it'll fit in with many of my geeky guy friends. I could be wrong, but the Bride – never! 🙂
Two stars out of five.

Product Information
Price:
$100
Manufacturer:
Blue Flame
Retailer:
various online, as well as brick and mortar shops.
Requirements:
Pros:

Some interesting pocket placement ideas.
Magnetic flap that holds rear pocket open.
Main padded pockets are nicely designed and of good size for intended items.

Cons:

Rough, difficult to operate zipper on main compartment.
Dainty, difficult to operate zippers on accessory pockets.
All pockets and pouches are sized smaller than what they are designed for.