We use affiliate links. If you buy something through the links on this page, we may earn a commission at no cost to you. Learn more.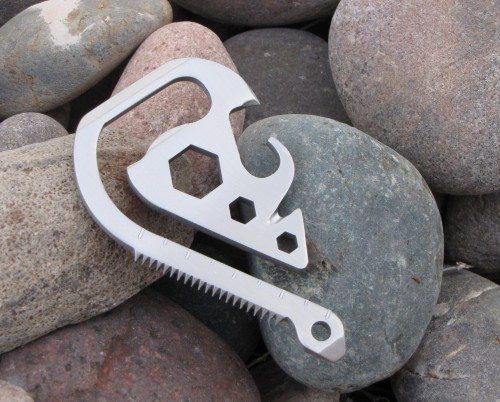 I have said it before, and I will probably say it many more times here on The Gadgeteer pages: I am a pocket multi-tool junkie. I love having the ability to carry around small gadgets that can perform several different functions. I especially like items that I can fit on a keyring or into a wallet slot. But not all of these types of tools are created equal; some fall short in the areas of features, materials, or size. The Parachute multi-tool from Jeff Morin is one I posted about when it was a Kickstarter project.  Now that it is funded and shipping, Jeff was kind enough to send me one for review.
Note: Images can be clicked to view a larger size.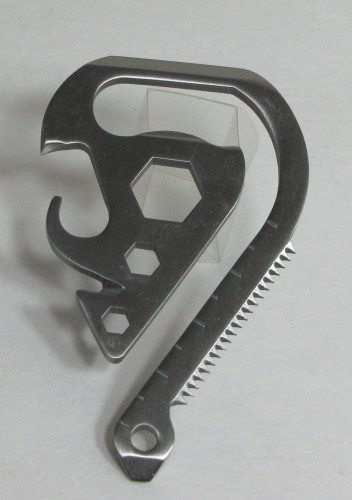 The Parachute is a multi-function tool with the following features:
Scraper
Can opener
Seatbelt or hook cutter
2″ ruler
Flat screwdriver
Keychain hole
1.5″ saw blade
Hex wrenches x 3 (1/2″, 1/4′ and 5mm)
Bottle opener
Belt loop hanger
While you could debate how functional some of these items listed are, the Parachute does have 10 functional items.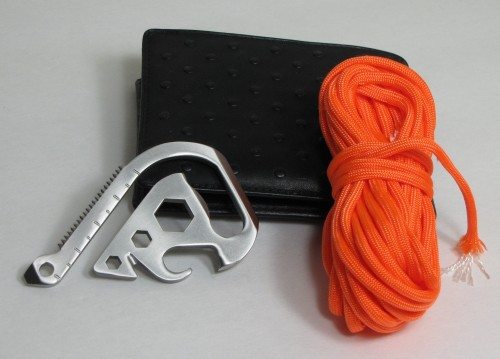 Size-wise, the Parachute is 3.5″ high, 2″ wide (at its widest point), and .157″ thick; it weighs approximately 1.67 ounces. The Parachute is made of stainless steel and comes in either matte black or a matte silver finish. As you can see by the picture, I received the matte silver version. The size and the heft of the Parachute is good and my initial thoughts on its construction is that it is well made.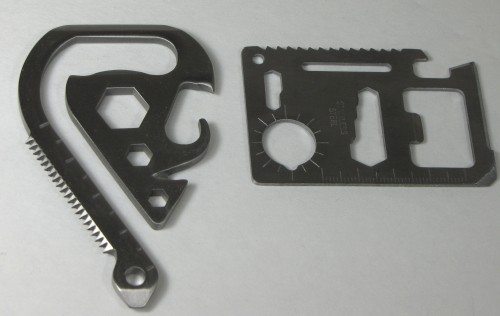 Of all the features on the Parachute, I find two of them to be the most unique compared to a lot of other multi tools I own or have seen. The first unique feature is the seatbelt or hook cutter. This part of the Parachute can be used to cut cord, string, seatbelts and even cloth. It may be the smallest part of this multi-tool, but it is one of the handiest.  The second feature is the saw blade. As you can see from the picture above, I do own a multi-tool with a saw blade, but that is one of the few others that I have found. I will note that the saw blade on the Parachute does seem better made and has a more aggressive cut than the one on the other tool.  In my opinion, the Parachute could have probably done without the saw blade feature. It does work, but it is prone to snag on things when hanging on a key chain in the open.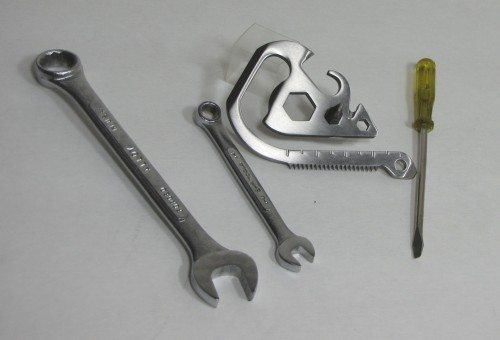 The Parachute won't replace your normal tools set, nor was it intended to, but in a pinch (as it was designed to be used for) all the tools function well. The fit for the nuts and bolts was precise without a lot of play, and the thickness of the Parachute didn't make me feel like I was going to damage or slip off the nut while trying to loosen or tighten it. If there is any weakness in the design, from my non-engineering viewpoint, it would be the area where the saw blade is. I do not think I could actually break the Parachute using or even abusing it, but I did get some flex from that section when I torqued down on some nuts.
Another nice feature of the Parachute is the 1/4″ hex will allow you to use various removable screw and socket bits if you happen to lose power to your drill. The bottle opener is nice to have. The can opener is a feature I think we forget about, but if you are out camping, it can save the day (especially if you are like me and always seem to forget something). The scraper is practical and not overly sharp, but it does do the job without the fear of cutting yourself when the Parachute is on a keychain. The ruler is a ruler; I will say I have actually been in situations where I needed something like that to measure with and had to SWAG (Scientific Wild Ass Guess) it. As long as what you are measuring is 2 inches or less, you are good. The flat head screw driver works well, and in a pinch, you can use it to wedge or pry things. And the keychain hole allows you to carry the Parachute with your keys.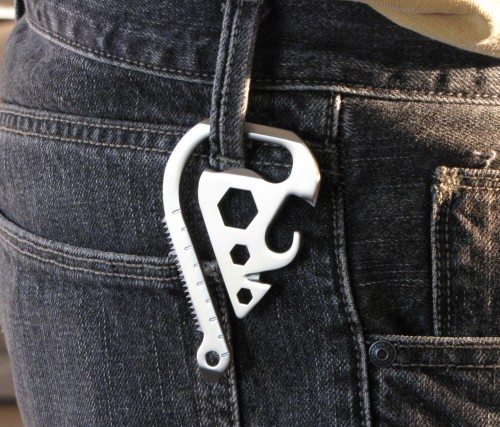 The Parachutes design is actually very practical for use as a keychain. It can hook to a belt loop or hang from a pocket, allowing easy access to your keys. This is a practical design feature, in my opinion.
So, what's my overall view on the Parachute multi-tool? I like it. I find it to be a practical, useful pocket tool for everyday use. It is well made, with a good size and functionality. Although you may find it a bit heavier than some other pocket multi-tools on the market, I believe that the thickness and quality justify this. At $19.99, in my opinion, it is reasonably priced compared to the competition.
Product Information
Price:
$19.99
Manufacturer:
Jeff Morin
Retailer:
Coins for Anything
Pros:

Sturdy and well made
Multiple uses
Price

Cons: