We use affiliate links. If you buy something through the links on this page, we may earn a commission at no cost to you. Learn more.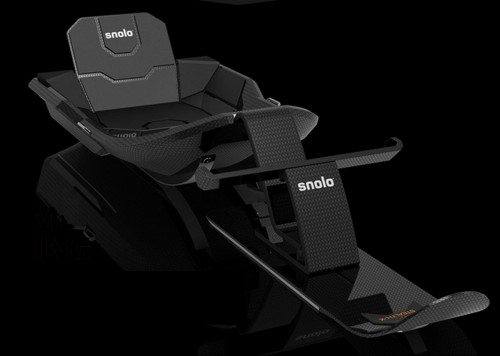 Growing up, my friends and I would hope for the perfect winter storm, 6 inches of snow followed by compaction by cars and temperatures cold enough to freeze it into ice…something that rarely happens in Seattle where rain reigns supreme. Those were ideal conditions for sledding. Not the relatively safe flat bottomed kind of sledding but the metal railed kind that can be way too fast/fun. The engineers at Snolo have taken sledding to the next level, creating every kid's (or adult's) dream snow machine; the Snolo Stealth-X carbon fiber sled that looks crazy fast. According to Snolo:
The Stealth-X has a seating position that makes you feel like you are sitting in a race car, it has steering ability, and it has speed. Early test runs on an average gradient slope showed it was capable of in excess of 65 km/hr (approximately 40 miles an hour), but uniquely for a sled it can also maneuver and stop in much the same manner as a snowboard using your feet and your body positioning.
Sadly in the same breath, they also said it is not for kids but is "built for serious adult fun." I am certain if one was available back in the day, that my friends and I would have given it a go. But this high-tech crazy fun comes with an equally crazy price tag of $2549.