We use affiliate links. If you buy something through the links on this page, we may earn a commission at no cost to you. Learn more.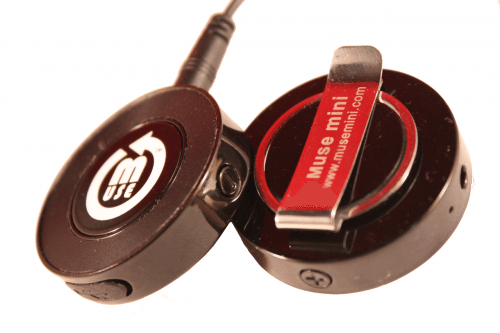 Do you have a favorite set of headphones or earphones, the ones you would love to take with you everywhere, the ones that are broken in just right, not only for your musical taste but also fit fantastically? Now don't you wish those headphones or earphones were Bluetooth-enabled so you don't have to carry your music device all over the house with you or keep pulling it out of your pocket or purse? The ClipR from Muse Mini can do that for you. The ClipR is a 1.625-inch diameter device that connects via NFC or Bluetooth to your NFC- or Bluetooth-enabled audio device, allowing you to plug any headphones or earphones with a 3.5mm jack into the ClipR and listen to your music wirelessly. The ClipR has built-in controls to allow you to control things such as volume and track and to even answer phone calls. Coated with a special rubber polymer, the ClipR comes in five different colors. A unique feature of the ClipR is its built-in microphone, allowing the user to answer a phone call even if their headphones or earphones do not have a built-in mic. Technical specifications noted from the Muse Mini web site are:
Bluetooth Version: CSR V4.0 and NFC
Frequency: 2.4GHz~2.48GHz
Profile supported: Headset and hands free, HSP ,A2DP ,AVRCP
APT-X technology
Operation range:10 m
Talking time:7~8Hours
Music playing time:6~7 Hours
Stand-by time:150~180 Hours
1.625″ in diameter
At $39.99 from the Muse Mini web site, the ClipR may be a great way to bring your headphones or earphones to the next level.