We use affiliate links. If you buy something through the links on this page, we may earn a commission at no cost to you. Learn more.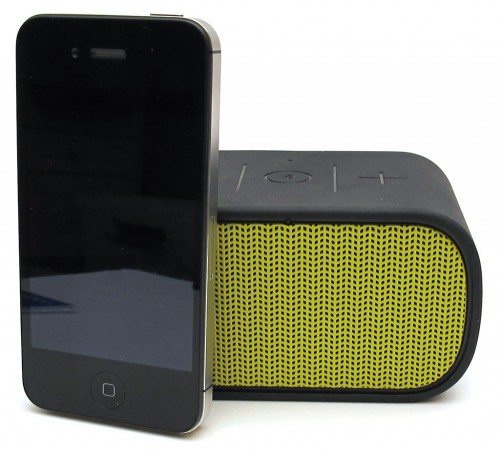 Oh boy, it's YAPBSR (yet another portable Bluetooth speaker review)! Hey don't press the back button yet, this particular little speaker has a lot going for it. It's the UE MINI BOOM and it's made by Ultimate Ears (owned by Logitech), who make some of the best in-ear headphones on the market. When a notable headphone maker branches out into speakers, it's worth taking a look. So let's go.
Note: Images can be clicked to view a larger size.
Hardware specs
Maximum Sound level SPL = 86dBC
Frequency Range = 130 Hz – 20 kHz
Drivers = Two 1.5″, 4 Ohm Drivers; One 3″ x 1.5″ Passive Radiator
Dimensions: 4.4 x 2.6in (11.1 x 6.1 cm)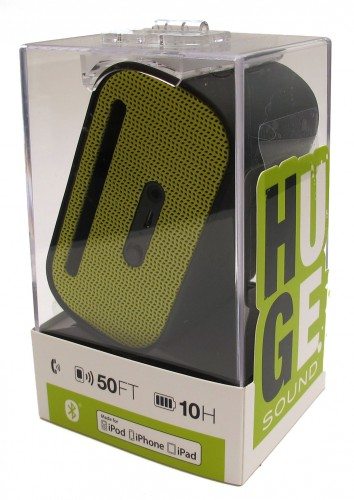 Before we really get into the UE MINI BOOM review, I have to start with a gripe. Usually I don't talk much about product packaging unless it's unusually cool or noteworthy. The packaging for the UE MINI BOOM isn't cool, it's just over the top wasteful. It comes in a thick plastic box that will promptly be trashed. UE, if you are going to use packaging like this, can you at least make it with a more universally recyclable plastic? The base is a #7 and the clear part is a #6. Neither of those are accepted by my recycle center. Grrrrr. Rant over, let's move on.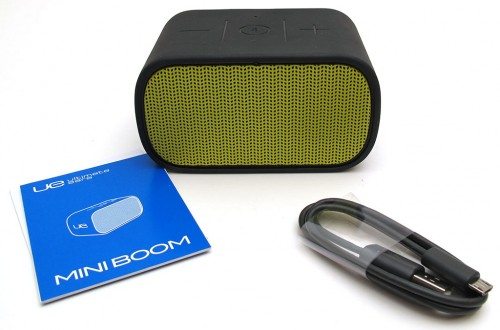 Package contents
UE MINI BOOM speaker
Micro USB charging cable
Instruction sheet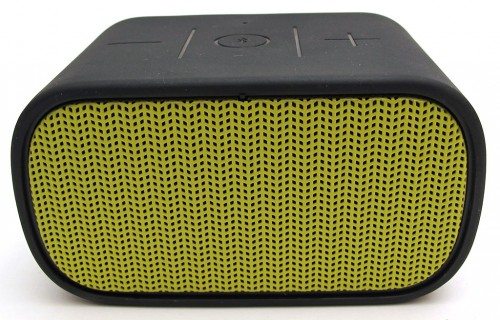 The UE MINI BOOM comes in 5 colors. I was sent the green version. The front and back are made of perforated metal and the top, bottom and sides are covered in a black rubber. I like the look and feel of the speaker. It feels solid and well made. I also appreciate the lack of overly noticeable branding. There's a UE carved into each side, but you don't notice it.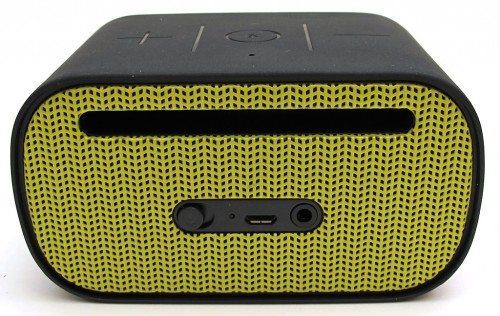 The back has a power switch, status LED, micro USB charge port and a 3.5mm audio input jack.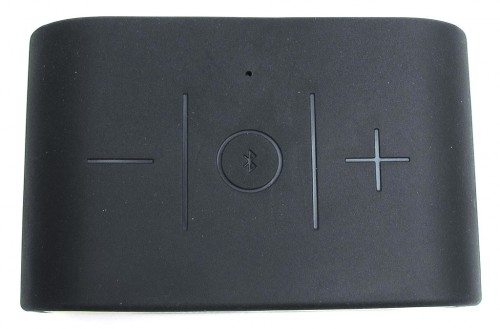 The top has volume buttons and a Bluetooth pair button which doubles as a call answer/end button for the speakerphone feature. It also has an NFC tag on top of the UE MINI BOOM. Just tap your NFC enabled phone on the speaker and it will automatically do the Bluetooth pairing for you. This is my 3 or 4th speaker with NFC and I'll admit that my initial indifference for the feature has done a 360. I really like the convenience of not having to drill down into my phone's settings to manually pair the speaker. Of course, if you don't have an NFC capable device, you can still pair manually.
The speaker has a 10 hr battery life and a 50 ft range Bluetooth range. I was able to leave the speaker in my basement office, walk upstairs to the main floor and then up another set of stairs into my bonus room with no loss of audio.
If you install the UE app on your iOS or Android device, you can use it to connect 2 UE MINI BOOMS together for wide stereo separation. The app also shows battery level, EQ setting and the ability to turn off notification tones so that texts and other alerts won't interrupt your tunes.
UE says that the UE MINI BOOM offers "unexpectedly huge sound", and they aren't lying. This little speaker is crazy impressive not just when it comes to volume, but sound quality too. Bass is surprisingly thumpy considering how small it is. Highs, mids and lows are all balanced, so all types of music sounded good through the speaker. I played some fingerstyle ukulele instrumentals that sounded like the person was playing the instrument right next to me. Each plucked string was crisp and clear and each strum warm and soothing. Then I switched to pop, rock and even dubstep tunes and thought I was listening through a much larger speaker. Vocals, drums, piano, horns, etc, all sounded clear. Even listening through a streaming service like Pandora or Google was not disappointing.
Portable Bluetooth speakers in this price range are all over the map as far as sound quality, but wow, the UE MINI BOOM is best smallest speaker I've tested so far. It's just earned its place as my favorite portable Bluetooth speaker. If you're on a budget and have limited space, consider checking out the UE MINI BOOM. This speaker is a keeper.

Product Information
Price:
$99.99
Manufacturer:
Ultimate Ears
Pros:

Impressive sound
Easy NFC pairing
Can connect 2 for wide stereo separation

Cons: