We use affiliate links. If you buy something through the links on this page, we may earn a commission at no cost to you. Learn more.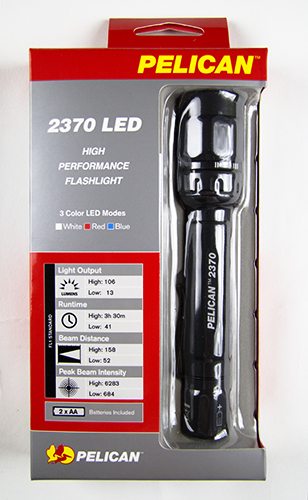 If you are familiar with the name Pelican, then you may know that they are known for their cases that are tough, durable, and long-lasting.  I was unaware that Pelican made flashlights, so naturally I was very curious on how good their flashlights could be. I assumed that if they made solid cases that they would make a flashlight with a solid build. After receiving their 2370 LED Flashlight and testing it out, I found it wasn't too far off from my assumption.
After I unboxed the flashlight, the first thing that caught my eye was definitely the flashlight's build and construction. It certainly felt solid enough. It has a nice weight to it without being bulky and not too light so as to feel cheap. If there are categories of professional or consumer types of flashlights, I would definitely call this a professional model with its build and performance. More on the performance later. The texture is a combination of a metal gloss and matte finish. The texture is due to the fact that it is made from aircraft anodized aluminum.  It weighs in around 6.5 oz. with its two included AA alkaline batteries.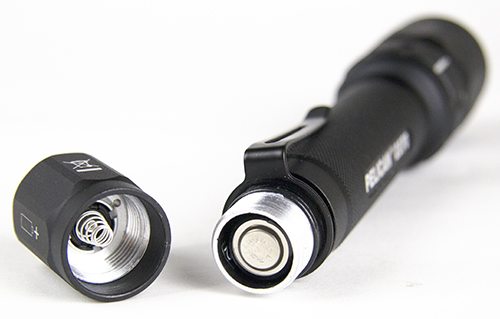 And speaking of batteries, I really like when flashlights do not require any special battery, like a Duracell  3.0v Lithium camera battery. You know those batteries: they are those stumpy, little, hard-to-find, expensive batteries that some consumer cameras use. Because the Pelican 2370 uses standard AA alkaline batteries, you won't have to go driving from store to store searching for replacement batteries.  Thumbs up to Pelican for using AA batteries.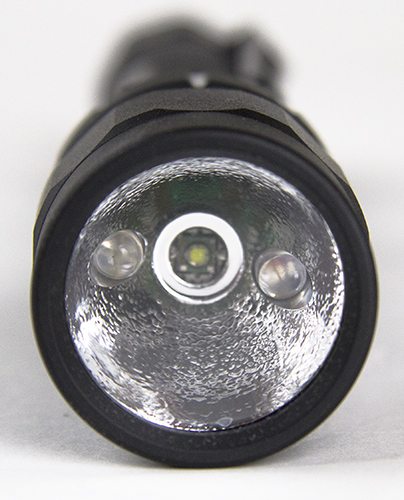 Now with the standard AA batteries in mind, you probably think the light output wouldn't be powerful enough. On the contrary, the output is pleasingly strong thanks to the LED bulb. This bulb  didn't disappoint like some of those LED flashlights that you can easily find at gas station that give off a slight bluish tint. This light output on this flashlight was a  strong, bright white light – maybe too strong. But this is where the dual output feature comes in. The Pelican 2370 has a high and a low beam of light. For those keeping score on the techie specs, the high output is at 106 lumens and the low output is at 13 lumens. That puts the runtime about 3 hours and 30 minutes in the high output and about 41 hours in low mode. Aside from the dual output, this flashlight features a magnetic bezel dial which alternates the LED light to one of the two extra bulbs – a red light or blue light.  Keep in mind that the dual output is for the bright white only. The blue and red light only have one output.
The distance for high beam is 158 meters and the beam distance for the low beam is 52 meters.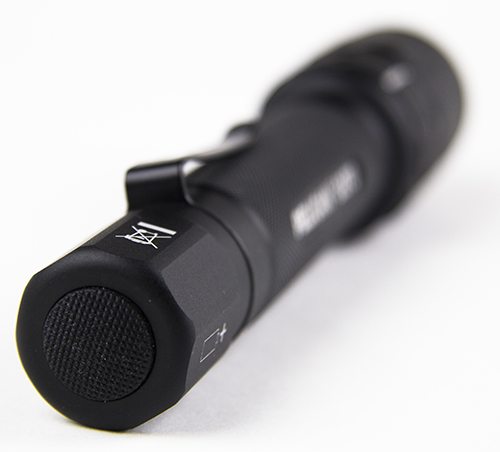 The power button located at the back of the flashlight has two functions as well. It has a constant on and a momentary on. Momentary On is achieved by half pressing the power button. I found out that the Momentary On is a nice feature to have when you need a quick light for a fraction of a second.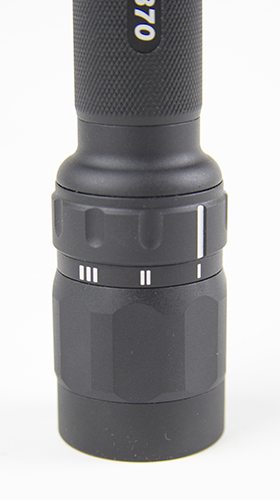 I suppose having the red and blue LED options allow for a less intense light, against a bright background, from reflecting back  at your eyes with an intense brightness.  Having the red and blue light is useful when you need some illumination but can't use a bright light. Red, for example, preserves your night vision.  Using dimmer lighting prevents giving away your location, too.

Although the Pelican 2370 comes with a removable clip, it would have been nice to have some kind of case. Not just to carry around, but also for some scratch protection on the finish. As durable as this flashlight is, you wouldn't want to just toss it in a toolbox with other tools scratching and grinding away at it. This flashlight is too nice looking to look beaten up. However, don't get me wrong; the Pelican looks and feels like it can take a beating. You might be one of those people who like to keep their stuff in a toolbox in their car, truck or even their boat and forget it. And that's okay with me.  The build on this flashlight will still allow you to do that. To each his own I say.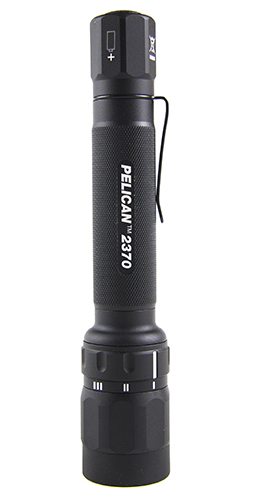 And speaking of boat, the Pelican 2370 is rated at IPX4 water-resistant. I really like my flashlights to be somewhat waterproof. I know there have been plenty of times when I used a flashlight when it was dark and raining and the dog wants to go potty. This could be handy when you are under the sink trying to fix a leak and you get spillage on the flashlight. I'm a big fan of water-resistant gadgets.
So if you are looking for a durable, water resistant, 3-in1 flashlight, then the Pelican 2370 isn't a bad choice. It looks sleek and techie at the same time. This is definitely one of my favorite flashlights to date, and I will keep this in my messenger bag or camera backpack. Probably in some kind of case, of course.

Product Information
Price:
$61.95
Manufacturer:
Pelican
Pros:

IPX4 Water Resistant.
3-in-1 light option.
Sturdy feel.
Made from anodized aircraft aluminum.
Strong, bright light output.
Dual output.
Handy magnetic dial to switch between lights

Cons: