We use affiliate links. If you buy something through the links on this page, we may earn a commission at no cost to you. Learn more.
This post brought to you by Advanced American Telephones. All opinions are 100% mine.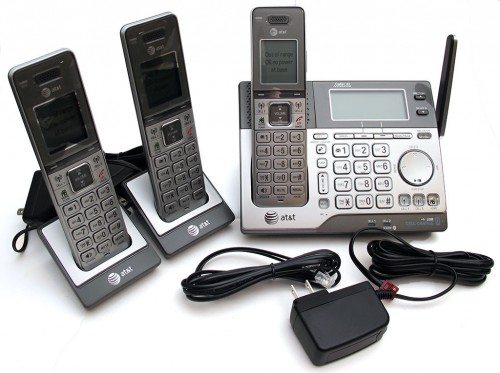 Although people seem to be moving away from landline phones these days, there are still millions of people that haven't ditched their analog phones in favor of only using a cell phone. The AT&T branded CLP99383 features Connect to Cell Bluetooth technology that enables you to make and receive up to two cellular calls and one landline call at the same time through the same system. Combining your landline and two cellphones gives you the best of both worlds. Let's take a closer look.
Note: Images can be clicked to view a larger size.
The AT&T CLP99383 includes a base station with an answering machine. The base has one handset and there are two more wireless handsets included with the system. The base station can support up to 12 standalone handsets, which only require an AC outlet to hook up their small charging cradles. The base station requires a landline phone connection, but each of the handsets do not.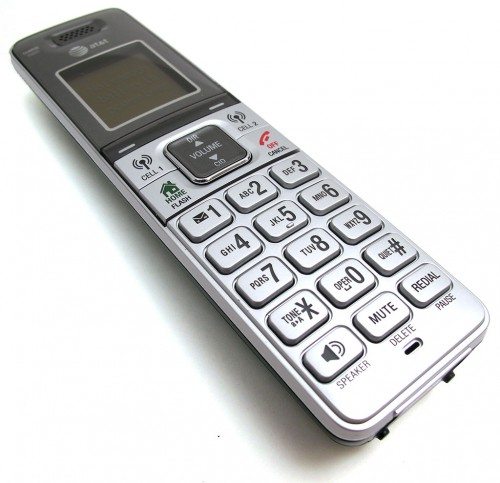 You might have a phone system that looks similar to this one in your house right now. The AT&T CLP99383 can do all the same things as your current system. It can make and receive calls, record messages when you're not there to answer calls and act like an intercom system so that you can talk between handsets without requiring an outside call. Those are all normal features that you would expect. But the CLP99383 can do a lot more once you pair up to 2 cellphones to the base station via Bluetooth.
Almost every call we make with our landline is a long distance call because we live across the county line. Even though we each have a cell phone, it just never seems to be convenient to use it because we spend most of our time in the basement where the reception is weak. As a result, we always end up placing calls with the landline and racking up extra monthly charges. With the CLP99383, that's no longer a problem. We just pair our phones (my Samsung Galaxy S3 and Jeanne's little LG non-smartphone) with the base station and leave those phones upstairs where the reception is fine. When a call comes in to either mobile phone, the CLP99383 handsets ring and we answer the call just like we would a landline call. You can even customize the ring tone so that each paired cell phone has its own ring tone which can be different from the landline ring tone.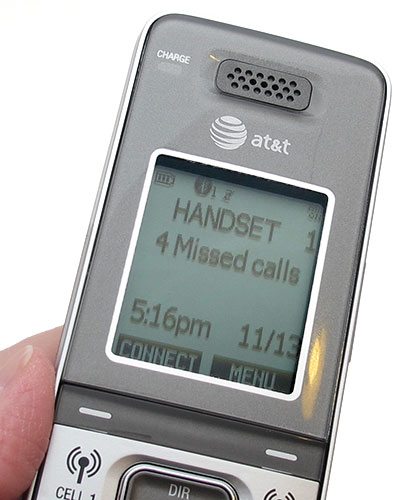 Using the CLP99383 has helped me out with Gadgeteer business calls. My home office is in the basement, where the reception is weak. Business phone calls would always cause me to go running up the stairs to make sure the call didn't drop before I answered it. Now I can stay in the basement and not have to worry about that.
The CLP99383 doesn't just allow you to answer incoming cell calls, it also let's you make outgoing cell calls through the handset. And, if you have an Android smartphone, you can install the Connect to Cell app, which will let you set different notifications to alert you through the CLP99383's handsets.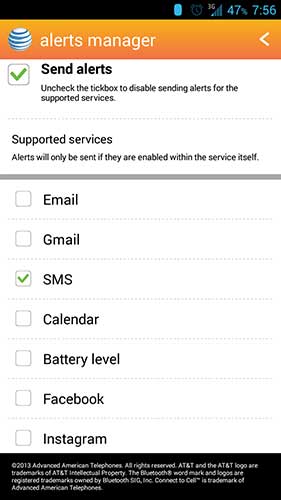 This is really handy if you need to leave your paired phones in another room. Once this is setup, you won't miss incoming messages and alerts. Each handset beeps and displays which kind of message was received. You can also receive calendar reminders through the system. You can't read the messages through the handsets, but just knowing one came in is a nice feature.
The app will also allow you to view the phone log of incoming and outgoing calls. This only works when you're within range of the CLP99383 though.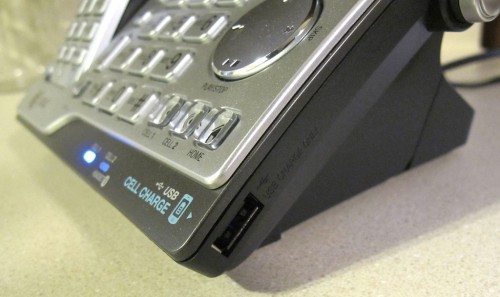 Another nice feature of this phone system is the built-in USB connector on the side of the base station that you can use to charge a mobile device.
If you're still rocking a landline phone and also have cellphones, the AT&T CLP99383 is a feature packed phone system that lets you enjoy the best of both worlds.
Product Information
Price:
$119.95
Manufacturer:
AT&T
Pros:

Pairs up to 2 cellphones via Bluetooth
Make and receive cellular calls through the CLP99383
Built in USB port

Cons: