We use affiliate links. If you buy something through the links on this page, we may earn a commission at no cost to you. Learn more.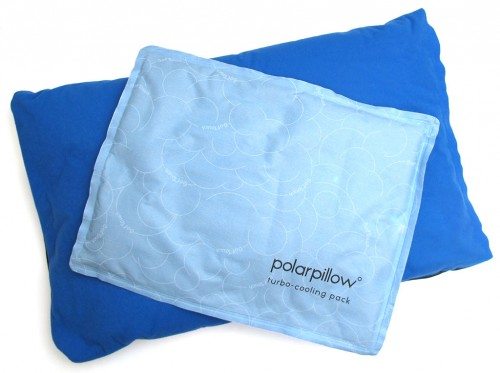 Early last year I was sent a PolarPillow to review (linked below in related links section) and didn't give it a very favorable review because I found it to be too heavy and flat for my own liking. The folks at PolarPilow recently contacted me again to ask if I'd like to review an updated version of their cooling pillow. Since I'm always interested in products that can help me enjoy one of my favorite activities (sleeping), I agreed to take a look, hoping their new PolarPillow would be much improved in both weight and comfort. Let's see if it is.
Note: Images can be clicked to view a larger size.
Like the last version of the PolarPillow, this new version also uses liquid gel for cooling. But unlike the previous version, this one has two components. The main pillow and a separate gel pack which they dub the turbo-cooling pack.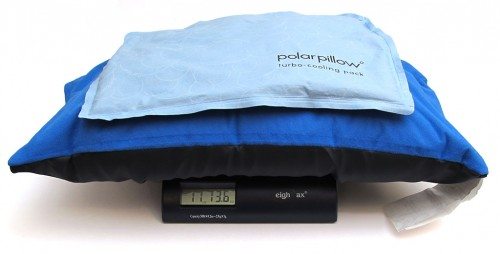 The original PolarPillow weighed in at a hefty 15 pounds, so I was really interested in finding out the weight of the updated version. According to my electronic scale, the combo of the pillow and the turbo-cooling pack comes in at close to 12 pounds. So yeah, it's a bit lighter. Where does the weight come from? Mainly the layers of  the cooling gel.
Top Layer: 7 pounds of specialized cooling gel
Bottom Layer: 2 pounds of soft, supportive micro-poly fill
Turbo-cooling pack: 3 pounds of cooling gel

Never miss one of our posts again. Sent MON, WED, and FRI with the latest gadget reviews and news!
The main pillow is 20.5"L x 13"W x 3"H, which is significantly smaller than a traditional pillow. The blue knit top half that is made of 50% PU-coated polyester knit, that feels similar to flannel.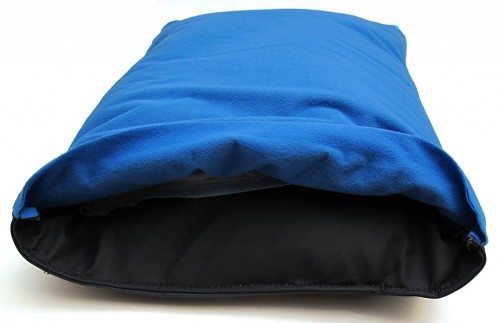 The pillow is designed like a padded sack. The blue part on top is filled with liquid cooling gel and the bottom or main pillow is filled with micro denier polyester with a 50% PE-backed nylon cover. The open area in the middle of the "sack" holds the separate turbo-cooling pack.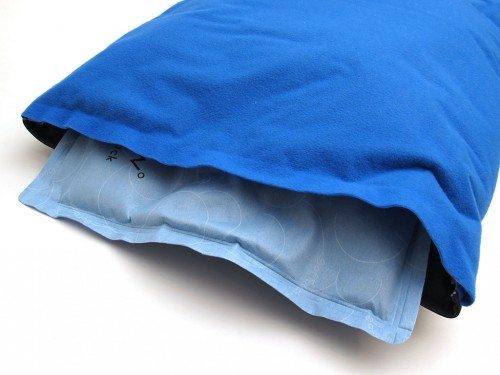 To get the full impact of the PolarPillow, you're instructed to chill the turbo-cooling pack in the freezer for at least 1 hour. I chilled mine for about 8 hours – I like to be thorough 🙂 When it was time to go to bed, I retrieved the pack from the freezer, slid it into the center of the PolarPillow, turned out the lights and laid down. First impressions were wow, this pillow is flat and hard. But boy is it cold. Of all the cooling pillows I've tried so far, the PolarPillow is the winner when it comes to cooling. The coolness chilled the back of my head and neck. Unfortunately this pillow is also the winner of the least comfortable prize as well. Like the previous version of the PolarPillow, this one is flat, heavy and gets zero comfort points.
I only lasted about an hour with the PolarPillow before I wimped out, gave up and returned to my regular pillow. I'm a side sleeper and the PolarPillow was uncomfortable on my ear because it is so hard. I think this pillow is better suited for someone who sleeps on their back – but even sleeping (or trying to) in that position was tough for me. I just couldn't fall asleep. It was like laying my head down on a rock. A very cold rock though. I ended up slinging the PolarPillow off the bed and almost squashed my cat with it.
In the morning I removed the turbo-cooling pack and felt the center area between the two pillow layers to see if it was damp from the thawing of cooling pack. It wasn't, so that's good. That brings up another problem with this pillow though… you have to remember to chill the turbo-cooling pack each day.  If you're anything like me, 9 times out of 10 you'll only remember to do it the moment you're getting ready to go to bed. You can buy extra cooling packs for $19 so you can rotate them, but I still find this step to be an inconvenience.
Even though the PolarPillow didn't work out for me (again), I can see how it might be beneficial to someone that suffers from headaches, fevers or hot flashes. As long as you don't mind a very firm pillow, it might be worth trying this one. And if you don't like it, you can always send it back because they offer a 60-day money-back guarantee.
Product Information
Price:
$120
Manufacturer:
PolarPillow
Pros:

Stays very cool for several hours
60-day money-back guarantee

Cons:

Heavy
Smaller than traditional pillows
Have to remember to freeze gel insert