We use affiliate links. If you buy something through the links on this page, we may earn a commission at no cost to you. Learn more.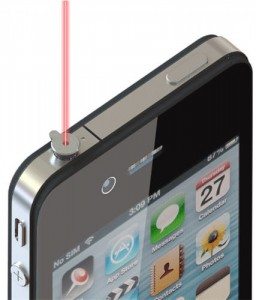 My full review of iPin Laser Pointer has been posted.
You'll be the envy of all your co-workers at your next team meeting when you whip out your iPhone with this cool low profile laser pointer. We've told you about laser pointer accessories for the iPhone before (see related links below), but the iPin is the smallest one we've seen so far. It fits in the earphone jack with very little sticking out. Twist the top to turn the pointer on and twist back to turn it off. Using a special app, you can also control your PowerPoint presentation right from your phone. It draws power from the headphone jack and can be left plugged in without affecting phone functions. The iPin is available now through Amazon for $49.99. I wonder if it will work with Android too… I don't care about the PowerPoint control. Hmmm….