We use affiliate links. If you buy something through the links on this page, we may earn a commission at no cost to you. Learn more.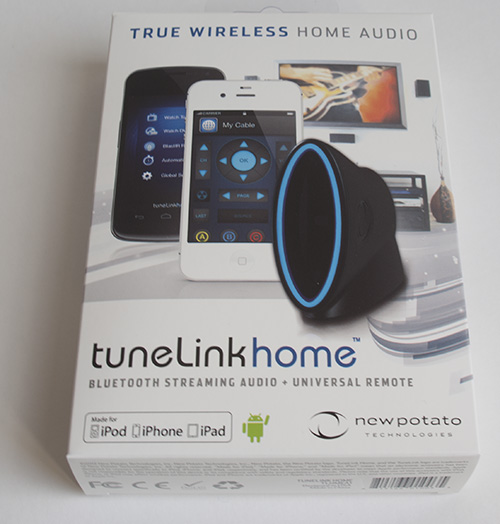 There are a number of ways to get your music streaming from your home to your sound system. New Potato Technologies has TuneLink Home that provides a Bluetooth connection for your audio as well as the ability to use your phone as a universal remote.
The device comes with a number of connections, including:
Infrared sensor and transmitter

3.5 mm IR Extender
Line Audio Out
TOSLINK Output for digital-to-digital audio
The box promises applications for iPod, iPhone, iPad, and Android. I was a little concerned to review the item, since the Android App was only pending, but the site advertised that it was only a month away, and I had my wife's old iPod touch as backup. Let's see how this worked with my setup consisting of a Samsung Galaxy S3, iPod touch, and my old reliable Onkyo receiver.
In The Box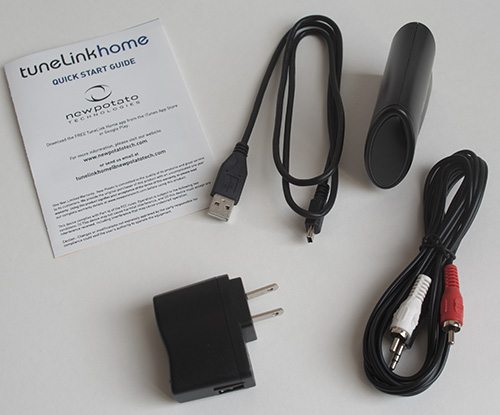 The box includes:
Instruction sheet

MiniUSB cable
USB AC adapter
3.5mm-to-stereo RCA adapter
The TuneLink Home
I like the powering approach. It is a standard USB adapter with a miniUSB cable. You can actually power it from any USB port. The TuneLink Home is small, so it also makes a lot of sense that the input is a 3.5mm stereo plug.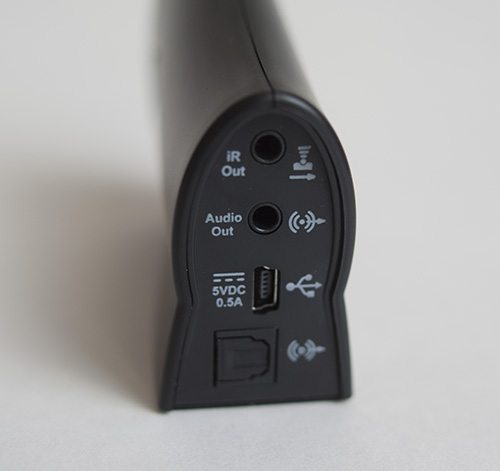 The back of the device contains the physical connections. The top plug is for an IR extender. This is ideal if you have your components tucked behind doors. You can buy a standard extender (not included), and the TuneLink Home will pass your IR information on to your devices. I did not have an extender to test this, and had other problems we will discuss later, but I assume it will work.
The audio-out is a stereo 3.5mm jack that works with the included adapter and your audio system. It was very simple to set up, and I made the TuneLink Home my Tape 2 item on my ancient Onkyo receiver. Hooking up power was easy, but my vintage Onkyo receiver had no TOSLINK, so I kept it old school.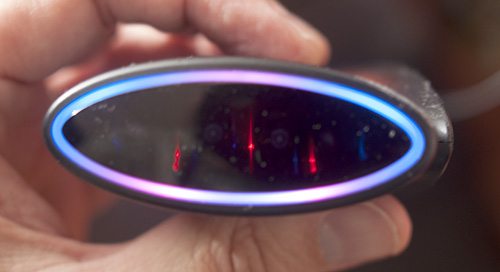 Here is a look at the front, in the sun. You can see the ring and 3 IR lights. The color around the device indicates status: solid blue when connected to a iOS device, solid green when Android, and blinking when there is a connection issue.
How it Works
There are two aspects of this device. First is the ability to connect your Bluetooth-enabled device to a sound system. This works very nicely. Even though I had an Android phone, and the app is not available, it easily synced, and I was able to stream music to my sound system. I used both my Samsung SGS3 and my Nexus 7 without incident. The other aspect is the universal remote. This requires an application on a supported device.
The Application
I was hoping the Android app would be available before I finished the review. However, I had my iPod Touch as a backup, or so I thought. Turns out the application requires iOS 4.3. My iPod Touch is a second generation, so I was out of luck. I waited past the time the Android application was set to be available (last fall) then noticed the notice went from a stated month, to the term "soon". On to plan C.  It took me a while, but I finally managed to get someone with an iPhone to lend me their phone for the afternoon.
 TuneLink Home Application
Once I had the application installed, I was able to start using the remote features. The application lets you turn your iOS 4.3 or later device into a remote for your system. The IRs on the device pass on the commands to your system allowing you to control your devices without line of site. If you had all your components tucked away with the TuneLink Home, you would be in business. Here is a look at the main screen.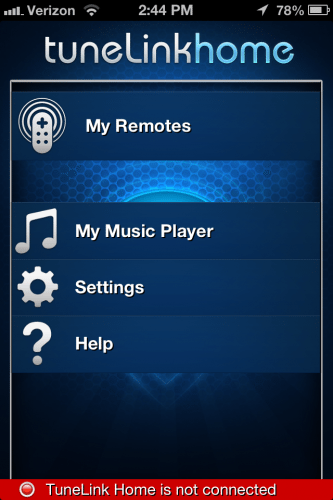 I went into the Bluetooth settings, and when I turned it on, I was greeted by this message: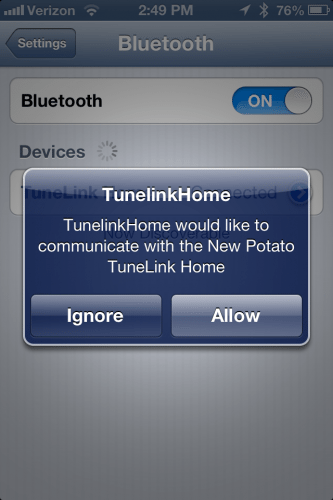 The application also provides an easy way to update the firmware on your device. Here is an example of that notice. It updated very quickly.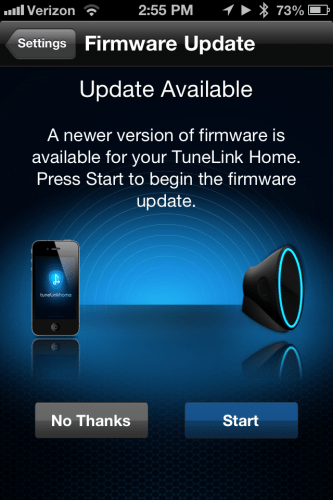 They have a number of attractive themes you can use for your remotes: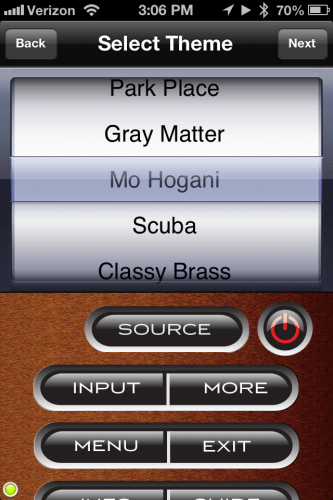 There is also an extensive library of pre-configured devices: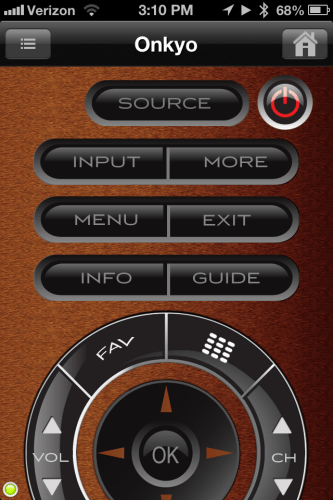 Unfortunately, My Onkyo receiver is pretty ancient. I did not find it listed, and the few receivers I did try, did not seem to work. Fortunately this is a learning remote, so I was able to program the functions.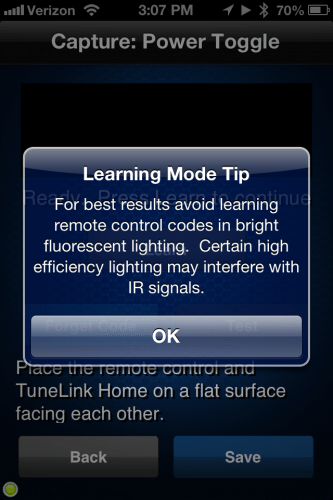 The learning mode worked quite well. There were a few times I had to re-record, but it was simple and straightforward. You can also assign macros to buttons, so you could have a button that turns on your receiver and your CD player at the same time.
I liked the application; I just wish I could spend more time with it. I look forward to trying the Android application when it comes out.
When I was ready to test out the remote, I figured I would have to work on the arrangement. To my surprise, it worked the first time. As you can see in this picture, the TuneLink Home is far from ideally placed in relation to my components, but it worked fine despite the fact that the TuneLink Home is located below the front of the receiver, and pointing perpendicular.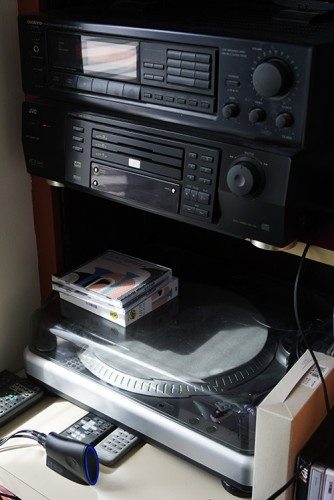 Conclusion
If you are looking for a way to stream your music from a Bluetooth device to an existing sound system, this works very well. If you have an iOS 4.3 or higher device, you can also use this to replace your collection of remotes. As an Android user, I'll have to wait some more.

Product Information
Price:
$99.99
Manufacturer:
New Potato Technologies
Retailer:
New Potato Technologies
Requirements:

Bluetooth-enabled device for streaming. iOS 4.3 or higher device for remote.

Pros:

Powerful IR emitter
IR Learning capabilities

Cons:

Requires iOS 4.3 or higher for iPod Touch/iPhone
Android application not yet released