We use affiliate links. If you buy something through the links on this page, we may earn a commission at no cost to you. Learn more.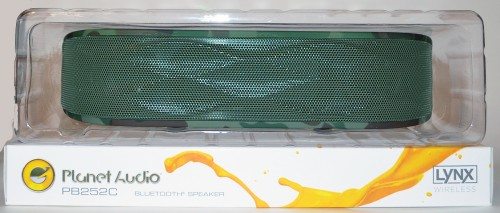 Because the external speaker on my iPad mini is wimpy, I'm always happy to try out another portable, Bluetooth speaker.  When Planet Audio offered their Lynx PB252C Bluetooth Speaker for a Gadgeteer review, I raised my hand.  It looks nice, and it has a compact shape that should make it great to throw in your gear bag.  How does it work?
All images may be clicked for a larger view.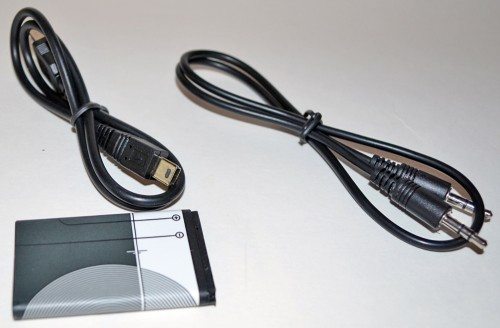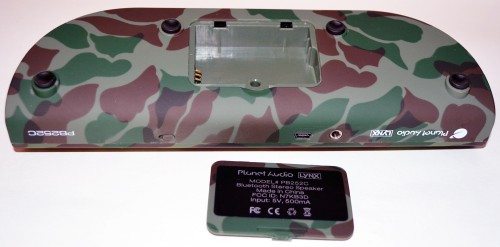 This Lynx speaker is available in a variety of colors: black, blue, orange, pink, red, white, yellow, and camo.  I received the camo.  Unlike most rechargeable devices I've tried, the Lynx PB252C comes with a battery (800mAh) that you have to insert into the battery compartment yourself.  If you could find another battery like this one, you'll be able to replace it when it no longer holds a charge.  This is a nice touch.  The speaker also comes with a miniUSB cable for charging and a 3.5mm audio cable so you can use the speaker with non-Bluetooth devices.  Although it's portable, it doesn't come with a bag or carrying case to protect it in your gear bag.

The front of the speaker has a metal grill that's been embossed with rounded diamond shapes.

The body of the speaker is covered with a rubberized coating.  The Lynx speaker measures about 8.5″ long X 2.4″ wide X 2″ tall.  It weighs 9 ounces.  Specs for this product don't indicate the Bluetooth version.
I inserted the battery, plugged it in to a USB port on my computer, and left it charging for about 3 hours.  When I turned it on, the Lynx easily paired with my iPad mini and with my iPhone 5.  It would quickly re-connect with the device I had last paired it with after I turned the power off and back on.

Seen left to right, the back has a 3.5mm audio jack, a miniUSB port for charging the lithium-ion battery, and a power on/off switch.  I like having a dedicated power button on my devices.  It's so much easier than trying to hold a multi-function button down long enough to turn it off or on without entering some other function the button also controls.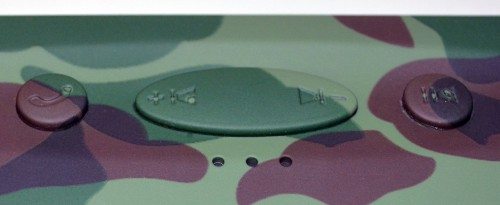 And speaking of multi-function buttons, the top of the Lynx speaker has a multitude of them.  Seen on the left, the button with the telephone handset is used to answer or end an incoming call.  It can also be used to re-connect to your Bluetooth device if connection is lost.  The big middle button is used both for playback control and for volume.  To skip to the previous track or advance to the next track, you press the appropriate end of the button.  To reduce or raise the volume, you'll have to press and hold the appropriate end of the button.  I found it was very easy to change tracks while I was trying to adjust the volume.  This was an irritation.  The rightmost button is the play/pause button.
When I first started trying out the Lynx speaker, I was just using it to play music from my iPad mini.  Granted, with a small speaker like this, you can't expect highest-fidelity sound, and Bluetooth connectivity often adds a compressed or flattened sound.  Given that, this speaker sounded good, and it had a surprising amount of volume from such a small package.  When the volume was pegged, the speaker did distort, but it sounded good at more acceptable volume levels.
When I came back to it in a couple of days, I was using it with my iPhone 5.  It connected easily, and I was able to start playing songs.  After a minute or so, I decided to change songs.  When I did, I lost connection with the speaker.  I re-connected the Bluetooth and tried again, only to have the speaker disconnect over and over as I tried to play songs.
I tried to use the Lynx as a Bluetooth speakerphone.  I could answer the call, but the caller couldn't understand a word I was saying.  I called my husband's phone and left a voice message while using the Lynx as a speakerphone so I hear what the call sounded like.  It sounded a little like the alien communications in the Signs movie.  Hear for yourself:  lynx-pb252.mp3
I tried connecting the Lynx to my iPhone with the included 3.5mm audio cable, and everything worked fine.  I was able to successfully play music, and I was able to use the Lynx as a speakerphone.  Music sounded good, and my caller said our call was clear and clean while I was connected with the audio cable.
At this point, it seemed to me that I was having a problem with the Bluetooth function, since the speaker worked well when the wireless Bluetooth connection was taken out of the picture.  I went to Planet Audio's website and logged a tech request using the online form.  After a couple of days of no response, Julie asked her contact for help with getting some response from tech service.  It's been about 1.5 weeks from my original request, and I've had no response from anyone at Planet Audio.
Although I think that I just got a defective unit and feel that the Lynx PB252C usually works well when the Bluetooth functions are working properly, I cannot recommend a product with apparently non-existent customer service.

Product Information
Price:
$69.95 MSRP, but Amazon sells them for $30-41, depending on the color
Manufacturer:
Planet Audio
Retailer:
Amazon
Pros:

The speaker sounds good, both while connected wirelessly while the Bluetooth still worked and while connected via the audio cable
Can be used as a speakerphone when connected via Bluetooth or the audio cable
Produces a lot of volume

Cons:

Multi-function buttons can cause you to change tracks when you meant to adjust the volume
The review unit apparently had a problem with the Bluetooth that I think is probably not common to all of these speakers
Non-existent customer service. No response from customer service request submitted via their email form or when Julie contacted them and asked for help