We use affiliate links. If you buy something through the links on this page, we may earn a commission at no cost to you. Learn more.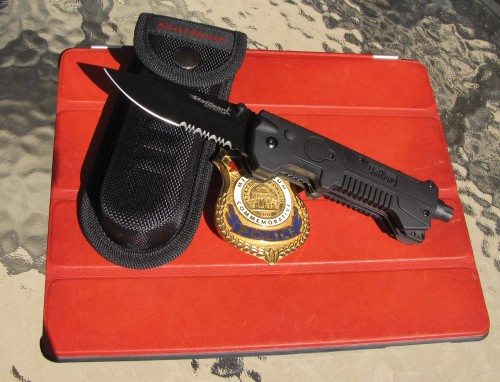 Having previously been in the public safety field for a number of years, I have come to realize how important a good knife can be when you are on the job. The problem with most knives is that they have a single functional; they are designed to cut. Yes, I have seen knives that have multiple functionalities, but those knives are general-purpose tools made more for outdoorsman and gadget geeks than for the public safety first-responder market. The T3 Tactical Auto Rescue Tool from StatGear is different because it is designed specifically for public safety members and first responders.
Note: Images can be clicked to view a larger size.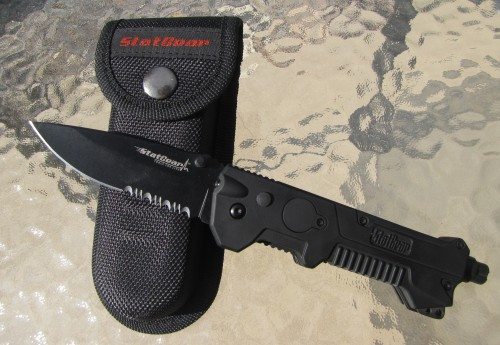 The T3 Tactical Auto Rescue Tool (hence forth known as the T3) is actually four tools built into a convenient carrying system. The T3 consist of the following:
1/2 serrated 440C stainless steel knife blade 3 1/4 inch long
440C stainless steel hook blade
Spring-loaded steel tip window punch
5-Lumen LED light
The T3 also has a stainless steel belt clip and comes with a heavy-duty nylon sheath. It weighs 6.4 ounces and has an overall closed length of approximately 5 inches. The handle itself is made of ABS plastic with a rubber non-slip coating.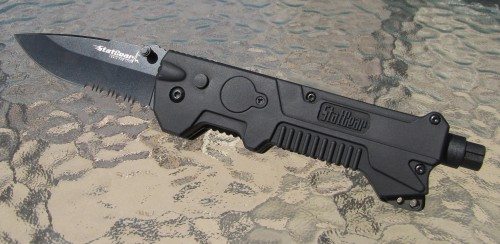 The knife blade of the T3, as stated above, is made of 440C stainless steel and has a black anodized finish for durability. The front half of the blade is standard-looking, while the back half is serrated. The dual cutting design is a nice touch and gives the user some versatility. On the right side of the knife blade is a thumb knob for one-handed, quick deployment. The knife blade locks into place when fully deployed. Both sections of the blade were very sharp out of the box and made short work of various materials I tried then on, such as cloth, plastic, nylon rope, para cord and wood. Opening the knife blade with one hand (one thumb) was easy, and the blade locked into place nicely.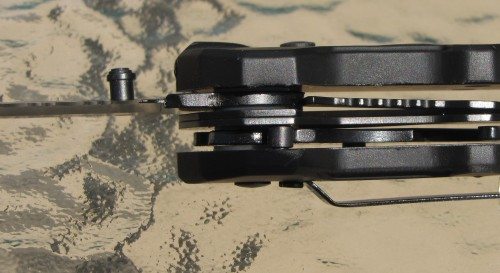 This brings me to my only real issue with the T3, which is the blade locking mechanism on the knife and hook (described below) blades. Mind you this is a personal issue for me, but I do not like reaching in below the blade to unlock it from its opened position and having the blade fold down towards my finger. The T3 is certainly not the only knife out there that does this, and I can understand why it was designed this way, but it is just one of the things that make me squeamish when dealing with edged tools.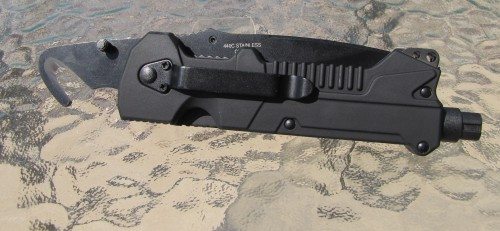 The hook blade on the T3 is made of the same 440C stainless steel as the knife blade with the same finish and thumb knob for one-handed quick deployment. The hook blade is designed to cut seat belts or even clothing. I did not have any seat belts to test this feature on (or at least any I was willing to destroy), so I tested the hook blade on some nylon rope and para cord; the hook blade cut both well. This is something that most folks don't think about, but when you need a way to cut a seat belt or anything else similar, the hook blade is nice to have. The real plus is psychological; I would tend to be much calmer seeing a hook blade coming out to cut a seat belt rather than a big ol' knife blade.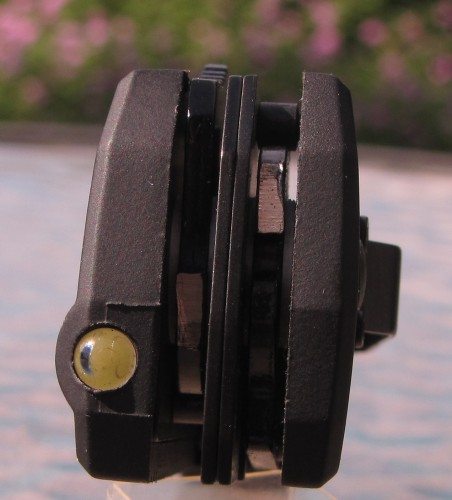 The 5-lumen LED flashlight is a handy addition to this tool.  It uses a CR1220 3v battery, which can be easily replaced. The light has an on/off button that clicks when depressed so you can hear when it is turned on. EMTs and Paramedics can find a wide array of uses for this light in triage situations, and other first responders will find it handy as well. The LED gives off a fair amount of light for its size, although I would say its practical usefulness is about 3-5 feet, which is more than enough for emergency situations.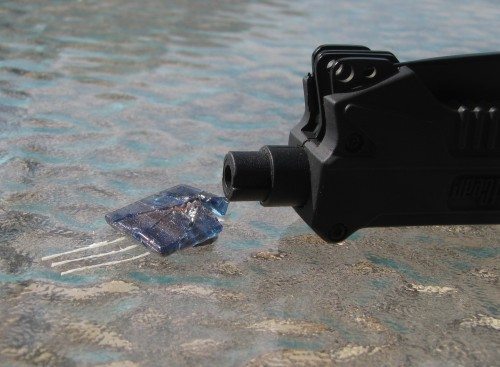 One of the more unique features of the T3 is the spring-loaded steel tipped window punch. Although most folks would never use it, from a first-responder's perspective, it can be invaluable. Having seen the situation where a car window needed to be broken firsthand, having a simple tool like the window punch can not only save time but also reduce the chances of injury from flying glass. I have seen the results of breaking a car window with such things as tire irons, night sticks, and even Halligan tools, all which can be effective but can be traumatic to those looking on. Unfortunately, I did not have a chance to break any car windows, as none were provided with the T3, but I did use it to break some 1″ x 1″ glass tile just to see how well it worked. The punch cracked the tile nicely, as you would expect.
What's my take on the T3 Tactical Auto Rescue Tool? If I was still a first responder this would probably be on my belt or in my pocket everyday at work. Ease of use, portability, and functionality all make the T3 a practical tool to carry on the job. From a civilian point of view, I will keep the T3 in my vehicle next to my fire extinguisher, flashlight and my first aid kit. Having a multi-purpose tool available for emergency situations is always a great idea and can be a life saver. So, overall I believe this is a great tool for the price. At $39.99 from the StatGear website, you get a practical multifunctional tool that can be useful in many situations.
Product Information
Price:
$39.99
Manufacturer:
StatGear
Pros:

Functionality
Materials
Price

Cons: