We use affiliate links. If you buy something through the links on this page, we may earn a commission at no cost to you. Learn more.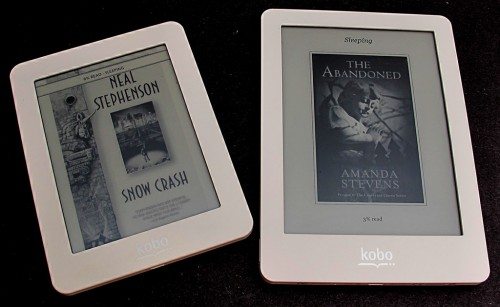 Are you interested in switching to an eReader device so that you can carry more books with you, but without all the bulk? For the past few years, choosing an eBook reading device aka eReader has been a choice between 2 main companies. Amazon with the their Kindle devices and Barnes and Noble with their Nook (Sony is in there too, but it seems like they aren't promoting their readers these days). Picking between 2 companies shouldn't be a big deal right? Let me make it harder for you and throw another company into the mix. You may not have heard of them, but Kobo offers several quality eReaders like the Mini and Glo. These 2 devices were sent to me to review. Let's take a closer look. 
Note: Images can be clicked to view a larger size.
Hardware Specifications
Kobo Mini
Kobo Glo
Size/Weight
4 x 5.2 x 0.4 in (102 x 133 x 10 mm) / 4.73 oz (134 g)
4.5 x 6.2 x 0.4 in (114 x 157 x 10 mm) / 6.5 oz (185 g)
Processor
800MHz
1GHz
Screen size / Resolution
5″ E Ink touchscreen, 800×600, 16-level grey scale
6″ XGA Pearl E Ink touchscreen, 1024×768 resolution, 16-level grey scale
Connectivity
Wi Fi 802.11 b/g/n and Micro USB
Storage
2 GB
2 GB, expand up to 32 GB with a Micro SD card
Battery
Over 1 month with Wi Fi turned off
Over 1 month with Wi Fi turned off, Up to 70 hours of continuous usage with ComfortLight on
File types
EPUB, PDF, JPEG, GIF, PNG, TIFF, TXT, (X)HTML, RTF, CBZ, CBR
Package Contents
eReader
micro USB cable for charging and syncing
Physical design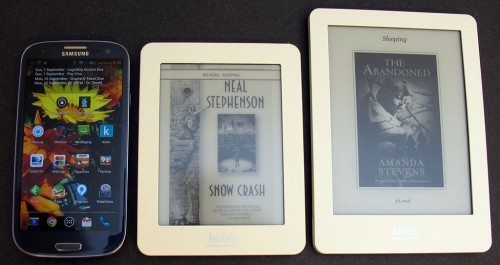 Of the two devices, the Kobo Mini is obviously smaller. They call pocket-sized, but only if you have really big pockets. As you can see in the image above, it's about as tall as a Samsung Galaxy S3, but it's much wider.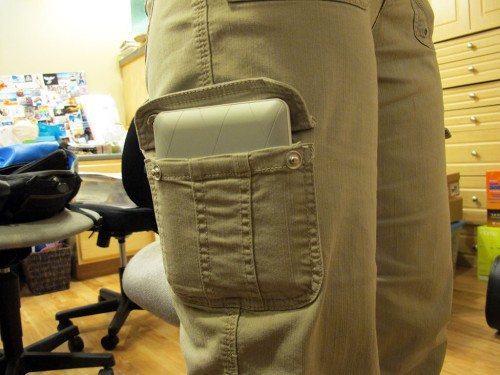 Here is the Mini in my side cargo pants pocket. Pocketable, but just barely. It is very portable though and doesn't take up much space in your gear bag.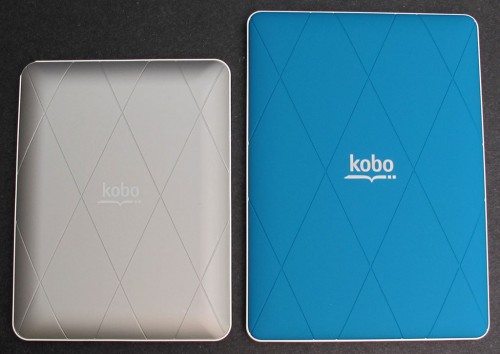 Never miss one of our posts again. Sent MON, WED, and FRI with the latest gadget reviews and news!
Both the Mini and the Glo are available in black and white and feature a soft touch back cover. The back cover of the Mini is interchangeable. Different colored back covers that can be purchased separately for $19.95. The back cover of the Glo isn't interchangeable, but the reader can be ordered in 1 of 4 colors.
Other than size, there are only a few differences between the Mini and the Glo. Let's go over them.

The top edge of the Mini (left) has a slider power switch and a charging status LED. The Glo (right) also has a power switch and LED, but next to the LED is a 2nd button which toggles the front-light.

Both devices have a mini USB connector on the bottom that is used for charging, syncing and transferring books with a computer. The Glo also has a reset switch.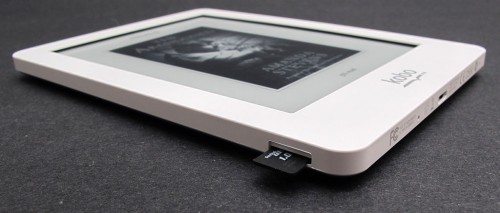 The Glo has a microSD card slot on the lower left side. It can accommodate up to a 32GB card. The Mini does not have any expansion slots.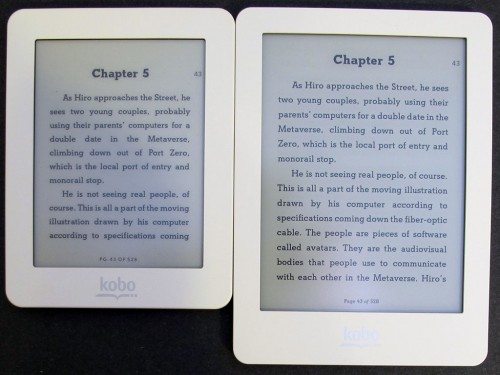 Both devices have an E Ink display with 16 levels of grey. The Mini has an 800 x 600 resolution display and the Glo has a 1024 x 768 resolution display. If you check out the image above, you can see that the Glo's extra 1″ of display allows you to see a few more lines of text per page.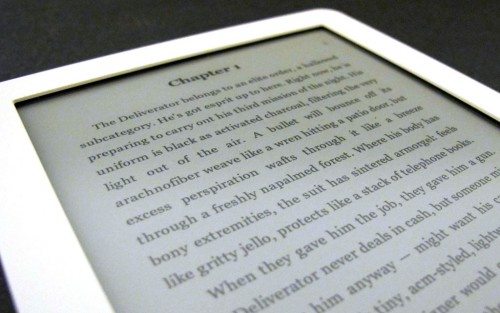 The touch screen displays are crisp, clear and glare free. Unlike trying to read on a color tablet or smartphone, you can read with a Kobo Mini or Glo in direct sunlight with no problems at all.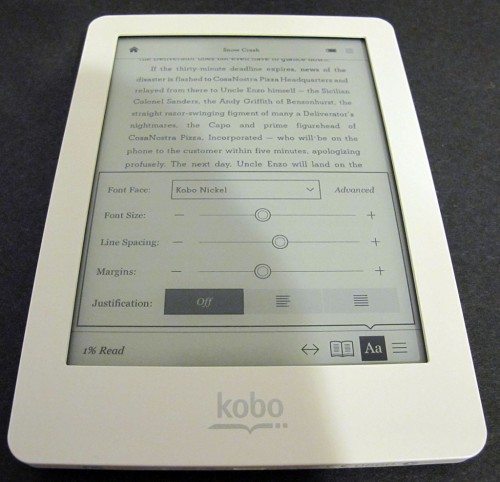 Both devices allow you to customize the page by choosing from 11 fonts including a font called Kobo Nickel which was created by Kobo especially for their readers.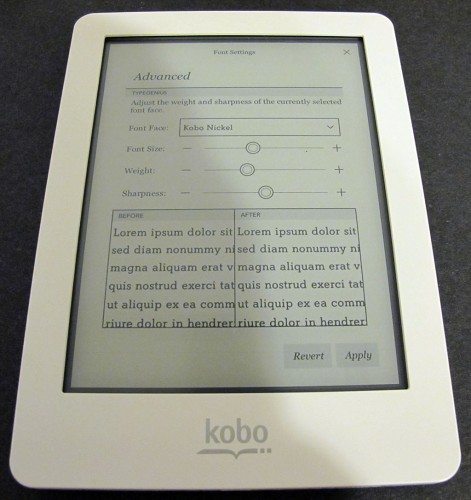 You can also change the size, weight and sharpness of each font to tailor them specifically to what is most comfortable for your eyes.
Comfortlight vs. Paperwhite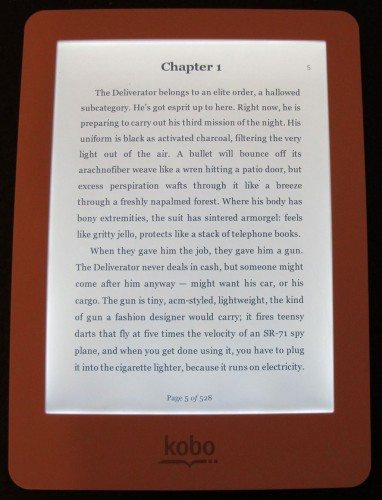 The Kobo Glo has a front-light feature that makes me reach for it more than I reach for the Mini. Pressing the button on the top edge toggles the front-light, which Kobo calls the ComfortLight. It is bright and even across the whole display.

You can see the LEDs along the bottom edge of the display, but they don't  seem to have the uneven lighting issues that the Kindle Paperwhite has.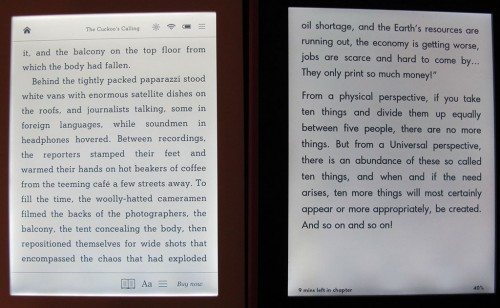 Comparing the Kobo Glo (left), with a Kindle Paperwhite (right), you can see that the Glo's front-light is more even. In the image above, I have both readers set to 100% brightness. If I have any criticism, it's that if you set the Glo's front-light to maximum brightness, it does wash out the text slightly. I would rarely want the light that bright though, so it's not something I notice when the light as set at a lower level. Both the Glo and Paperwhite have E-ink Pearl displays with 212 PPI, but the Glo uses in infrared touch technology for the touch screen, which means it has less layers over the display. That is supposed to make the text clearer. I compared both displays using similar fonts set to the same size and  couldn't tell any real difference between the two. Both look great. The Glo does edge out the Paperwhite due to the more even front-light though. But other than that, they are equally good.
So to recap, the differences between the Kobo Mini and Kobo Glo are size, microSD card and front-light.
Reading with Kobo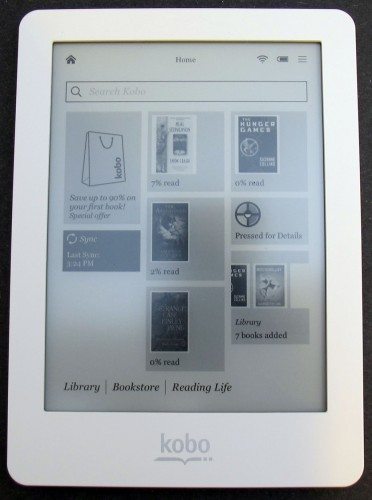 When you turn on the reader, you'll be on the home screen, which shows the last 4 books that you've accessed along with some simple overall reading stats and sync info.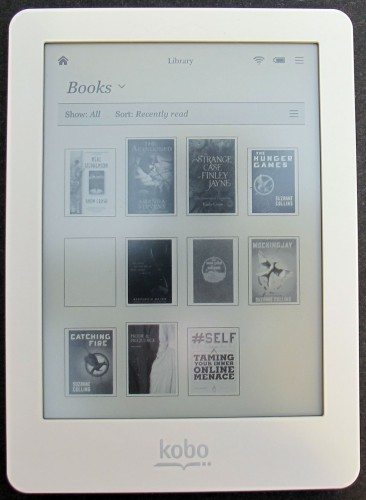 You can arrange your library by cover thumbnails, list view or by shelves that you create to categorize your books. By default, the thumbnail and list view will arrange automatically in the order the books have been accessed. So the last book you read will be first in the list. You can also set the sort type to title, author, file size or file type.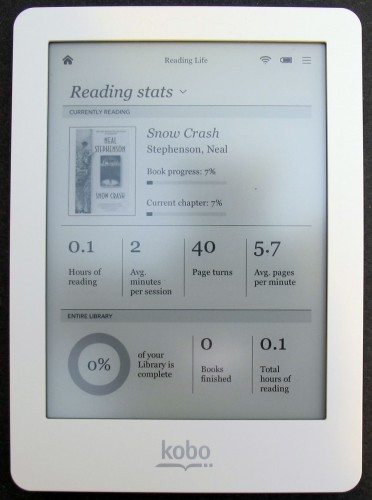 The reading stats page gives you quite a bit of info on your reading habits from average minutes spent reading per session, to average pages read per minute. Great stuff for all the data nerds out there.
Reading with either Kobo device felt just as easy and comfortable as reading with a Kindle. Turning pages can be done by tapping or swiping. Tap the left side to go back a page and the right side to go forward a page. Swipe left to go back, right to go forward. You can also set the tap area to be side by side on the left or right so that you can navigate forwards and backwards while holding the ereader in one hand.
Like other readers, tapping and holding on a word will look it up in the dictionary stored on the device. There's even a translation dictionary that can be used to translate words to and from English, French, German, Italian, Spanish, and Portuguese. You can also highlight and add annotations to words and phrases.
Kobo devices support ePub, TXT, RTF, PDFs, HTML and other formats. They can handle ebooks with no DRM or Adobe's DRM scheme. Users can load books from other stores such as Barnes & Noble, Sony, and Google using the PC or Mac Adobe Digital Editions program.  And if your library offers eBooks, you can load them on the Kobo too.
People who like to store PDFs on their eReaders will find dealing with them on the Kobo devices to be a pain in the rear. Kobo doesn't support re-flowable text, so you have to zoom in and move the page around to see everything. Blah…
The good news is that you can read for up to a month on a single battery charge… take that smartphones and tablets! Heavy readers that use the front-light 100% of the time won't get a month's use per charge, but even a few weeks is way better than most non eReader devices.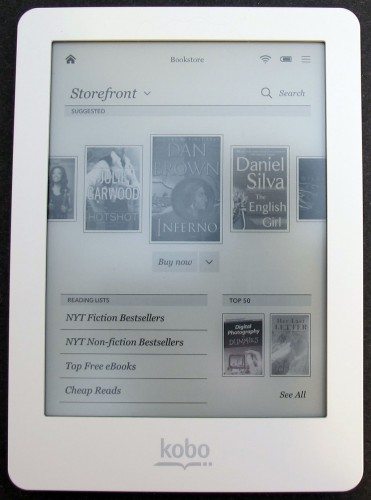 The Kobo Mini and Glo both have built-in WiFi which allows you to wirelessly sync the progress of the books that you're reading so that you can read on multiple devices. You can also access Kobo's online store right from the Mini or Glo eReader, which can be used to browse and buy books that will automatically transfer to your device. Kobo's bookstore even offers previews so you can try before you buy.
While browsing the Kobo store, I noticed that books tend to be more expensive and not not always available as quickly as Amazon and Barnes & Noble versions of the same book. Here are just a few examples that I found while doing a quick check:
Doctor Sleep by Stephen King is available for pre-order on Kobo's store for $14.99, pre-order through Amazon for the Kindle at $9.99 and pre-order for the Nook at Barnes and Noble for $10.99. However, the book will be available for Kobo devices over a month sooner than Kindle.
Never Go Back: A Jack Reacher Novel by Lee Child is available for pre-order on Kobo's store for $13.99, but is already available at the same price for the Nook version and is only $11.84 for the Kindle version.
Hunger Games books by Suzanne Collins are $9.99 each from Kobo but are $5.36 – $7.14 each through Amazon and $6.50 – $9.50 through Barnes and Noble.
Inferno by Dan Brown is available in Amazon Kindle and Nook format for $10.99 and will cost you $12.99 for your Kobo eReader device.
Hatchet by Gary Paulsen is priced at $5.99 for Kobo, $5.98 for Kindle and $6.99 for the Nook.
Should you buy a Kobo Mini or Kobo Glo eReader?
Both the Mini and Glo look and feel like quality eBook readers. Both have clear easy to read displays. The Glo has a very nice front-light that is more even than the Kindle Paperwhite (Note: I haven't had the opportunity to try any Nook devices, so I can't comment on how they compare to Kobo). The price of the Mini is in the same range as the entry level Nook and Kindle. The Glo is $10 more than the Kindle Paperwhite and is $30 more expensive than the Nook Simple Touch. So how do you decide which one to buy? I think it comes down to 2 things. The first one is size. If you need the smallest possible eReader with an E-ink screen and WiFi, then the Kobo Mini will fit that criteria. The second thing is being locked into an eco system like Amazon. If want to be able to move your books to different devices, then Kobo is a good choice. But in the end, I still prefer Amazon Kindle devices because eBooks are cheaper, tend to be available sooner and the selection is better.  I also know that Amazon isn't going anywhere any time soon.
Product Information
Price:
Mini $79.99, Glo $129.99
Manufacturer:
Kobo
Pros:

Mini is very portable
Glo has a very even front-light
Great battery life

Cons:

Books tend to be more expensive and not available as early as Kindle / Nook versions
Mini version does not have a microSD card and requires a desktop app to copy books
No 3G capability