We use affiliate links. If you buy something through the links on this page, we may earn a commission at no cost to you. Learn more.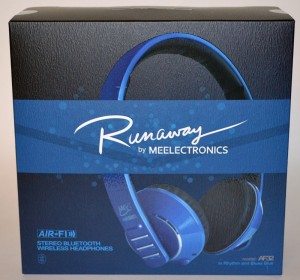 I've likened my daughter's treatment of headphones and earphones to the treatment the gorilla gave the American Tourister luggage in that 1971 commercial – only her equipment doesn't hold up to the treatment as well as the luggage did.  She's gone through a plethora of wired headphones and earbuds over the years, and the point of failure almost always seems to be the cables.  (I think maybe she's practicing her Thor's hammer swing with her headphones.)  I finally got tired of buying new headphones, so I asked Bill Henderson, the Gadgeteer's resident audiophile and audio equipment expert, if he could recommend some decent, moderately-priced Bluetooth headphones.  Bill, as you would expect from a true audiophile, said he doesn't normally review wireless headphones, but he had heard about some inexpensive headphones from MEElectronics that were getting some good reviews.  I decided I'd give the Air-Fi Runaway Stereo Bluetooth Wireless Headphones a shot.  I ordered a pair from Amazon, and I put them through their paces to be sure they were worth paying for before I threw them into Rachel's room for the deathmatch.  
Click any image for an enlarged view.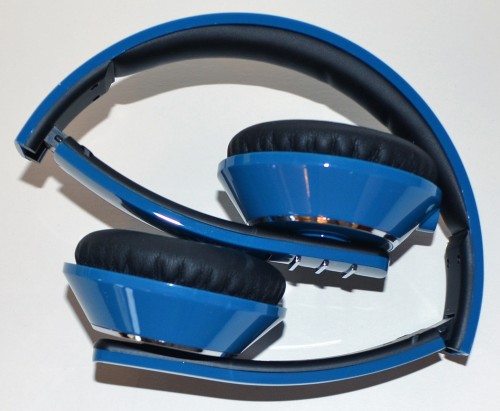 These Bluetooth headphones were available from Amazon in a variety of colors, and each color had a slightly different price point.  I decided on the blue ones; they were pretty, the lowest priced (even lower now than when I bought them), and they were eligible for free Prime shipping.
You'll notice that the headphones are made of shiny plastic.  They fold for compact storage, and their 3.9 ounces won't add greatly to the burden in your gear bag.  While the hinges seem sturdy enough, I do worry that this might be a failure point with my daughter's less-than-careful treatment of them.
You can see the earpieces are padded with a cushy, foam-filled pad.  These are an on-the-ear style, but they are big enough that they completely cover my ears.  They aren't noise canceling, neither active nor inactive canceling, but they do muffle ambient sounds a bit.
Specifications
Driver: 40mm

Frequency response: 20-20,000 Hz
Impedance: 32 ohms at 1K
Sensitivity: 106dB (1mW at 1KHz)
Length of audio cable: 4 feet
Bluetooth specification: V2.1+EDR with Handsfree Profile 1.5., HeadsetProfile 1.1 and A2DP profile 1.2 (Class 11); up to 10 meters effective distance
Standby time: up to 100 hours
Music listening time: 12 hours
Talk time: up to 10 hours
Battery: lithium battery with a 4-hour charge time
USB certifications: CE; FCC; ROHS; BQB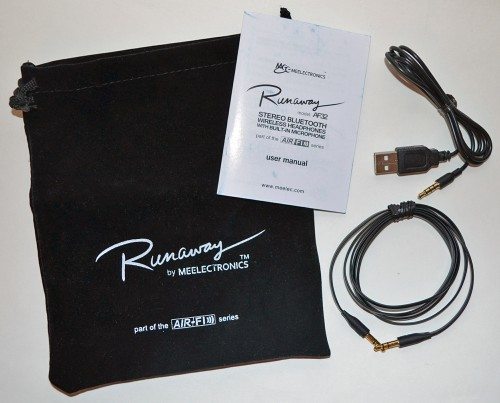 They come with a velveteen drawstring pouch to carry them in.  They also come with a USB-to-3.5mm-plug charging cable and a small user's guide.  There's also a 3.5mm-to-3.5mm audio cable, so you can also use these as standard wired headphones.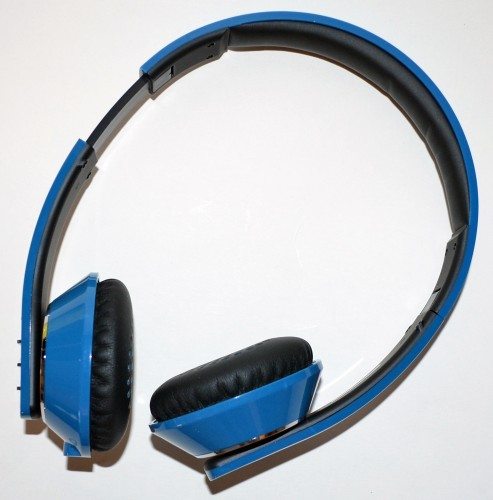 Both sides of the headphones can be adjusted to fit your head.  You'll notice the underside of the headband is padded for comfort.  I never wear headphones for more than 1-2 hours at a time, but I found these Runaway headphones to be completely comfortable during the entire time.  They are so light that I can hardly feel the weight on my head, and the cushioning at the ears and the top of the head prevents any pinching or pressure points.  The earpieces fit lightly against the ear, so I never felt like my head was in a vice, but tightly enough that I didn't feel they were going to fall off with the slightest movement.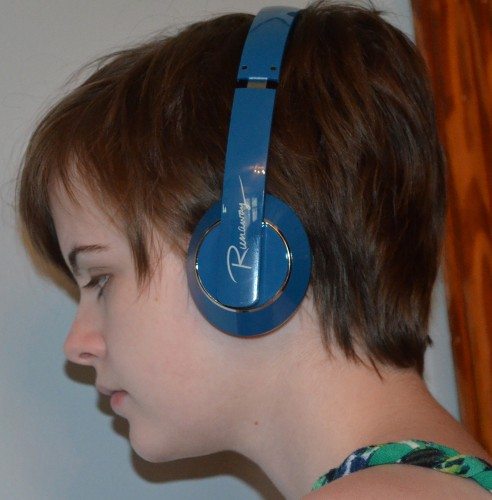 My only problem was that the headband seemed to be a little big on my head.  Apparently I have a small head, because you can see that my daughter had to open them up a little bit for a comfortable fit.  She's a small girl – only 5'2″.  My 6'2″ husband found that he could adjust the Runaways for a comfortable fit, too.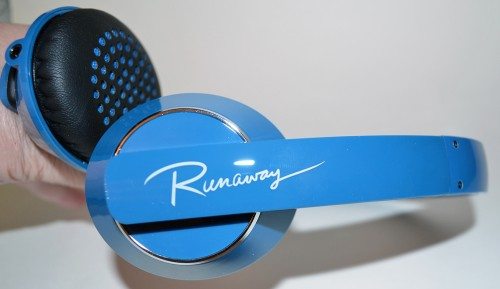 The Runaway headphones had no markings to indicate which is the right and which is the left.  Perhaps people don't care about that anymore, but I do.  If I were going to use them myself, I'd use another pair of headphones to figure out which had the left and which had the right channel.  Once I figured it out, it would be easy to remember because of the design of the band.  One side has the Runaway name on it.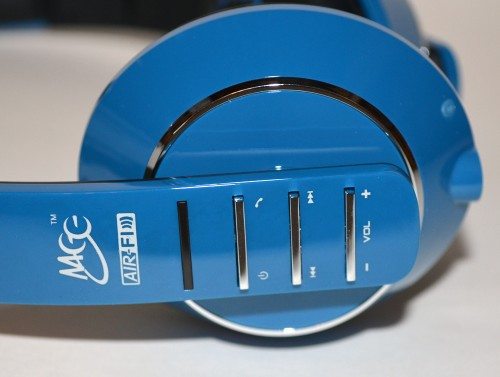 The other side has the status light and control buttons on it.  The top button is the power on/off button; it has other functions, including call initiate/answer/end functions.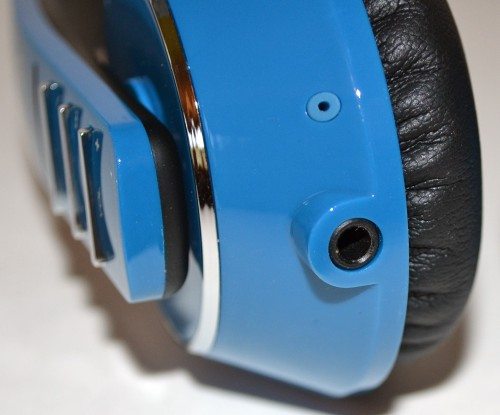 The bottom of this earpiece has a jack for charging the internal battery.  This is also where you plug in the audio cable for wired use.  The other hole, seen above the audio jack in the above image, is the microphone for making hands-free calls.
Because of the position of this microphone, I decided that this earpiece must be for the right ear, because wearing it on the right would put the microphone near my face instead of the back of my head.  Since I'm right-handed, wearing this side on my right ear means I can use my right hand for operating the controls.  My daughter is left-handed, and she won't be using the headphones for hands-free calling, so she may decide to put the controls on her left ear.  (Even if she listened to orchestral music, she wouldn't care which channel she heard the violins in.)
I charged up the Runaways, and I found it took a bit longer than four hours before the "charging" status light went out.  Pairing with my iPad mini was easy and quick.
I listened to a variety of songs through the Bluetooth connection.  I did notice some compression, as you'd expect from Bluetooth, but it wasn't as bad as I expected.  (By "compression", I mean the music sounds a little flat, like it's missing some of the highs and lows I expect to hear in the song.)  Despite the compression, most songs I listened to sounded good.  I'm not an audiophile like Bill, so I won't be able to describe the performance as well as he and using all his technical terms.  I think that's okay though, because these aren't headphones for an audiophile, but for the average user.
I listened to everything from classical to Bluegrass, vocal and instrumental, dance to heavy metal, great music to Boston (just kidding, kinda).  I found that while the Runaways had a good bass presence, it wasn't overwhelming.  You got a good thump from songs like Powerman 5000's "When World's Collide" or from Eminem's "'Till I Collapse", but you could still hear the voices and details in the other instruments that may be missing with cheap earphones.  Peter Gabriel's voice was clear and beautiful on top of his complex musical accompaniment, and Bill Monroe's vocals were almost as high and lonesome as if he were in the room with me.  These headphones will work well for any of the music my daughter listens to and will provide a nice thumping bass without me having to worry they'll deafen her.
My husband and daughter have both tried out the Runaways, and both like the fit and the performance.  My husband remarked that they sounded surprisingly good for Bluetooth headphones.
I really liked the convenience of being able to walk around the house listening to music while my iPhone 5 was left sitting on my desk in the living room.  I have a small, square house with 4″-thick lathe and plaster interior walls, but the Bluetooth stayed connected even when I was as far from the source as I could get and remain in the house.  I did notice some instances where the music broke up a bit, but I never lost connection.
I tried the Runaways for making calls with my iPhone 5.  I was easily able to answer and end calls with the multifunction button on the headphones.  My caller said my voice sounded okay, but the voice I heard was tinny and compressed with a little bit of breaking up, but just a little.   While it didn't sound like I was talking face-to-face, it was an acceptable method for making sure you don't miss a call while you're listening to music.  Before you decide to use them as a hands-free solution while driving, you should check your state's laws.
The one thing I didn't especially like about the Runaways is how you power them on/off.  Because the power button is a multi-function button, you can't simply do a quick press to toggle the power.  You have to press and hold until the blue status light comes on, but not so long that you enter Bluetooth pairing mode or see the red status light come on – which means you've gone too far and turned them back off.  What's wrong with having a little power slider and let the multi-function button just control calling features?
So…  The MEElectronics Air-Fi Runaway Stereo Bluetooth Wireless Headphones sound good for Bluetooth headphones.  There's some compression, but the music isn't so muffled that you feel like your ears must be clogged or your head in a bucket.  They are surprisingly comfortable, and they fit my apparently undersized head to my husband's much bigger head.  They are available in a lot of fashionable colors that seem to be so popular in headphones these days.  They won't be mistaken for Beats, and I'm sure they don't sound like Beats, either.  However, these MEElectronics Bluetooth headphones cost a small fraction of the price of even the cheapest wired Beats headphones.  I think they'd make a great accessory for teens or pre-teens who need to prove they are responsible enough to care for more expensive equipment.  Because they are so light and fold up nicely, they'd also be great for the commuter who doesn't want to add to the heavy load they already carry in their gear bags.  Check out the prices at Amazon if you're in the market for these Runaways.  You can almost buy two pairs for the price of one pair directly from MEElectronics.  And by the way, Rachel has the Runaways now; they didn't get returned to Amazon.  And she hasn't managed to kill them yet!

Product Information
Price:
$99.99 MSRP; $59.52 at Amazon for the blue pair I purchased
Manufacturer:
MEElectronics
Retailer:
Amazon
Pros:

Can be used wired or wireless
Bluetooth paired quickly and easily with my iPad mini and my iPhone 5
Sound is amazingly good for Bluetooth, which is notorious for its compressed sound
Folds up for travel
Adjusts to fit a variety of head sizes
Comfortable and light
Can use for hands-free calling

Cons:

As expected, there is some compression of sound, but this is true of all Bluetooth headphones
Multi-function button makes power on/off functions too fussy