We use affiliate links. If you buy something through the links on this page, we may earn a commission at no cost to you. Learn more.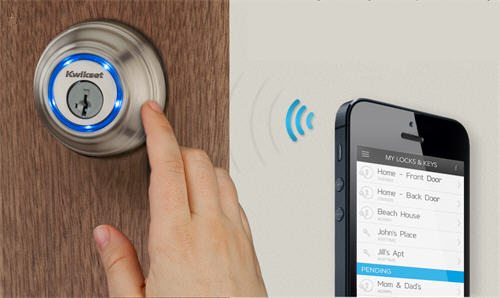 Kwikset, longtime makers of locks and keys, have announced that their new Kevo deadbolt lock will be available for pre-order starting today. The Kevo looks like a standard deadbolt style lock that you might find installed in most doors. But it uses Bluetooth Low Energy™ 4.0 technology to turn your smartphone into an electronic key (eKey). Once configured, you don't even need to remove your phone from your pocket. Just walk up and touch the Kevo to unlock the lock. They've partnered with UniKey to make sure that the Kevo offers maximum security:
With Kwikset's long-time leadership in residential door lock security and UniKey's expertise in secured authentication technology, Kevo is engineered for both maximum security and technology performance. Kevo includes UniKey's patent-pending intelligent positioning technology that detects whether an authorized user is inside or outside of the home before granting access to prevent unauthorized entry. Kevo also uses multiple levels of encryption to increase digital security, and is tested to some of the most stringent lock picking and physical security standards. The lock contains Kwikset's patented SmartKey® re-key technology, which provides superior security and re-key convenience unlike any other smart lock on the market.
The only down side is that the Kevo is currently only compatible with the iPhone 4S or 5. But, it does come with a fob that that has the same touch to open feature. Just put it in your pocket or purse and you're all set.
The Kevo smart lock package includes one deadbolt, one fob, two mechanical keys and two smartphone eKeys available for download. The deadbolt comes in three finishes including Satin Nickel, Venetian Bronze and Polished Brass. Kevo operates on four AA batteries, which should last for a year, depending on usage. The Kwikset Kevo can be pre-ordered beginning July 30 for the suggested price of $219, with products to begin shipping in September.