We use affiliate links. If you buy something through the links on this page, we may earn a commission at no cost to you. Learn more.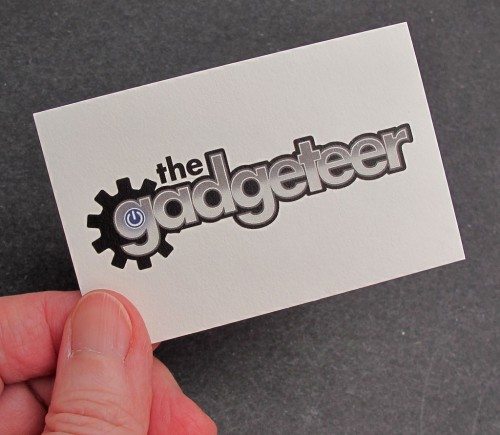 Business cards might be considered a little "old school" these days, but not everyone carries a smartphone that can transmit and receive contact info. If you're looking for a new set of cards, MOO is a great online service that you can use to create custom business cards and stickers. They gave me a coupon code so I could try a few of their offerings. Here are the results.
Note: Images can be clicked to view a larger size.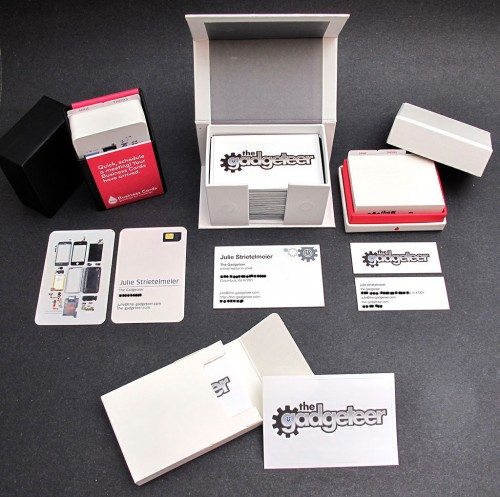 I ended up creating a set of custom Luxe business cards, custom MOO MiniCards, custom stickers and another set of standard business cards using one of MOO's many pre-configured templates.
Luxe Business Cards
Luxe cards are MOO's premium business cards, and you can tell a difference as soon as you pick one up. They are printed on Mohawk Superfine paper which has been stacked to create a "sandwich" effect.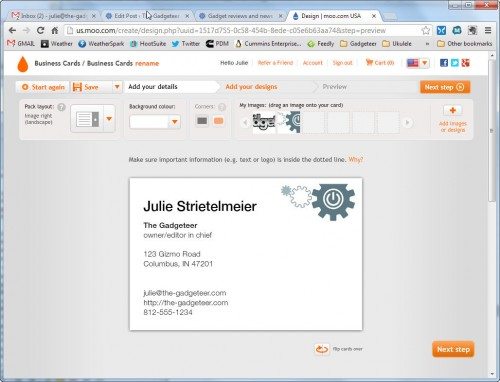 Using MOO's web browser based card creator is simple and fun. You can choose background color, text color, fonts and even use your own graphics. I decided to use the Gadgeteer logo and the same graphics used in the header of my site. The front side contact info is show above.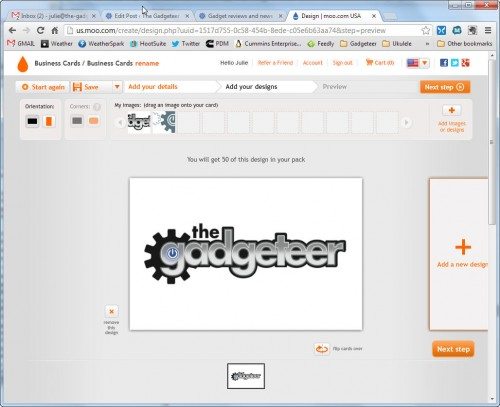 And here is the back side design.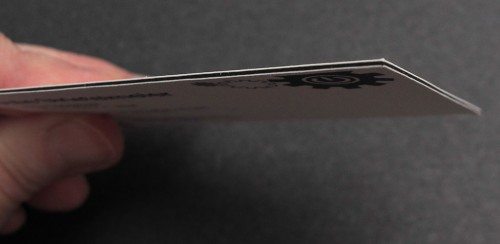 The resulting cards are very very nice with a smooth matte finish and clear crisp print. One card feels more like two cards due to the thickness. They really do feel de"luxe".
Prices for the Luxe cards start at $34.99 for 50 cards and go up to $199.94 for 400 cards.
Business Cards using pre-configured templates
If you're not creative or don't have time to create your own business card design, Moo makes it easy for you to choose from one of the many pre-made templates which are already available.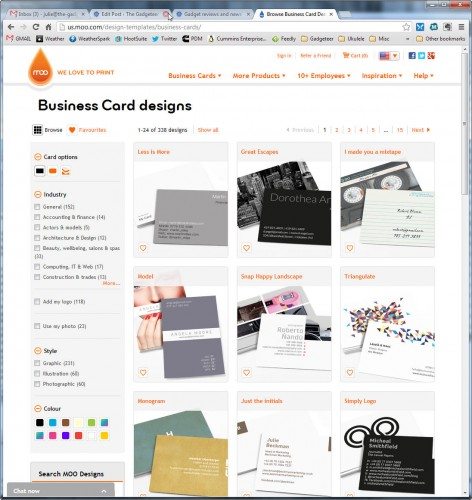 They have designs with a classic business style, to more fun / youthful designs.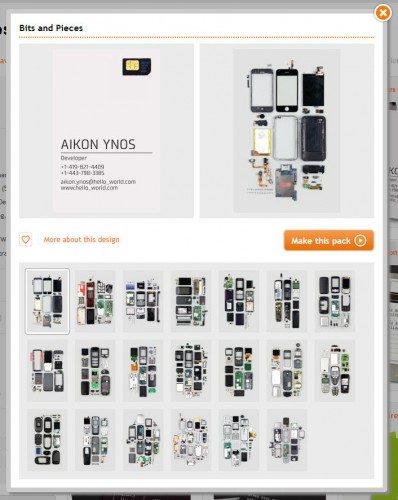 I went with a cool exploded phone template called Bits and Pieces. I thought I'd just get one style, but the pack ended up being a few cards of each style, which was a fun surprise.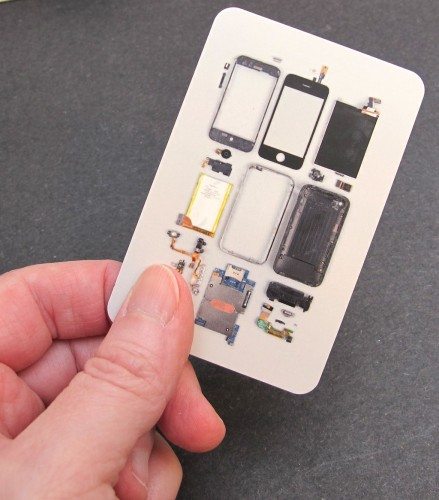 If you're wondering about the quality of MOO's standard cards vs. the Luxe cards, the standard cards are very nice as well. They aren't as thick as the Luxe cards, but they are printed on quality card stock that that can have a gloss or matte finish. I opted for matte and they ended up with an almost laminated playing-card type feel. They are tough to tear too. The print quality is excellent.
Prices for the standard cards start at $19.99 for 50 cards and go up to $200 for 800 cards.
MOO MiniCards
If you're looking to set yourself apart from normal business card toting people, MOO's MiniCards are an option.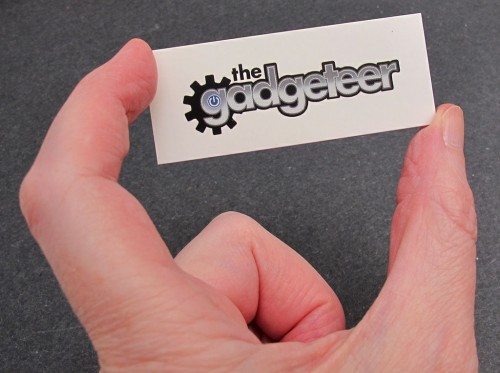 MiniCards are half the size of the standard cards and are available in custom designs or pre-made templates. The finished cards look and feel like the standard cards, only smaller.
Prices for the standard cards start at $19.99 for 100 cards and go up to $275.96 for 1600 cards.
MOO Stickers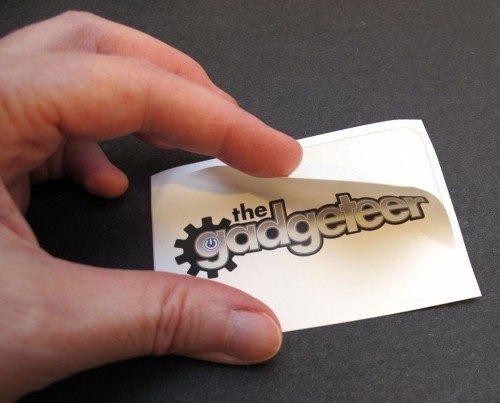 MOO stickers are printed on vinyl with a varnish coating that you can write on. I created a set with the Gadgeteer logo on 3.30 x 2.17″ sized rectangular stickers. Round and square stickers are also available.
Prices for start at $16.99 for 50 rectangular stickers and go up to $111.92 for 400 stickers.
I'm impressed by the materials and print quality of MOO's products and do not have even one small complaint. I'd definitely recommend checking them out if you're in the market for business cards, stickers and more.

Product Information
Price:
Prices vary depending on type and quantity
Manufacturer:
MOO
Pros:

Easy web based card builder
Lots of pre-made templates to choose from
Luxe paper is very nice
Quality printing and card stock

Cons: