We use affiliate links. If you buy something through the links on this page, we may earn a commission at no cost to you. Learn more.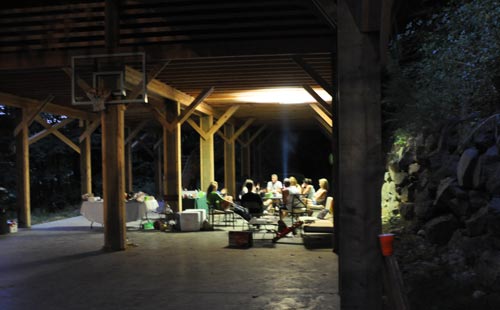 Several years ago, I reviewed the Fenix TK70 LED flashlight (see related posts) and raved about how bright and well made it was. I even gave it a nickname, referring to it as the Ark of the Covenant (AotC) because of the very bright pillar/beam of light it produces, as shown in the picture above. Well fortunately the folks at CR123Batteries.com sent me the lastest and brightest flashlight Fenix offers, the more compact, yet brighter Fenix TK75 LED flashlight to see if it can take away the AotC award from its larger sibling.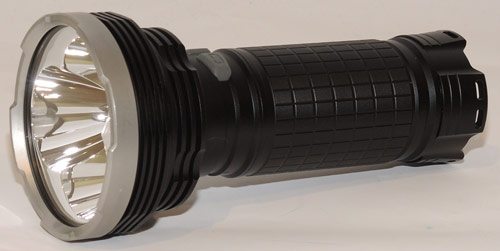 The Fenix TK75 has three high-powered Cree XM-L (U2) LEDs with a (theoretical) lifespan of 50,000 hours. Its digitally regulated output maintains constant brightness of up to 2600 lumens (wowza). It also has reverse polarity protection to protect itself from improper battery installation and over-discharge protection circuit to protect the rechargeable batteries effectively. To protect the LEDs, Fenix uses a "tough" ultra-clear glass lens with an anti-reflective coating.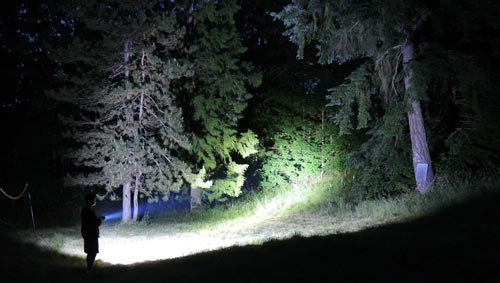 This lantern produces an 80-degree flood beam angle to provide a "panoramic view" – think something akin to a car headlight on high beam. Here is the Gadgeteer Kid lighting up our field at night, a pretty good illustration of just how bright this flashlight is.
Package Contents
The the TK75 typically comes with only the lanyard and spare o-rings. But CR123Batteries sent me the Fenix TK75 LED Flashlight Package that includes not only the flashlight but four 18650 rechargeable Li-ion batteries, Fenix ARE-C1 Smart Battery Charger, and 12-volt adapter/cord.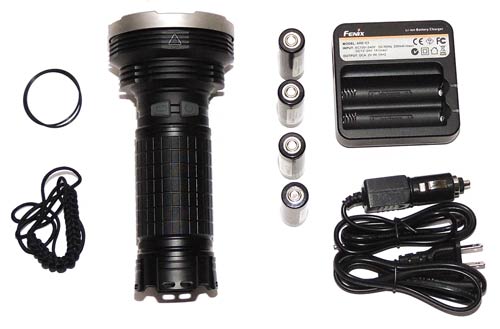 The only issue I have with the Fenix TK75 LED Flashlight Package is that the flashlight typically uses four batteries, but the charger can only accommodate two at a time, so you'll need two recharge cycle times for all the batteries to be fully good to go.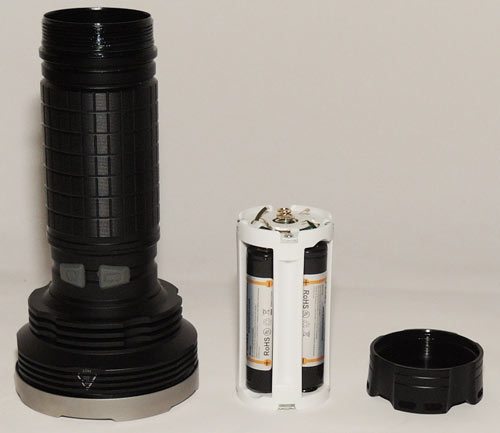 Like the TK70, the pieces of the TK75 screw together very much like the lightsabers the Gadgeteer Kid and I built and reviewed a few years ago. The finely-threaded aluminum pieces easily twist together, sealed by a rubber o-ring. The aluminum is aircraft-grade and durable, coated with a Type III hard-anodized anti-abrasive finish. This lantern is waterproof to IPX-8 standard of 2 meters.
Features
Maximum 2600-Lumen Ultra High-Intensity Searching Flashlight
Utilizes three Cree XM-L(U2) LEDs with the individual reflector respectively with a lifespan of 50,000 hours
Incredible 606-meter beam throw
Over 8-day run time, suitable for long-time searching
Over 80-degree flood beam angle to provide a panoramic view
4 brightness levels (Low: 18 Lumens, Mid: 400 Lumens, High: 1100 Lumens, Turbo: 2600 Lumens), Strobe, and SOS
Compact and portable so easy to carry
Intelligent Memory Circuit
Over-discharge protection circuit
Capable of standing up securely on a flat surface as a candle
Uses four 18650 rechargeable Li-ion batteries when needed but also can be powered by two 18650 rechargeable Li-ion batteries
Run time can be extended with the addition of a body tube segment and battery holder (sold as an accessory kit).  Run time will double with each segment-holder addition but brightness levels will not change.
Waterproof to IPX-8 standard, underwater 2 meters
Stainless steel bezel
Toughened ultra-clear glass lens with anti-reflective coating
Dual button switch system on the neck for quick switching
Type III hard-anodized finish
185mm (length) x 52.5mm (diameter) x 87.5 (head)
510-gram weight (excluding batteries)
Digitally-regulated output:  maintains constant brightness
Low-voltage warning function to alert users to replace the batteries
Reverse polarity protection guards against improper battery installation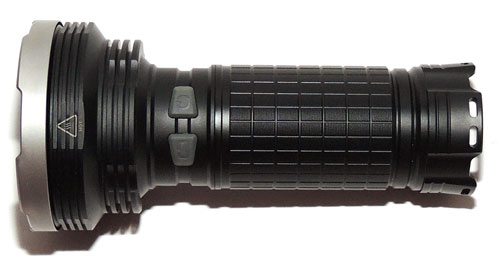 The stock TK75 measures 7.3″ (length) x 2.2″ (diameter) x 3.4″ (head) and weighs 1.5 lbs with batteries. Its power source is four 2600 mAh high-capacity batteries. Although, if you do not have four 18650's, the TK75 can be operated with just two. Four of these high-capacity batteries enable the TK75 to run 8 days (lowest beam setting) on a single charge.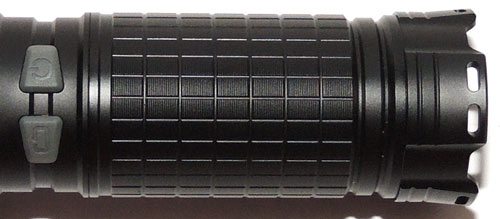 The dual switch system is easy to use; the right button turns the flashlight on and off and the left button cycles through the four brightness/power levels. The handle is machined for grip-ability and has a nice feel to it. The base has multiple loops/hard-points to connect the lanyard to.


The TK75 has four brightness levels (Low: 18 Lumens; Mid: 400 Lumens; High: 1100 Lumens; Turbo: 2600 Lumens), plus Strobe, and SOS modes.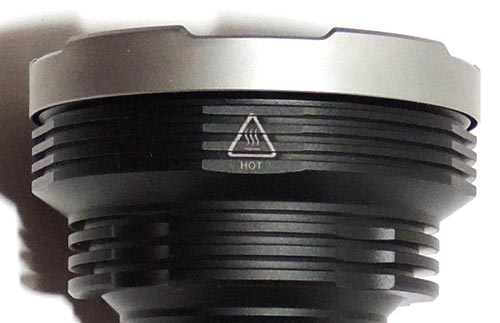 The three Cree XM-L(U2) LEDs are so powerful that there are 'high-efficiency' heat dissipation fins engineered into the TD75 that effectively radiate heat from the LEDs and electronics within the head. This helps protect the LEDs and electronics, ensuring that they do not overheat.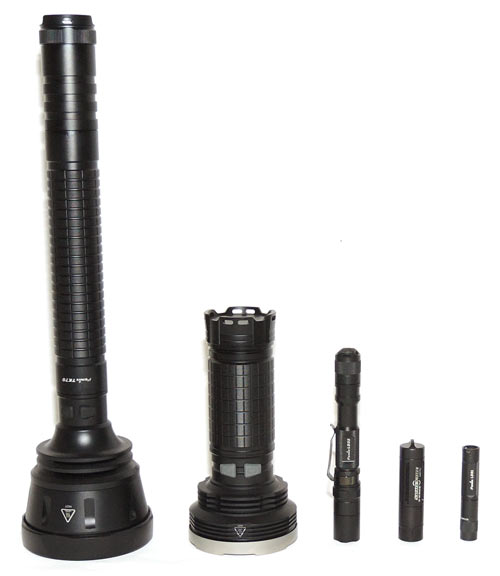 Other than its light output, the thing that impresses me the most about the TK75 is its form factor. The TK75 produces a huge amount of light considering its relatively small size and weight.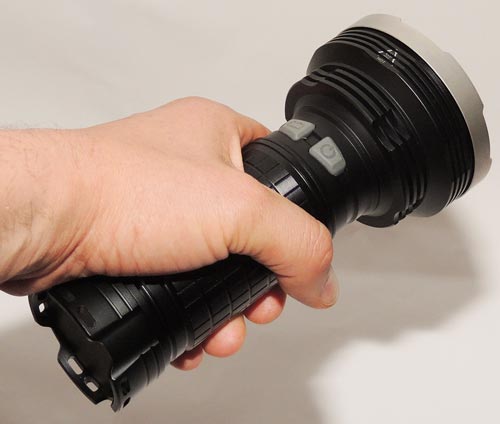 Where the TK70 is long and clumberome, the TK75 fits nicely into the palm of your hand, is easy to maneuver, and has a great quality and weight to it.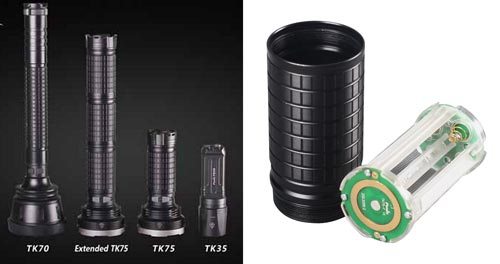 Even though I really like the TK75's compact form factor, you can purchase the Fenix TK75 Runtime Kit which adds a machined aluminum extension that screws onto the end of the barrel of the flashlight. The kit also includes the holder for additional 18650 batteries (not included). They are obviously designed to extend the run-time of the TK75 before needing to recharge the powercells. According to Fenix, the runtime will double with each segment-holder addition, but brightness levels will not change.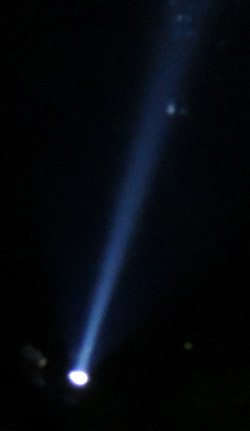 After using the Fenix TK75 for a month now, I can definitively say it is the new winner of the Ark of the Covenant award without a doubt. Not only is it more powerful/brighter than the TK70, but it is lighter, more compact, and has a better form factor. Its material and build quality are very good, definitely on par with a majority of the other top-end flashlights out there today. The Fenix TK75 itself without batteries is $200, but I highly recommend considering the TK75 package/kit that includes rechargeable Li-ion batteries and charger for only $27 more.
Product Information
Price:
$199.95 (226.70 w/rechargeable batteries)
Manufacturer:
Fenix
Retailer:
CR123Batteries.com
Requirements:
Pros:

- Extremely bright
- Well made
- Finely machined construction
- Great form factor
- Simple controls
- Weather/water resistant design

Cons: