We use affiliate links. If you buy something through the links on this page, we may earn a commission at no cost to you. Learn more.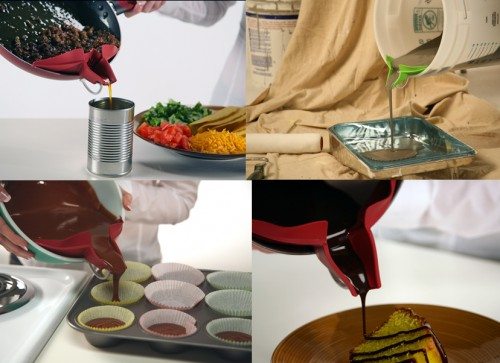 This little doodad can keep things neater while you're working in the kitchen.  The Silpoura spout was the brainchild of  a couple who are avid campers and needed a way to dispose of cooking grease without dumping it in the woods.  Gail suggested there should be "a 'Thing'. Like a spout. That you could clip onto the skillet to drain the grease off" into the soda can she had available to collect her cooking grease.  Her husband, J. Archer, happens to be an engineer, and he set about developing what became the Silpoura (Silicone, Pouring, Accessory).  You can clip it to the edge of most cooking pots and pans to drain away grease for healthier foods and friendlier disposal or to drain liquids from cooked rice and pasta.  Clip it on bowls for easier batter pouring for cupcakes or pancakes or for adding sauces to foods.  Keep an extra one around the house for easier, neater pouring of paint into roller pans.  (I could have used that last weekend when we painted the living room.)  It's made of silicone, so cleanup is easy.
The Silpoura is $9.99 for a single red one, or you can get a pair (red with your choice of clear, green, or white) for $19.98.  You can get a discount if you purchase two or three reds.