We use affiliate links. If you buy something through the links on this page, we may earn a commission at no cost to you. Learn more.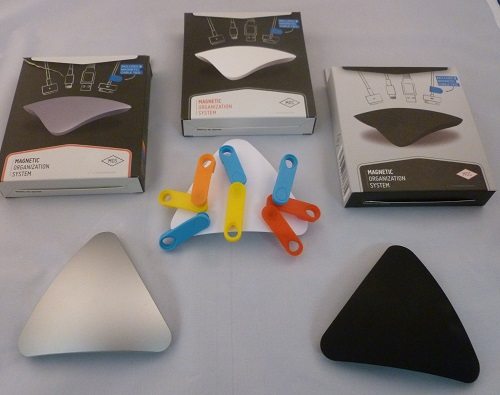 In our house, we have an iPhone,  an Android phone, an LG phone, 3 iPods, two Nooks, and a digital camera.  Something is always on the charger, and almost every device has a unique plug.  Keeping the cables accessible and organized is a challenge.   Enter the Magnetic Organization System (MOS) to the rescue.
MOS was a successful Kickstarter project by Andrew Adams and Greg Peterson that asked for $6,850 to get going and ended up with 825 backers pledging over $29k for the project.   The MOS comes in white or black plastic or a solid block of aluminum.  Inside the MOS is a strong magnet.
On the bottom is a non-stick,  Micro-Suction tape that prevents slipping on the desk.  The MOS can be mounted to a vertical surface with double stick tape or to the side of the refrigerator with the magnet.  Be sure to be careful with your credit cards near the magnet.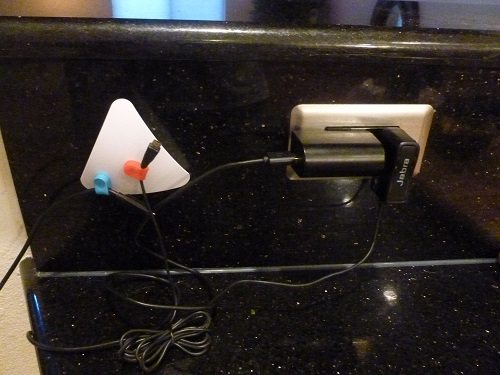 White taped to counter
The MOS comes with three magnetic cable ties for securing your cables to the MOS.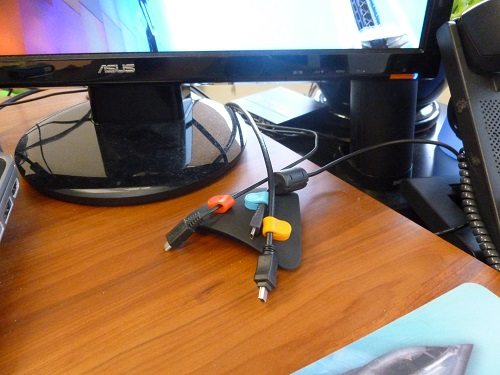 Black version on my desk.
The black and white plastic versions weigh about 2.25 ounces.  The aluminum version weighs over 6 ounces.
I found the MOS extremely useful and well thought out. The shape of the unit is very modern and pleasing.  The white matches the Apple aesthetics well, and the black and aluminum fit well with our stainless kitchen decor.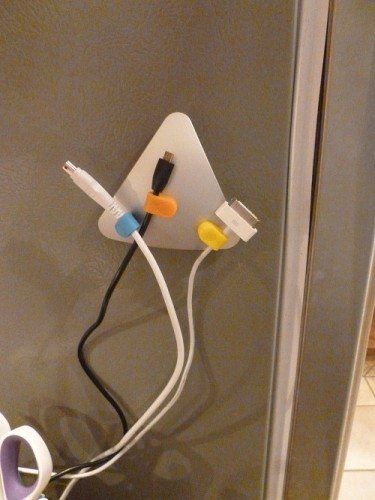 Aluminum version on the fridge; the magnet is extremely strong and almost takes two hands to remove.
The aluminum unit is especially nice with the weight of a solid block of metal.   We found it useful to not have to fish cables around the fridge and the vertical mounting works with even heavy cables.  The system works well and looks looks nice!
Product Information
Price:
$24.00 to $39.95
Manufacturer:
Magnetic Organization System
Pros:

Well thought out system
Clean industrial design

Cons:

A little pricey
Could use one more tie