We use affiliate links. If you buy something through the links on this page, we may earn a commission at no cost to you. Learn more.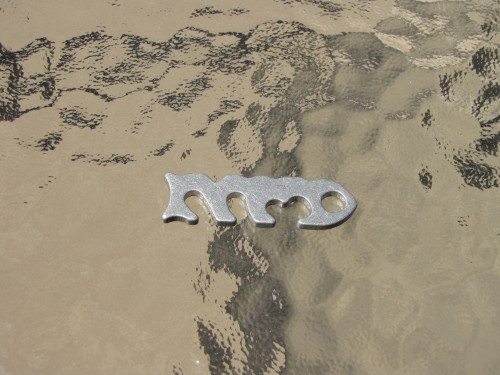 Are you a paracord junkie? Do you whip out that trusty paracord at the drop of a hat to secure things in your everyday life? After you are done securing what ever it was with your trusty paracord do you cuss trying take the knots out of the cord? If you answered yes to any or all of these questions the Fish Bone Knotless Gear Tie may be just what you need.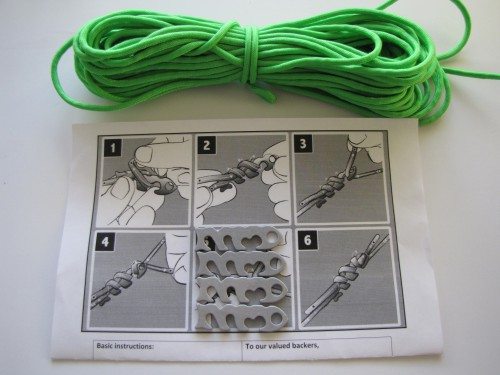 I first saw this product on Kickstater and subsequently made a news post about it here on The Gadgeteer. What originally caught my eye was how simple a solution it was to an issue I have run into in the past. When Brent and Eldrick  Garcia, the creators of Fish Bone, asked if we would like review this successfully-funded product, I happily accepted the assignment.
If you don't know about paracord (parachute cord) you may not understand what I am talking about, but those who do use it can sympathize. Paracord, for its strength and ease of use, is notorious for not wanting to un-knot, especially after you have placed a load on it. The Fish Bone is a way to secure paracord without knots by wrapping the paracord around this simple little fish-bone shaped device (hence the name Fish Bone).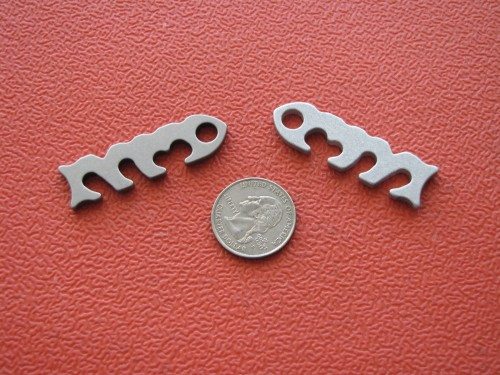 The Fish Bone comes in 3 varieties, stainless steel (pictured on the left), aluminum (pictured on the right) and titanium(not shown). I was sent the aluminum versions along with 50′ of neon green paracord (you can never have too much paracord) to review. I do happen to have a stainless steel version as well, so I will use both for my review. The differences in the three materials are the weight of the Fish Bone and the load capacity. The aluminum Fish Bones weighs approximately 1/6 of an ounce and the stainless steel weighs approximately 2/6 of an ounce. Both are approximately 2″ x 1/2″ x 3/32″.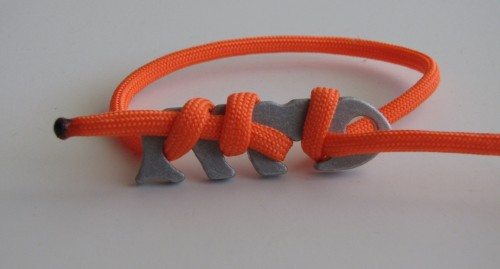 Never miss one of our posts again. Sent MON, WED, and FRI with the latest gadget reviews and news!
The Fish Bone is the kind of product that you never know you need it until you need it. I can't say that I would/will use it everyday but I have come across the occasion in the past where the Fish Bone would have been the perfect solution to a situation. The fact that the Fish Bone is small and lightweight means that it would be an ideal product for your EDC kits, to throw in your camping gear or even to wear one if you are a fashion forward type of person.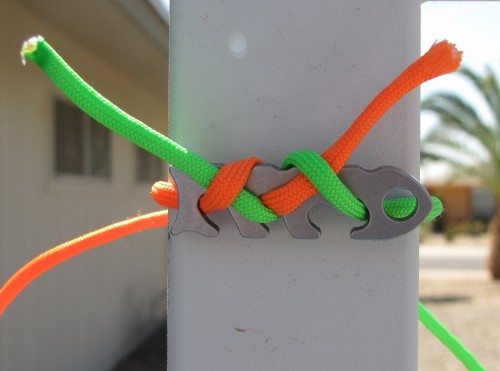 The Fish Bone came with some basic instructions on how to use it. If you go to the Fish Bone Kickstarter page, you can see a lot of other variations like the one I used in the picture (a knotless two paracord splice). The uses for this device are really only limited by your imagination. I can envision a lot of great uses for this product while camping (the fact that you don't have to deal with knots will save lots of time).
Just a note of caution here, the makers of the Fish Bone have stated that the Fish Bone is "not for climbing or load bearing application where failure would cause damage or injury". The does not mean that the Fish Bone cannot support some weight, it means that there are limitations to what it can support and that it is not designed for certain activities.
Overall I would say that the Fish Bone is a worthwhile little gadget to have around, especially if you are a heavy paracord user.  All three versions of the Fish Bone (aluminum, stainless steel and titanium) are available on the Fish Bone web site and start at $5 for one aluminum model. Both versions of the Fish Bone I have are solid, work as expected, and are fun to use. I am looking forward to seeing all the different ways I will be using this product in the future.
Product Information
Price:
Starting at $5
Manufacturer:
Fish Bone
Pros:

Lightweight
3 different models
Easy to use
Reasonably priced

Cons: