We use affiliate links. If you buy something through the links on this page, we may earn a commission at no cost to you. Learn more.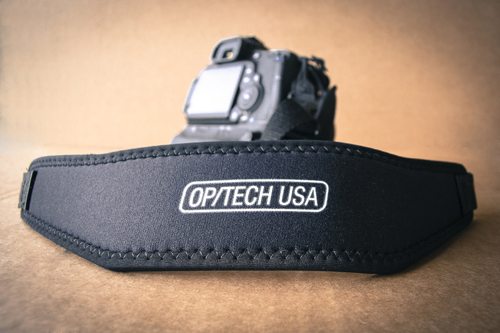 If you think all camera straps are the same, then think again. Did you think about it? Well, then you know that the camera strap is basically connected to the camera and hangs around your neck. Pretty simple, right?  Well, it can get a little more complicated than you think. When you consider the comfort, the convenience and the style, then it becomes more than just a plain strap.  It becomes a feature.
OP/TECH  Utility Sling Strap seems to incorporate these characteristics in their product. The Utility Sling Strap consists of a neoprene shoulder strap, two quick disconnect System connectors, and two Uni-Loop Adapters.
The first thing that caught my attention was the Sling Strap's ability to slide the camera smoothly up and down the strap. Considering that I always carry my camera strapped across my chest, this feature made this strap ideal for for me.
I find it cumbersome to have anything strapped around my neck. I don't find it comfortable, let alone convenient.  Your camera just hangs there in the way of your body, ready to knock into something.  I like to have my camera at my side and out of the way when I am not using it, then when I need it, I just just bring it up to my eye. Having the camera rest in front of me just seems to get in my way. When my camera rests at my side I can keep my hand on it to avoid it swaying back and forth and I have control of it. This way, I feel like my hand is in a normal, relaxed position rather than if I held the camera in front of me. Besides I don't like anything pulling on my neck. But then again keeping the camera to my side could just be a personal preference too. Since I typically shoot and carry my camera with the strap over my shoulder, it is refreshing to have a company make a product that caters to your preferences. Big thumbs up to OP/TECH.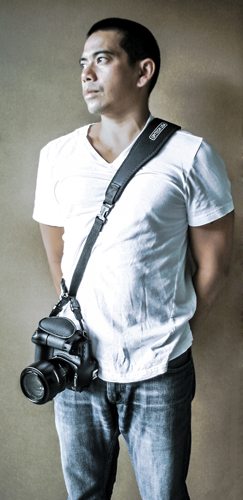 Another feature that I unknowingly discovered is the non-skid neoprene section of the strap system. One night while I was taking pictures of my brother's band, I mentioned to one of my friends that I noticed that my camera felt different. A good different though. My camera didn't feel uncomfortable after a long time of having it slung over my shoulder. What I was noticing was that my camera was feeling lighter and comfortable. I have a Canon 60D with a battery grip on it so those two together have added weight. Since attaching the Sling Strap to my camera and using it all night, I could definitely tell the difference.

The shoulder pad is made with OP/TECH's patented internal "control-stretch" system which allows reduction in the weight of the camera due to the stretching of the neoprene. And because the strap is wider in width, it helps reduce pressure on your shoulders, making it more comfortable to wear for long periods of time. Basically, the neoprene acts as a shock absorber, kind of  like a bungee cord, lessening the weight of the camera. And because it has a the non-skid pad, it stays in place when you slide the camera up and down the strap.

The straps are attached to the neoprene strap by heavy duty plastic connectors. They feel sturdy and strong enough to support my camera with the additional battery grip and extra non-kit lens. After weighing my camera with grip and lens, it came to around 6 lbs.  These connectors aren't made from cheap plastic. They feel very solid and they lock solid too. However, for those of you  who want added security or want that extra peace of mind, OP/TECH sells Secure-Its. They are type of Velcro that threads through the connectors to help prevent the connectors from coming apart.
The straps have a cord loop at the end that attaches to the camera body. There is a piece of leather that combines the loop and the connector together.  The leather tab seems to be quality leather and the stitching is well sewn. This is reassuring to me, considering that this is one part of what is securing my camera and keeping it from falling and smashing to the ground. OP/TECH appears to use quality material in the construction of their products. I have a leather hand strap that I like to use on my camera, and I was able to also attach the OP/TECH connectors with a little effort. It would have taken less effort without the hand strap attached, but it really was no problem at all. I love having both straps attached to my camera. It allows me versatility when I maneuver my camera at shows and gigs.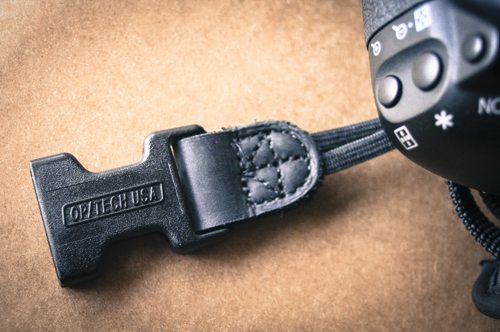 I have been using the Utility Sling Strap for awhile, and it has turned out to be a very useful addition to my DSLR camera arsenal. My camera glides smoothly and flawlessly each time I use the strap, and my camera hangs nicely at my side and out of the way until I need it. And when I need to take a picture, I just grab my camera, slide it up to my eye and take my shot.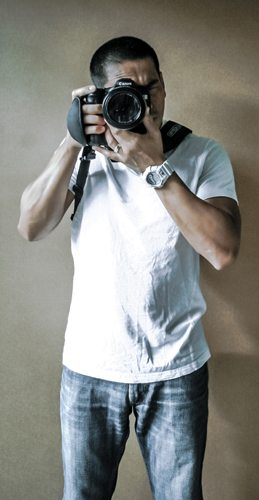 You never really think about camera straps unless you are looking for  something with a cool or pretty design since they really only serve one main purpose – to hang your camera around your neck. But when you think about it, a camera strap has factors and characteristics that can make carrying your camera comfortable, tolerable, and maybe even enjoyable. Because OP/TECH offers many numerous connectors in their catalog, you can literally have connectors on other cameras, or binoculars for that matter, so that attaching your neoprene strap is as easy as unsnapping and snapping the connector to swap out to another camera.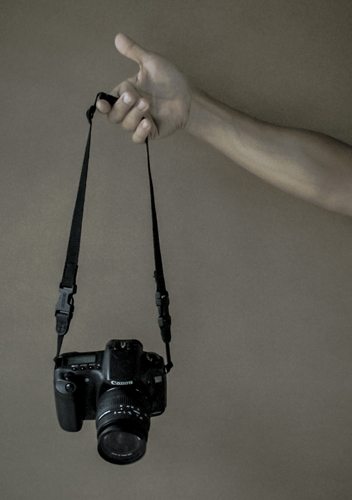 In addition to the connectors on the Utility Sing Strap, I have a Uni Adaptor loop that I use with my Canon 20D. With this smaller strap, it can be used as a small carrying handle without the neoprene pad attached.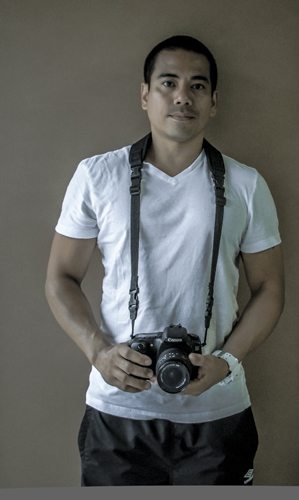 You can check out the Utility Sling Strap and a whole lot more products and accessories on OP/TECH's website, as well as helpful videos demonstrating and showcasing a few of their products.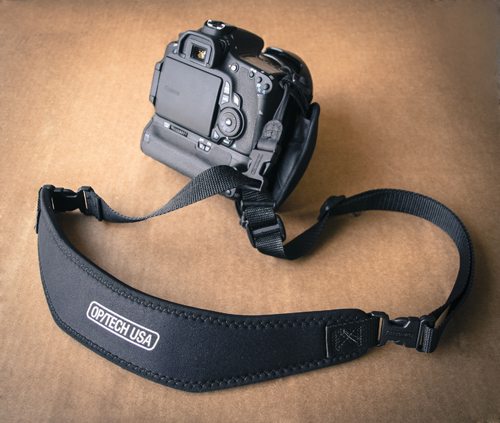 Keep in mind that OP/TECH offers many many various systems that you can customize to fit any needs you may have. You can check out the tons of straps and connection adapters as well as bags, cases, and covers on their website.
Product Information
Price:
$24.95
Manufacturer:
OP/TECH USA
Pros:

Strong strap webbing
Sturdy plastic connectors
Comfortable Neoprene shoulder strap
Easy to use
Available mix-and-match connectors
Relieves weight of camera load

Cons:

Not enough individual colors or patterns