We use affiliate links. If you buy something through the links on this page, we may earn a commission at no cost to you. Learn more.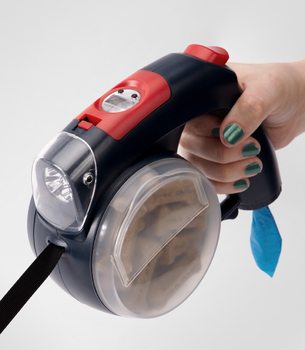 If you own a dog, this scenario is probably quite familiar to you: coming home to a dog just itching to get outside, unable to wait for you to get together all of the doggie essentials; in your haste to get him outside, you forget the all-important treat or, worse, the waste bag.  And the neighbor is watching.
The "smart" dog leash is an all-in-one, grab and go solution that has built most common needs directly into the leash itself.  It features an ergonomic handle with plastic bag dispenser, LED flashlight, treat compartment, pop up water bowl, and a clock.  Aside from the snazzy add-ons, it's a basic 16′ length retractable leash and recommended for small and medium dogs only.
The Smart Dog Leash is available online through Fred Flare for $26.