We use affiliate links. If you buy something through the links on this page, we may earn a commission at no cost to you. Learn more.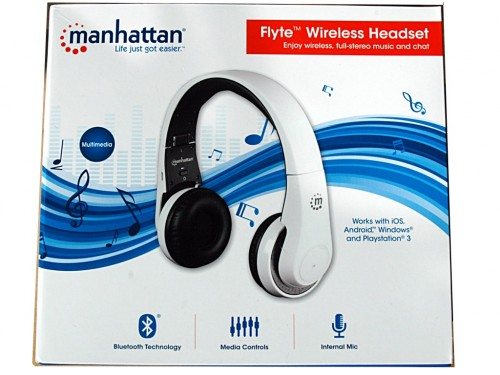 The Manhattan Flyte Wireless Headset is a versatile Bluetooth/wired headset that aims to cover all the bases for your music and voice needs. All of this capability is provided in a "flip-up" ear-piece design to allow for more compact transportation, to boot. The tradeoff here is going to be the weight/size of the headset. Since it contains a decent battery (which is a plus for wireless use), it's significantly heavier (1.5x) than a pair of wired-only Beats Solo HDs, for example.  Let's give them a closer look.
Inside the Stylish Box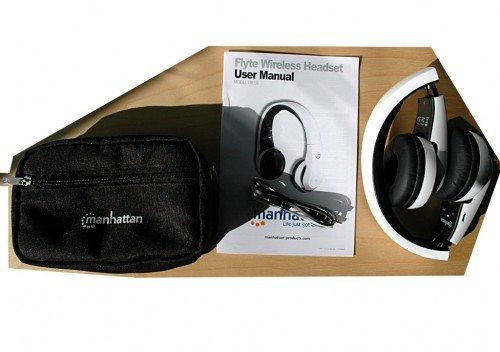 Inside the box you'll find the headset, a sturdy and slightly padded travel case, the manual, a generous 4′ long flat audio cable (three connector, for use with phone/PC headset jacks), and a USB cable for charging. You can see above the "folded for travel" configuration of the Flyte.
By the Numbers
The Flyte weighs in at a beefy 290g (2/3rd of a pound) but delivers 8 hours of audio playback/12 hours of talk time over Bluetooth thanks to that heavy battery. It supports Bluetooth 3.0 (which also covers BT 2.1/2.0) and the full suite of profiles needed for voice and high-quality audio playback, with standard 30'/10 meter range supporting pairing to 6 devices. It can recharge from any USB power source, including low power 0.5A sources, in 2-3 hours. It sports a parabolic microphone that should pick up your voice and reduce background noise. These are not noise-canceling headphones, but being full over-the ear-headphones, they do block out most ambient noise. The drivers are 40mm and the earpieces have decent padding, as does the underside of the band that sits on your head.
In a nice touch the Flyte uses voice prompts instead of coded beeps to tell you what it's doing when using Bluetooth.
Controls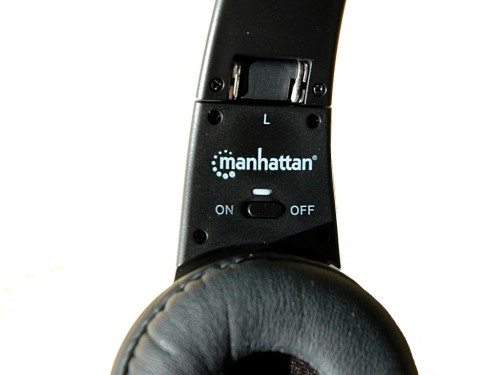 The left inside has the Bluetooth power on/off switch and blue LED. You can also see the hinge design. The hinges are rugged and look to be able to stand up to a lot of use. The headset also expands at this joint – pulling down for up to an additional inch on each side.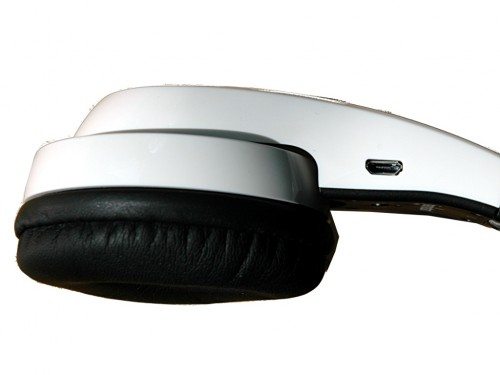 The left side sports the mircoUSB charging port.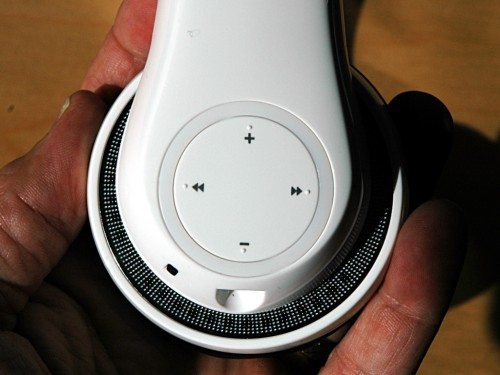 On the outside of the left ear piece are the audio controls for ff/rev and volume up/down. Raised dots help you find these controls when you're wearing the headset.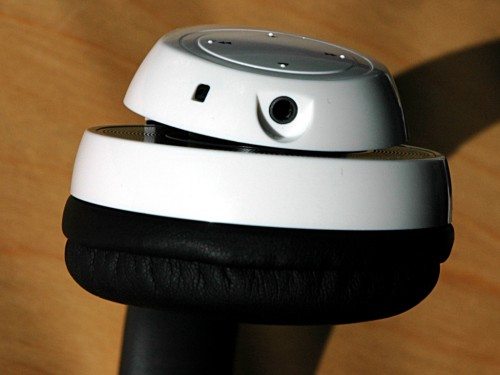 The bottom of the left ear piece contains the recessed microphone and a standard 3.5mm audio port. You can see in this shot the several degrees of 360-degree pivot motion available on each ear piece as well.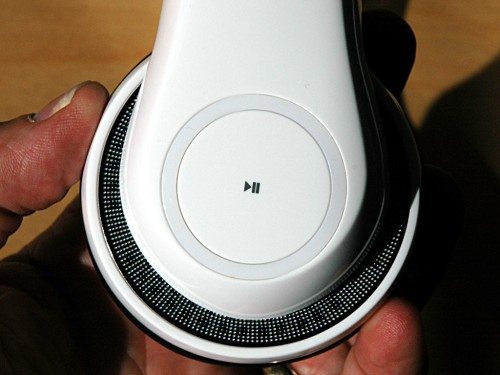 Sound/Mic Quality and Comfort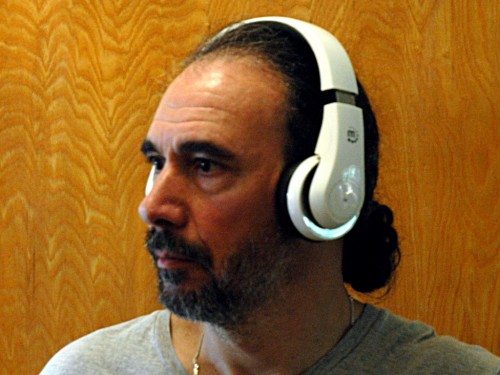 I've been told I have a big head. Even so, the Flyte fit comfortably, and I was able to achieve a tight seal on my ears. You'll note I needed to use the length adjustment to align to my ears. The Flyte delivers rich sound in both wired and wireless configurations. When used as a wired headset, the Flyte is "off" – no radio, no battery being used, and it's just a bulky headset. I've used the wired configuration for several cross-country flights, and the Flyte's over-ear design and thick earpieces provided good noise isolation even when sitting next to the engines of a commercial jetliner. Being wired, I was able to use them in flight (Bluetooth is not allowed in the air.)
Generally I found myself using them in a wired configuration when sitting at a desk working, or in conference calls, but they work equally well in wireless Bluetooth mode. Using Bluetooth enables all the controls (in wired mode they don't do anything) and of course lets you roam freely about a 30′ or so area. I had no issues with pairing, or interference, even in a fairly crowded-by-Bluetooth-devices office setting. Comparing the sound quality between Bluetooth and wired, I could not perceive any difference, but keep in mind my ears are old and have been abused by much loud music.
Conference call quality (voice/mic), wired or wireless, was excellent; my callers could hear me clearly with no dropouts. If you spend a lot of time on voice calls via a computer or phone while also listening to music, the Flyte is wonderful.
Battery Performance
The wired or wireless combination gives you essentially unlimited use, but should you go all wireless, you'd be hard pressed to run the Flyte's battery flat in a typical day. It pumped out sound at unhealthy levels for nearly 8 hours in my run down test – which consisted of an infinite playlist running out to a fully charged Flyte over Bluetooth, about 10 feet away, all day. I didn't have the desire to talk to someone for 15 hours, but it seems quite plausible that the talk time is also as rated. Recharge time via a 1A USB power adapter was 2.5 hour from fully flat.
Weighty Matters
Here's the only down-side to these headphones. They are heavy. I'm not exactly a wimpy desk jockey (I work out a lot), but if I wear these things for several hours I can really feel the fatigue in my neck. Posture is important here – so I guess you can say they're great at giving you postural awareness! Should you find yourself in a head-forward position with the Flyte on your head, you'll notice the weight pretty quickly. Also, the pressure on the ears is fairly aggressive (or, possibly, I have a freakishly large head) and at least for me it's usually a race between the neck or the ears getting sore and needing a break after an hour or so. Extended (multi-hour) wear of the Flyte is definitely uncomfortable for me.
Travel Buddy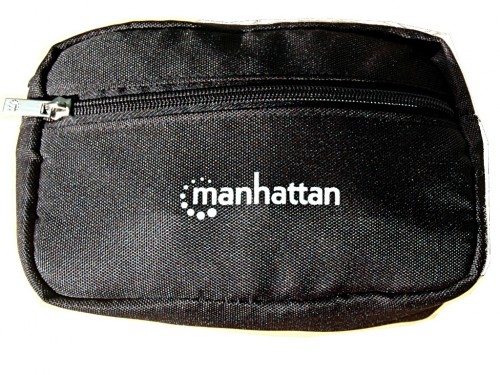 Even with their somewhat large size, the Flyte folds down and stuffs into its bag quickly and easily. Toss the bag into your backpack, and you're ready to hop on a plane. Or haul them to your office. Or campus. Or whatever you do. I've toted them with me daily for several weeks, including two short and two cross-country flights, and they're no worse for wear. In short, they're solid, and the bag does a great job of protecting them. You'll even have some nice conversations with your seat-mates on the plane before you disappear into a sonic cone of protection, as they are fairly distinctive in a sea of Beats headsets.
Wrap Up
Coming in at well under half the price of a Beats wireless headset, sporting distinctive styling, providing excellent sound and mic quality both wired and wireless, with all day battery, the Flyte delivers great value at the minor expense of being a tad on the heavy side. Overall, it's worth the weight. Heck, maybe they'll help me get a "ripped" neck.
Product Information
Price:
$99.00 (discounted online at web resellers to $85 or less)
Manufacturer:
Manhattan
Requirements:

Bluetooth 2.0, 2.1, or 3.0.
Standard 3.5mm audio jack
USB port/AC adapter (for charging)

Pros:

Audio/Mic sound quality wired/wireless
Folds for travel
Long battery life
Spoken mode prompts

Cons: