We use affiliate links. If you buy something through the links on this page, we may earn a commission at no cost to you. Learn more.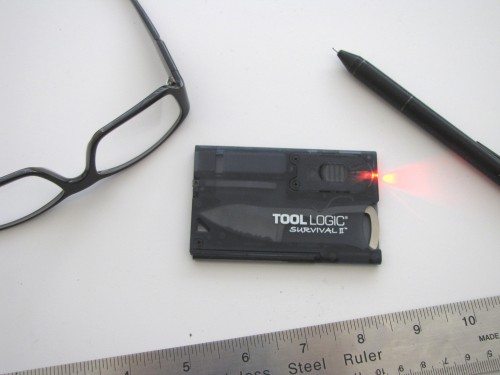 Are you a doomsday prepper or real world survivalist? Do you like to be prepared for any situation at anytime? Do you need an EDC tool that is multi-functional as well as practical? Do you need that tool to fit into your wallet?  Tool Logic's Survival Card 2 may give you that peace of mind you are looking for.
Note: Images can be clicked to view a larger size.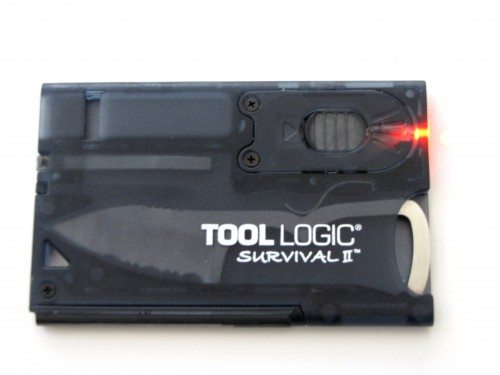 Lately, I have seen a lot of television shows dealing with survival and catastrophic situations. A lot of these shows talk about having "bug out" gear and EDC (EveryDay Carry) items. So I got to thinking about how I could build an EDC that did not necessarily look like an EDC system. What I came up with was an EDC wallet which I will be doing a post on in the future.
When thinking of what I should include in my EDC wallet, one of the first things I thought about was a pocket survivor tool. The tool I decided on was the Tool Logic Survival Card 2, a simple, lightweight, functional credit card-type multi-tool.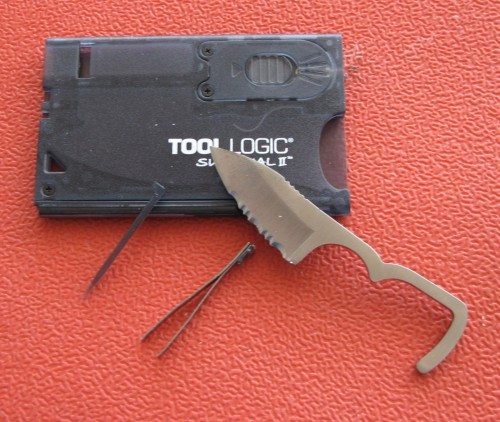 I chose the Survival Card 2 more for what it did have and not what it didn't. The Survival Card comes with six basic functional items:
Never miss one of our posts again. Sent MON, WED, and FRI with the latest gadget reviews and news!
Knife
Tweezers
Magnesium Alloy Fire Starter
Red LED Light
Signal Whistle
Toothpick
I know there are other cards that offer other options (compass and magnifying lens come to mind), but for the price and what I would need in a more urban environment, this version works fine.
The Survival Card itself is made out of ABS plastic; it weighs 1.3 ounces and is 3.375″ long x 2.125″ wide. The color is charcoal.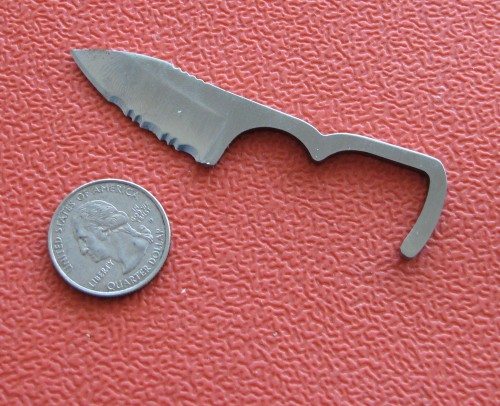 The knife is made of AUS 8A-type stainless steel, and as you can see by the picture, is relatively small. What I like about this knife is the different edges it has. The serrated edge is great for thick rope and cords and the fine edge for delicate work. The back of the knife can act as a striker for the magnesium fire starter. The handle of the knife fits well into my two fingers, and it is made so your finger will not slip onto the blade. The blade itself is small enough to be secured to a pole as a spear tip but large enough to do some damage if used that way.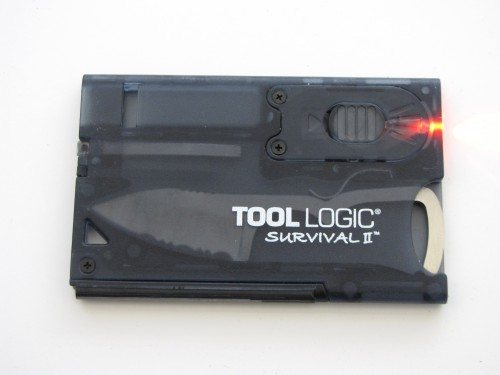 The red LED light is nothing spectacular, but it is always nice to have some light in a pinch. The light runs on a single CR220 3V battery which is held in place by the slider switch and two screws. The lights on/off switch is a slider that has a solid click when turned on and off. As for the light's brightness, it gives off enough light to be able to read or see stuff up close and will give off enough light in total darkness to navigate around, but that's about it. Like I said, not spectacular but it will do in a pinch.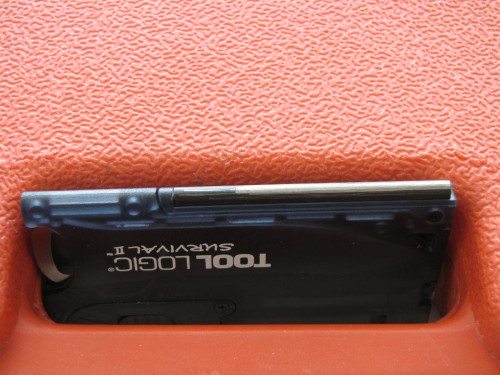 So the next item on my Survival Card is the magnesium fire starter. In my usual daily environment I don't think that I would have a need for this item, but if the world falls into chaos, I never know. The fire starter is approximately 2 1/4″ long;  you use the back of the knife blade to strike it. The fire starter works well enough to create sparks, but I have not had a chance to try to start a fire with it yet. I will note that the fire starter comes with a black or charcoal-colored coating on it that you must scrape away before you will get any sparks. Overall, it works as designed.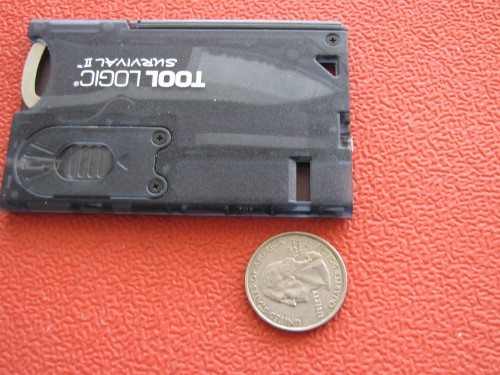 An emergency whistle is not something you may think about for an everyday EDC situation, but in a worst-case scenario (like being trapped in a building collapse or in a car that has run off the road into a steep ditch), it can be a life saver. The whistle is easy to use and is very loud. Again not something you think about, but if you need it, it is there.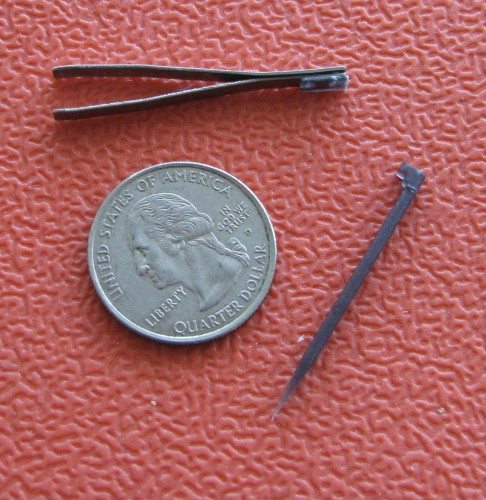 The last two items in this card are a toothpick and a pair of tweezers. I am sure you can find lots of uses for the toothpick other than picking your teeth, but to me it is just a so so addition. The tweezers on the other hand are a great addition to any EDC. The tweezers can be used for a variety of things besides tweezing. I have demonstrated how to use similar type tweezers to escape handcuffs and even assist in picking locks (both are ill-advised in most situations), so this is a very handy item. I must note, at the time of this writing the end nub on my tweezers broke off while the tweezers were in the slot of the card, making it almost impossible to get them out or use. I have written to Tool Logic and will update this post when they get back to me.
Overall, I like the Tool Logic Survival Card 2 for its basic functionality and size. I also like the fact that it is modular in nature with the ability to change out the flashlight and fire starter. The concept and design are well thought out and put together. The only real complaints I may have are the tweezer's end nub breaking and a wish for a white LED light option instead of just the red. The Survival Card 2 cost $25.75 on the Tool Logic website, but it can be found cheaper by searching on the web.
Product Information
Price:
$25.75
Manufacturer:
Tool Logic
Pros:

Size and Weight
Very functional
Quality

Cons:

No white LED light option
Tweezer's nub broke