We use affiliate links. If you buy something through the links on this page, we may earn a commission at no cost to you. Learn more.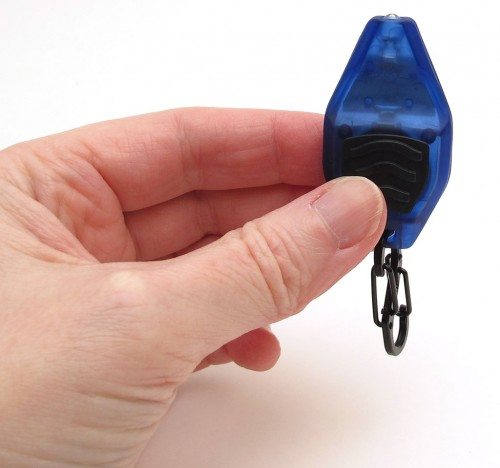 A few days ago I posted a news item about the INOVA Microlight STS keychain flashlight. We've all seen similar looking flashlights small enough to easily fit on a keychain, but the INOVA Microlight STS Swipe to Shine from Nite Ize has something I've never seen before with any flashlight… touch/gesture controls. That's right, there are no buttons or switches. This light is controlled solely by touch.
Note: Images can be clicked to view a larger size.

This flashlight is available in 4 colors including the blue version you see here. Also available are smoke, orange and olive.

The light itself is 2.18 x 1.09 x 0.43 inches not including the S-biner clip.
It's made of water-and-shock-resistant plastic that has a soft slightly rubberized feel. There's also a rubber non-slip thumb grip pad on the top.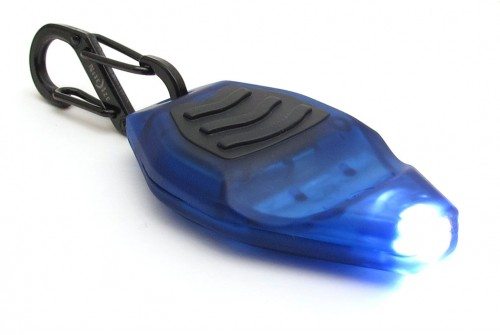 The Microlight STS is powered by 2 2032 lithium batteries which are already installed and can be replaced if desired. The LED has a max output of 16 lumens which will drain the batteries in 9hrs if left on at that setting. If you run the flashlight on the lowest setting (2 lumens) continuously, you can get up to 64hrs of light on a set of batteries.
If you check out the pictures above, you will notice the groove behind the LED. This is the touch area that features dual electrode capacitive sensing technology, which they call "Swipe-To-Shine". Basically you just swipe the pad of your thumb right to left to turn on the light and right to left to turn it off. If you continue to swipe, you will toggle into each consecutive mode: high, variable dim, low, strobe and off. To use the dim feature, you have to continue to hold down at the end of the right to left swipe.
See it in action
As you can see from the video, the touch controls work (even with gloves on), but just not 100% of the time. So in my opinion, the INOVA Microlight STS "Swipe to Shine" keychain flashlight is more of a gimmick than a truly useful keychain flashlight. Yes it works, but if I can't rely on one swipe to turn it on, it's useless to me.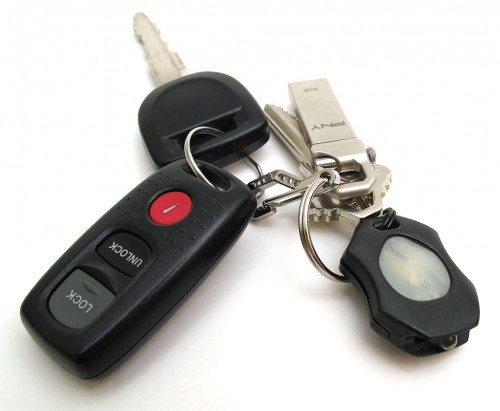 I'll stick with my current favorite – the Photon X-Light Micro LED keychain flashlight. It is half the size of the INOVA and has a soft rubber clicky switch that works perfectly every time you squeeze it.
What is your favorite keychain flashlight?

Product Information
Price:
$11.99
Manufacturer:
Nite Ize
Pros:

Unique touch interface
4 functions
Small

Cons:

Touch interface doesn't work consistantly