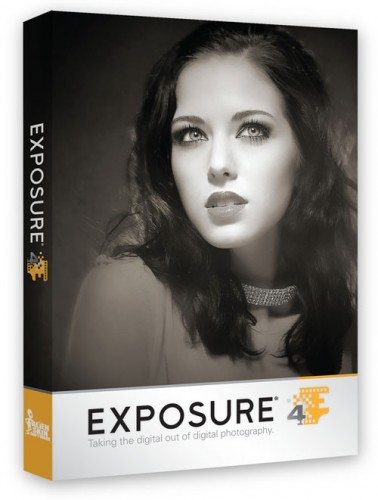 I have finally managed to get my images together for my review of Alien Skin's Exposure 4 plugin for Photoshop and Photoshop Elements. In my defense, this plugin packs in so many features that it simply took this long to try out most of the options. OK, I am a procrastinator. Hopefully I have put together enough examples to make the wait worthwhile.
First of all, let me just say that if you are a photographer and can only purchase one plugin to use with Photoshop or Photoshop Elements, this would be an excellent candidate. It is a comprehensive color adjustment tool that allows you to digitally mimic different types of film going all the way back to the origins of photography. There are options to convert your contemporary images do Daguerrotype, Cyanotype, Calotype, Lith, and Wet Plate methods. Exposure 4 allows you to add scratches, noise, and other methods to artificially age your photos.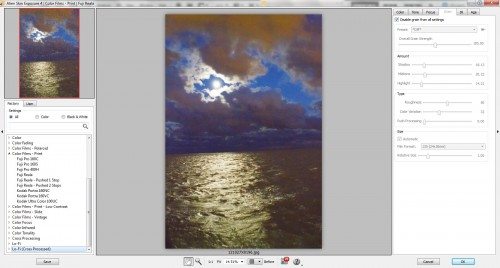 There are presets for every kind of film that I have ever heard of and more. The interface is clean and well designed with presets on the left side directly below a medium sized preview that dynamically updates as you mouse over the list of presets. When you click on a preset, the larger center preview quickly updates to show the result. Left clicking on the large preview switches the image back to the original, so you can quickly and easily switch back and forth between the original image and the selected preset.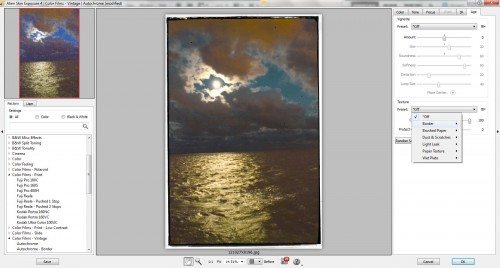 This plugin also provides presets for old cinema film types with a preset to mimic the look in the movie Jaws. I still struggle to overcome my fear of deep water almost 40 years after seeing that movie, but I digress. There are several Technicolor presets with various degrees of fading, scratching, etc. Still on the cinema presets, there are four, count 'em, four presets for the "Wizard of Oz" look.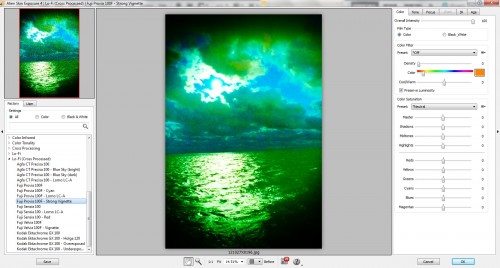 There is a whole subset of presets for various cross processing looks which are pretty popular with pro studio photographers right now. The presets are nicely grouped and organized by type with a plethora of old black and white film options. If you miss the days of grainy Tri-X 400 film pushed to 1600 ASA, you need not miss this distinctive look anymore. There is a preset for that two.
On the right side of the Exposure 4 screen, there is a tabbed interface for tweaking the settings. There are tabs for Color, Tone, Focus, Grain, IR and Age. Even though the plugin comes with a few hundred presets, you can modify these to suit your own photographic style for an unlimited number of variations. Back to the left side, there is a tab for User presets, so you can save any variation you create.
Many of the presets include various different border treatments — from vignettes in any color you like to rough edges and brushed effects. Although it is slightly less than intuitive and really the only weakness I found with the interface, these edge treatments are found on the age tab. At the top of the Age tab is a section for vignettes which is pretty clear. The texture section contains controls for dust and scratches which is pretty straightforward, but you will also find the various borders buried in here, too. I didn't immediately find these and I thought they could have been better positioned.
Enough complaining about where these controls are located, these features are why I say this plugin would be a good choice if you could only select one. These borders and textures go well beyond what I expected to find in a film emulating plugin. I have used a similar product for Nik — Color Efex Pro 3 — which does a pretty fair job of emulating various films, but does not include the borders and aging effects found in Alien Skin's Exposure 4.
I have put together a fair number of examples and I think it is time to show you some of the things that this plugin can do for your photography. While this is certainly not a comprehensive sampling, there are several different looks represented here. For a full resolution look at any of the samples below, just click on the photo. To see any of the photos with a single effect applied across the entire image, rather than split into original and three effects as shown below, visit this external SmugMug gallery where you can look at larger resolution versions on screen or download full-resolution files to your computer for a more detailed examination.
In the above example I applied a Fuji Reala pushed one stop preset which was a fairly subtle enhancement to the colors, as well as an old Calotype preset that included scratches and roughed up edges to age the photo even more. The far right was simply the Reala one stop with the addition of a border preset.
In this example I applied a Bleach Bypass with grain and additional contrast, another antique preset, and a Kodak black and white film preset.
In this photo of a seagull on a fence, I used Fuji Sensia low light preset that gave it a surreal warm look, a Fuji Velvia 100 that was a more subtle enhancement, and finally Tri-X with dust and a sloppy border.
This photo of a bird foraging for food in a marsh North of Palo Alto really pops with the addition of the Kodak Ektachrome VS preset. The other two are just border variations on the same preset. Now that I think about it, adding a wet plate tabbed texture to this preset was probably not an historically accurate rendering of the image. Oh well.
I took this photo of a competitor who had just completed a Muddy Buddy contest in the mountains above San Jose. It was a running/mountain biking/obstacle course/relay event. Standing around photographing all of this exercise was pretty exhausting. I applied a Kodachrome preset for a relatively subtle color boost and a couple different border treatments.
This mountain vista shot was taken as I walked slowly and carefully down the trails at the aforementioned Muddy Buddy event. I applied an Agfa APX 25 black and white preset — this is the closest I will ever get to channeling my inner Ansel Adams. I also the Kodak Ektachrome IR preset — like the surreal colors this preset brought to the image. Lastly, a Kodachrome preset that included  an old fashioned 35mm transparency border. I imagined Paul Simon would have been gratified to see that his beloved Kodachrome did not die out with the waning popularity of film. He might have been disappointed, however, to learn that this photo was taken with a Canon DSLR.
This photo was taken in a Lithuanian restaurant outside of Chicago. I loved the colors in the original photo and the old school film effects only enhanced the look.
We took the Circle Lines dinner cruise off the Navy pier during the same trip to Chicago. I got this picture of the moonlight reflected off the water from the stern off the ship. I like all of these presets, particularly the Cyanotype brushed high contrast which reminded me of an old postcard.
We were in the windy city when the aftermath of hurricane Sandy on the East coast was rolling through the area. I got some interesting shots of Annette with some pretty dramatic waves crashing in on the breaker wall with the city skyline in the background. I kept encouraging her to step back … just a little farther.
Here is a shot of Chicago taken in the golden light period just before sundown. The Fuji Provia preset subtly enhanced the colors and contrast of the image. I also tried a couple more nostalgic options on this image.
In this photo of some of my grandchildren (only slightly more than half of them) having fun the way only the young can have fun I applied a GAF 500 Warm preset to punch up the Fall colors, added a border to the same preset, and and old Kodacolor preset for a more nostalgic look.
In this photo from Times Square I applied a black and white infrared preset and a couple of old color film options.
This photo of one of the tower replacements under construction behind the 911 Memorial got treatments ranging from recent history to an early Cyanotype process.
Annette's green windbreaker got a little color boost from the Fuji Velvia 100 preset. The Polopan Blue preset had the opposite effect — toning the image down to a cold blue and white look. The last preset made the photo look like it could have been taken on the boardwalk on the 1920's.
My last example is a photo of the oldest object we saw on our New York trip — it is The Obelisk, an Egyptian artifact sculpted in 1450 BC. The Daguerrotype Damaged preset made the photo look like it might have been taken in 1881 when The Obelisk was set upright in Central Park.
I have really enjoyed using this plugin and I have applied one or more presets to several thousand photos since I first began using it several months ago. In my opinion, it is the best plugin of this kind and it has replaced the Nik Color Efex Pro plugin that used to be my go to color enhancement tool. The plugin can be included in a Photoshop action and applied in batch mode and won't crash your session like some other third party plugins. Exposure 4, by Alien Skin, is a mature and well designed plugin and I do not hesitate to recommend it to anyone serious about their images.