We use affiliate links. If you buy something through the links on this page, we may earn a commission at no cost to you. Learn more.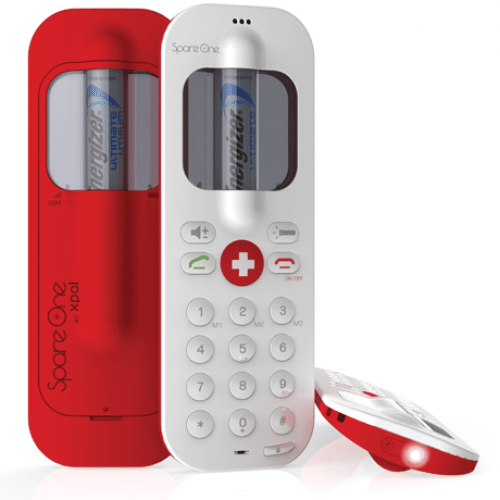 Ever wish you had a backup cell phone, or wish you had a spare laying around "just in case"?  The SpareOne Emergency Phone by XPAL Power just might be the thing for you.  The SpareOne Emergency Phone is a lightweight GSM phone that is powered by a single AA battery with a staggering 15 year shelf-life.
15 years?  OK let's get this one out of the way:  That's 15 years, sitting on a shelf, not powered on.  Let's take a look at the specs:
Talk Time: Up to 10 Hrs
Standby Time: Up to 15 years
LED TorchLight: Up to 24 Hrs
Battery Type: Energizer Ultimate Lithium L91™
Shelf Life: Up to 15 years
Weight: 2.65 ounces (75g)
Dimensions: 4.7″ long X 2.4″ wide X 0.5″ thick (120 x 60 x 13 mm)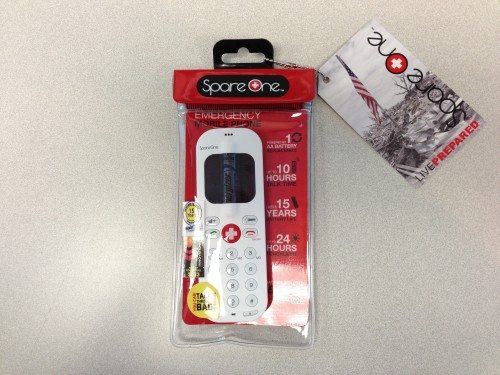 The phone comes in its own waterproof bag.  In reality, you can slip any phone into this kind of bag, but the fact it came packed this way underscores the emphasis on emergency preparedness.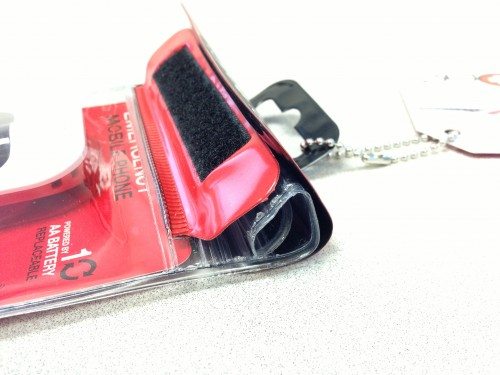 Inside, you'll find the phone, instructions, and some quick-reference stickers.  No charger necessary.  A lithium AA battery comes pre-installed.  Pull the plastic tab and you're ready to go.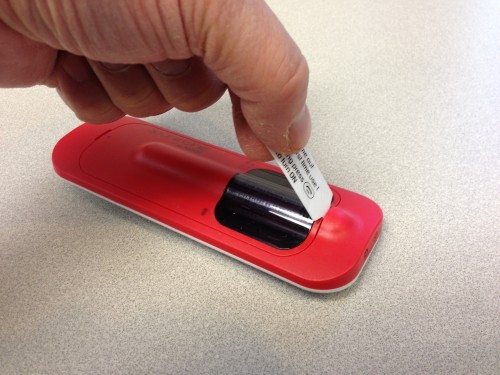 The battery door comes off without tools.  Swapping batteries is quite simple.  You'll also find the SIM card slot, plus a mini SIM adapter.  A metal SIM removal tool is included if your donor phone's SIM access requires it.  See the following images.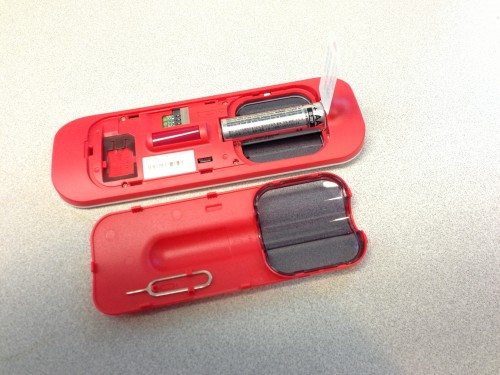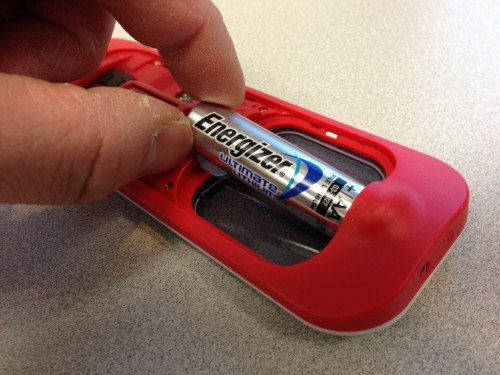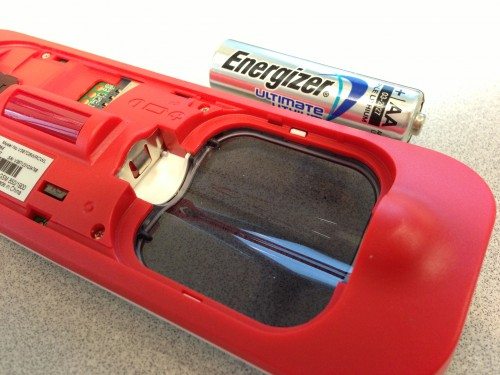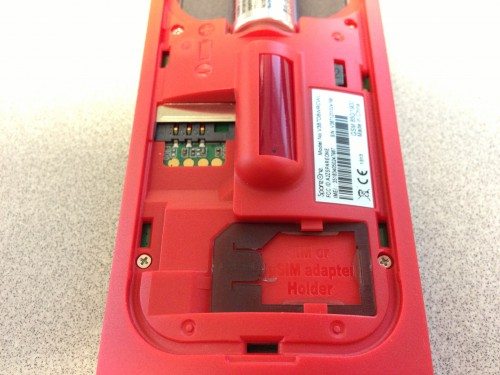 The phone functions are pretty spartan.  You get some memory dialing and a handy LED flashlight, and that's about it.  Two colored LEDS behind the "screen" are your only indications that the phone is on.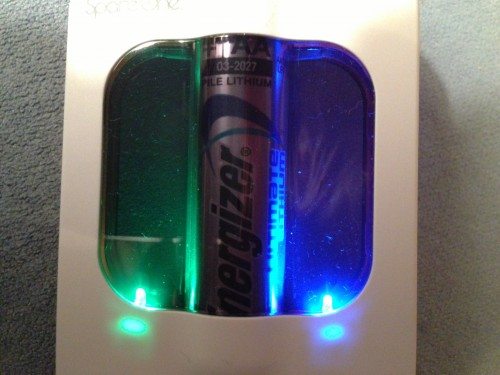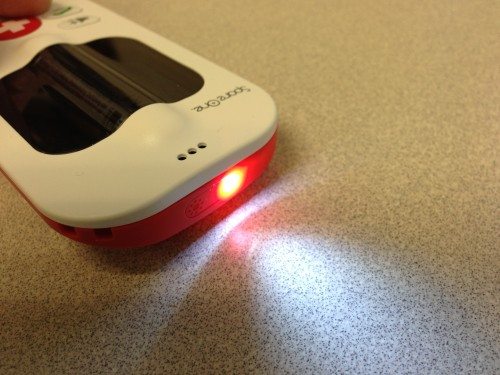 The volume button is a toggle.  Press it repeatedly until you get the volume you want.  Worried about accidental butt-dialing?  There's a dedicated lock button in the lower-right corner.
The large red button with the white cross autodials 911 for emergencies.  You do NOT need a SIM card for this.  Therefore, out of the box (bag), you get a working emergency phone that runs off a single AA battery.  In truth, any cell phone will do this trick, but without the convenience of an easy-to-find battery.
The manufacturer also says the SpareOne can be geolocated in case of an emergency, even without a SIM card.
Incoming and outgoing call clarity was just fine for a phone that feels as light as this does.  The incoming ringtone is a fixed "ding-a-ling" sound.  And since there's no screen, you hear a series of ascending or descending tones when you power up or down.
You could use this as a travel phone, but there are some things you need to consider, especially if you're spoiled by a modern cell phone:
You must choose between one of two GSM versions:    
There's no voicemail indicator to let you know you have a message waiting.  Plus, the typical "press and hold 1" to dial your voicemail won't work, either.
There's no text messaging.  There is an auto text reply function.  The SpareOne will reply with an automatic text response informing them that you cannot read text messages and can be reached via phone calls instead.
It has no display.  You don't NEED one, but I found entering phone numbers without a display to be a little disorienting.  Also, no caller ID, of course.
Powered by a single AA battery, the SpareOne makes a great emergency kit phone.  The phone's light weight and its waterproof bag makes the SpareOne a great "travel" phone if you're going somewhere less-than-hospitable and you don't want to bring your full-featured phone.  Just make sure it'll work where you're going first.

Product Information
Price:
$99.99
Manufacturer:
XPAL Power
Requirements:

GSM SIM card, 850/1900 MHz or 900/1800 MHz region

Pros:

Powered by a single AA battery
Long shelf life (with lithium battery)
Handy LED flashlight built in
Comes with waterproof bag
Can dial emergency services (911, etc) without a SIM card

Cons:

Not quadband: You must choose between 850/1900 MHz or 900/1800 MHz.
Very basic (no display or texting)