We use affiliate links. If you buy something through the links on this page, we may earn a commission at no cost to you. Learn more.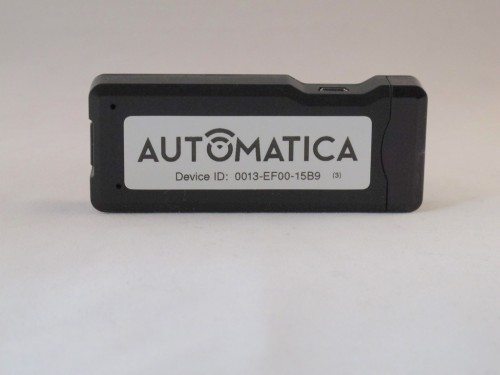 If you're like me, you probably listen to music or podcasts when riding in your vehicle.  While I've never found it particularly difficult to aggregate my content to use in the car, the folks at Inrete think they have a better way to do it using their Automatica device.  The device requires a USB port in the vehicle and  WiFi access to update the content.  When I first read about the device, I didn't really understand the need for it, so I expected using it might change my mind.The premise is that your music and podcasts are collected on their provided web site, and are then automatically downloaded to the WiFi enabled Automatica device, which stays in your vehicle.
Hardware Specifications:
• ARM Cortex A8
• Dynamic Frequency up to 1GHz
• 1 GB internal DDR RAM
• 4 GB internal Flash
• 2 GB USB exposed storage (more than 24 hours of audio)
• micro SD card expansion slot (up to 64GB)
• USB 2.0 MSC/UMS protocol device on miniUSB connector
• WiFi 802.11b/g wireless network
• 5V DC USB standard power
• 130 mA average load for car usage
• Operating temperature: 0° to 35° C (32° to 95° F)
• Nonoperating temperature: -20° to 45° C (-4° to 113° F)
• Width: 35 mm (1.38 inches)
• Depth: 89 mm (3.5 inches)
• Height: 14 mm (0.55 inches)
• Weight: 30 g (1 ounce)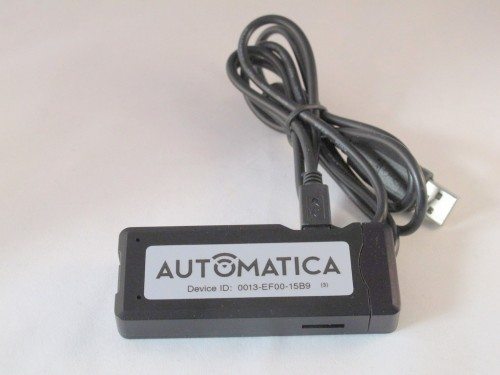 The test unit consisted of the device and a USB to miniUSB cable.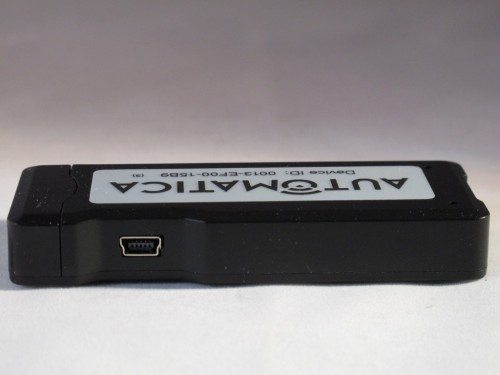 On this side you plug in the miniUSB cable, which then connects to your vehicle USB port.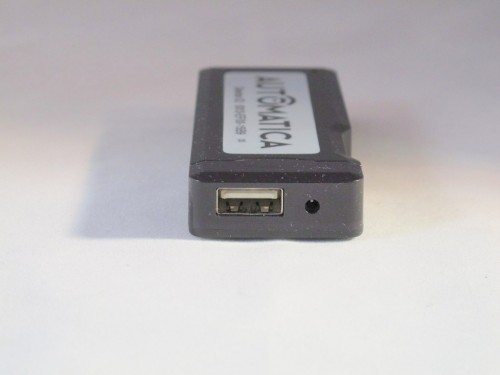 This USB connector is labeled host, and I have no idea what it's used for.  Next to it is an input for external power.  No power adapter was included.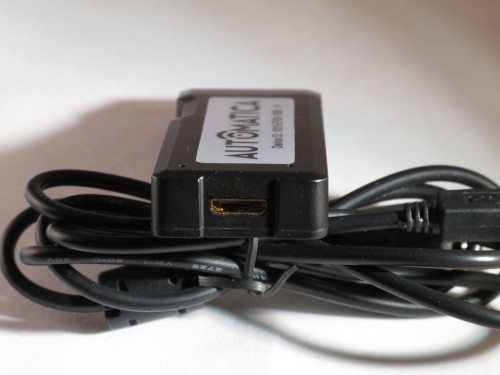 Here we have a connection labeled HDMI.  This is not used, but I have an idea why it's there.  I'll speculate later.
The first step in enabling the device is to create a free account on the Automatica web site.  Once that is done, you will need to download a small program that connects the device to your WiFi network.  This works with Windows or Mac.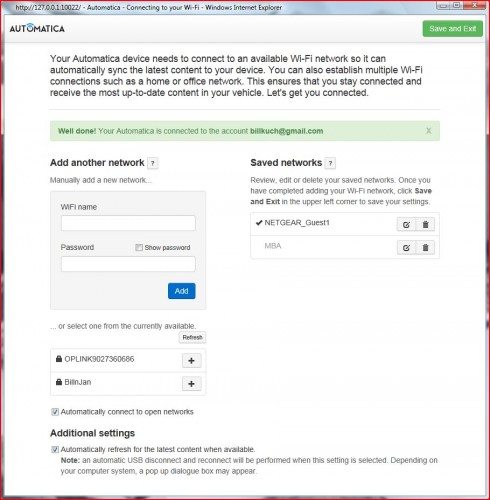 You can add several networks such as at your home or work and also allow the device to access any open network it might find.  Now that we're connected, we'll want to set up the content that will be delivered to the Automatica device any time it's in range of a known WiFi network.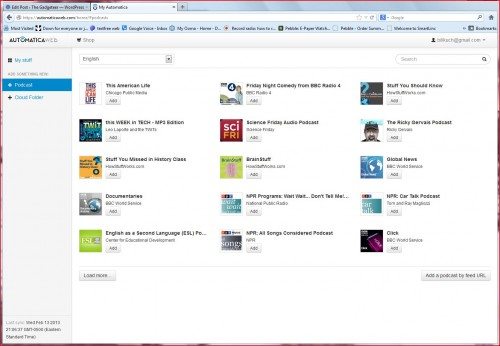 Under your account, there will be a list of podcasts that can be downloaded to the device.  After you select them, they should be  polled on a regular basis and will be updated to the device when in WiFi range.  Podcasts can also be entered using a URL.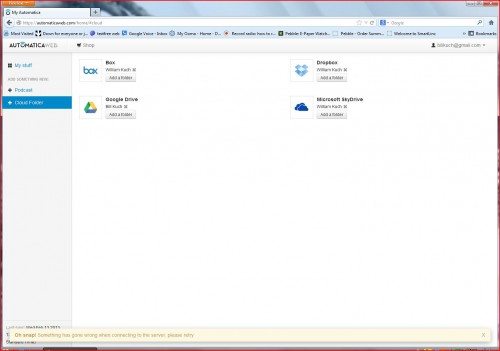 In addition to podcasts, the device will poll four different cloud storage applications and will download the content to the Automatica device.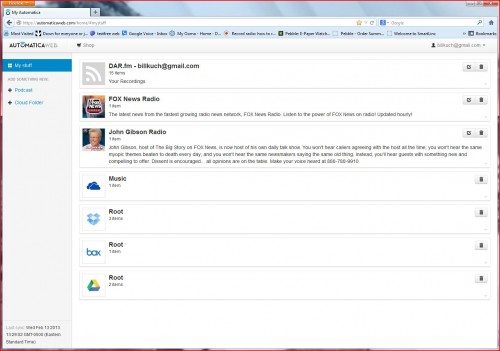 I grabbed a couple of podcasts and put some music files in my cloud storage applications.  After I had everything set up, I plugged the device into a USB power adapter and waited for a while.
The next day, I gave the Automatica a road test while my wife drove us.  I have a Ford with Sync, so I had the required USB port for the audio system.  I use the port all the time for my iPod.  It allows me to control the iPod from the radio and steering wheel controls.
It takes a while for the device to be recognized by the Sync system, because the Automatica is actually an Android system that takes several seconds to boot up.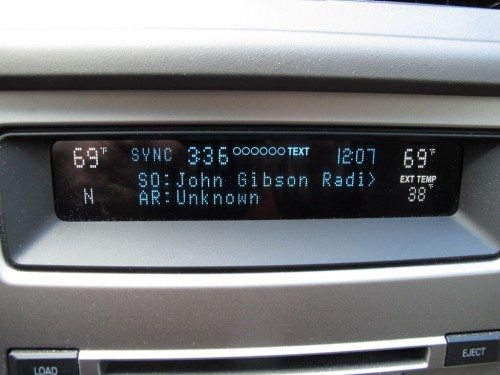 I was able to control the device just like my iPod from the radio.  I also had track information on my display.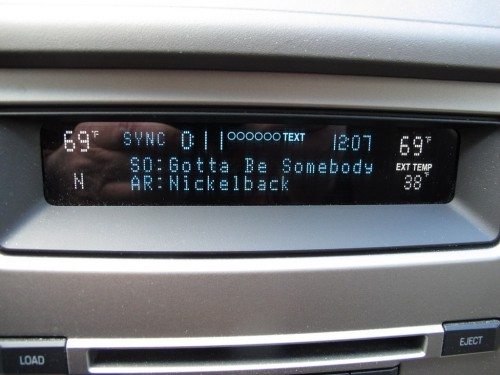 Song titles were displayed along with artist and album information.  Well, it worked for a while.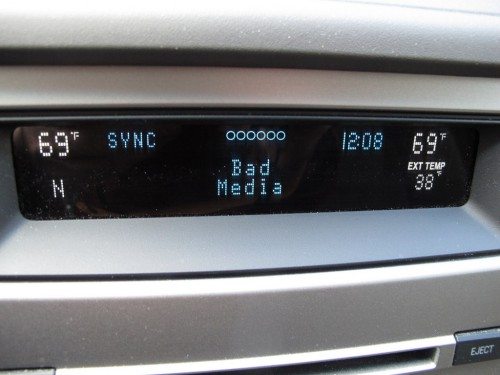 The next day I took the device back out to the car and decided to do some more testing.  It had been 12 hours since the last test, and I kept the device plugged into a USB power adapter the whole time.  Theoretically, you're supposed to keep the device in the car, so when you are in range of  WiFi it will update itself.  I do have WiFi in the garage, but there is no power to the USB port when the car is off.  As a matter of fact, most if not all vehicles act the same.  Since the last time in the car, the device had updated itself several times and now was indicating bad media.  Also, it no longer downloads new podcasts and only grabs 3 of the 4 cloud application folders I've set up.  On my account page, it does show that the device is polling on a regular basis, but nothing has been downloaded for a day, even though there are new podcasts available.
Aside from the issue of the device apparently not working anymore, I really don't know why it exists.  The alleged objective is to leave the device in the car and have updated content automatically downloaded  at night or anywhere there's WiFi access.  However, when you turn the car off, there's no power!  Also, how many open WiFi access points are there anymore?  Most of them need a least some input to a splash screen, which would preclude the Automatica connecting.  Do you really need a device that downloads content over WiFi so you can play it in your car?  I do all this now by putting my music and podcasts on my iPod and plugging it in to the USB port on the car.  I can get updated podcasts by using D.A.R. (free) and then downloading them to the iPod with RSSRadio (free), and I can do this at any location that has free WiFi such as Starbucks, etc.  Remember the HDMI port I mentioned.  It leads me to believe that someone came across a contract manufactured ARM-based Android device and decided to change the software and sell it as the Automatica.  You'd be better served by putting the $99 towards an MP3 player or a fist full of thumb drives.
Product Information
Price:
$99
Manufacturer:
Automatica
Retailer:
Automatica
Requirements:

USB audio connection port in vehicle
PC or Mac for setup

Pros:
Cons:

Doesn't download when vehicle is off
Expensive
Stopped working after one day