We use affiliate links. If you buy something through the links on this page, we may earn a commission at no cost to you. Learn more.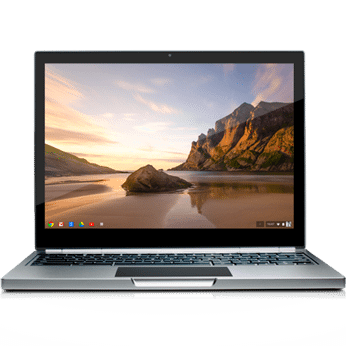 Google has released its Chromebook Pixel, which looks like the nicest in the Chromebook series yet! It has a 12.85″ display with a 3:2 aspect ratio and super high pixel density – about 239 pixels/inch. They say this is more than the average 118 pixel/inch on other leading laptops, which will give us an ultra smooth and crisp image. Just like other Chromebooks, the operating system will be Chrome OS. You can use any of your favorite Google services such as Gmail, YouTube, Google+ Hangouts and other Chrome Web Store apps that you have synced with your account. You also get 1 Terabyte (wow!) of online storage with Google Drive for three years and 12 free sessions of GoGo Inflight internet.
Other features of this notebook include a glass touchpad, Gorilla Glass touch screen, and backlit keyboard that responds to ambient light – similar to the Macbook backlit keyboard. There will be an integrated 720 HD camera, SD/MMC card reader, 2 USB 2.0 ports, and mini-display port. Common features with other notebooks that this has include 4GB DDR3 RAM, Intel Core i5 processor, Intel HD 4000 Graphics, headphone/mic jack, and about 5 hours of "active use" battery life. It has dual-band 802.11 a/b/g/n WiFi, Bluetooth 3.0 and an built-in LTE modem (for the LTE model of Pixel). This would get you 100 MB/month for 2 years of mobile broadband from Verizon Wireless.
All in all, this looks like a pretty sweet notebook! I wish I could get my hands on one to try it out. As a former Chromebook user (I once purchased the $250 Samsung Chromebook), I like Chrome OS since I use so many Google products, but do miss certain features when it comes to being able to install full-on desktop applications. I think if I were to use a second laptop, I'd definitely try this Pixel out due to the nicer hardware and screen.
The Pixel WiFi model (32GB SSD) is available right now on Google Play for $1299.99 USD. The Pixel LTE model (64GB SSD) will be available soon on Google Play for $1449.00 USD.