We use affiliate links. If you buy something through the links on this page, we may earn a commission at no cost to you. Learn more.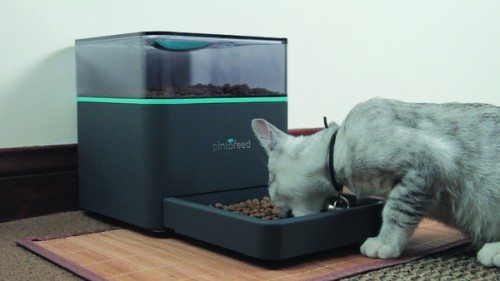 Throughout the years, feeding your pet has evolved from a bowl on the floor to an electric feeder that provides perfect portions. Pintofeed has taken this a step further with their automatic pet feeder that is controlled with your smartphone. When connected to your home WiFi network, the Pintofeed can be accessed by multiple users with different access levels. It has a food capacity of 5 pounds (expandable to 10 with a separate add-on) that is kept fresh with their specially designed freshness seal. The feeder is powered by an A/C adapter and 4 D-batteries; has an internal memory to ensure your pet gets fed if the network or power goes out.
One of the neat things about the Pintofeed is that it will learn your pet's feeding patterns and create a schedule based on when your pet is fed. When it dispenses the food, you can get a notification via text, email, Facebook, or Twitter. The portion size can be customized to keep a healthy feeding schedule for your pet. The Pintofeed is compatible with Android, Windows 8, and iOS devices. Production is scheduled to start in March, and you can reserve it now for $129.