We use affiliate links. If you buy something through the links on this page, we may earn a commission at no cost to you. Learn more.
This post brought to you by Arcsoft. All opinions are 100% mine.
I imagine that people find themselves the subject of a lot of candid photos nowadays, because it seems everyone has a smartphone with a camera.  You no longer have to worry that you don't look your best in candid portrait shots, because the free Perfect365 Windows 8 app from ArcSoft lets you fix your face after the fact. 
With just a single tap, Perfect365 will fix flaws to perfect your look.  You can go for the natural look, or you can add makeup for a subtle or dramatic look.  You simply open a photo from one of your device's photo albums, or take a photo with the camera, and the magic begins.  The app uses advanced facial-detection functions to identify the eyes, nose, mouth, and checks with remarkable precision.  Since not everyone has perfect, symmetrical features, you can use the KeyPoints function to adjust how those facial regions are selected.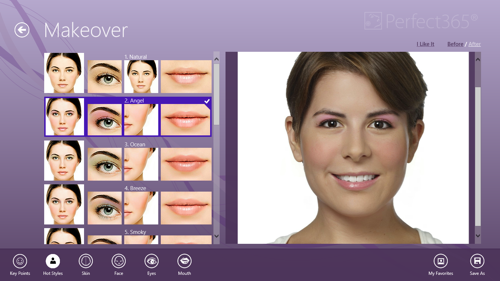 With just a tap, you can apply a simple, natural look to your face, where slight blemishes or under eye circles are masked.  You'll look refreshed, as if you just had a relaxing nap.  This works equally well for males or females.  There are other pre-defined adjustments that add makeup effects.  You'll have longer, more defined eyelashes and rosier cheeks, even eyeshadow and lipstick.
Use the customize option to apply your preferred enhancements.  Here, you'll be able to make changes to everything from your skin's appearance to your eye color to whitening your teeth.  You can add makeup effects and even change the shape and appearance of your cheeks, eyes, and nose and trim your face.  You can even save a set of customized effects as the "My Style" option for quick editing of your photos.  You can view your before and after photos in a side-by-side view to preview your changes, and you can save your corrected image to your photos or share them with your friends and family.
The Windows 8 version of the Perfect365 app is free in the Windows Store.
ArcSoft also has a Perfect365 iPhone app, and I found a Perfect365 HD version for the iPad in the iTunes store.  I downloaded the app and was amazed at how easy it was to use and how impressive the end result was.  Even my daughter Rachel was pleased with the adjustments to the quick photo I had taken of her to enclose with her ACT test application.
Get the Perfect365 app, and you'll never have to cringe when you look at your photos again.