We use affiliate links. If you buy something through the links on this page, we may earn a commission at no cost to you. Learn more.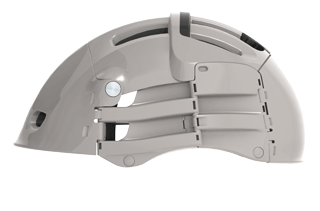 Note:  This product is actively seeking funding on a European crowd-funding site called Ulule.
Bicycle helmets are a necessity for safety but a pain when you're not actually riding your bike. When not being worn, Overade's folding helmet folds to reduce the volume of the helmet to a third of the original size for easy storage off the bike. Available in black or white, the helmet will be available in two sizes: S-M, for a head circumference of 54 to 58 cm, and XL, for a head circumference of 58 to 61 cm. The helmet weighs between 350 and 400 gram depending on size.
It is worth noting that at the moment the helmets are only on pre-sale and don't actually have any safety certifications yet.  Pre-sale pricing is €75 ($99) for the helmet with a protective cover (which folds with the helmet without being removed).
What goes great with a folding bike helmet? A folding bike of course! If you ever considered buying a folding bike, this article about Common Misconceptions About Folding Bikes is a good place to start.