We use affiliate links. If you buy something through the links on this page, we may earn a commission at no cost to you. Learn more.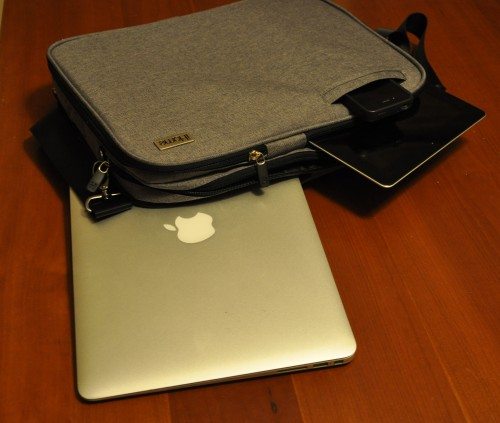 We Gadgeteers haul our tech everywhere. Sometimes, we just need a few things, sometimes we need a lot. Sometimes we need to look presentable and business-like, sometimes it's OK to look like we're packing for a trip into a war zone or the wilderness. The 13″ Smart Sleeve for Mac from iHome is for those times when you need just a few things, and you want to make a good impression. Minimally sized for a MacBook Pro or Air, iPad, iPhone and just a little more, this will not be an EDC bag for many. But when you need to just have any of those devices, their power cables, and maybe a few files or magazines, this is going to rock your world. Let's take a closer look.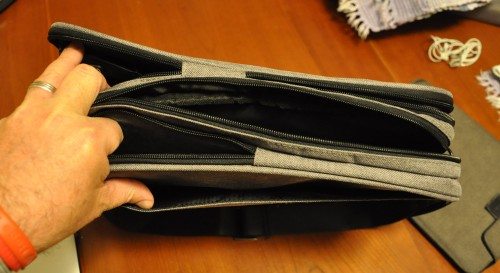 The iHome Sleeve is covered with a tweedy fabric that has a tough, yet elegant feel. The zippers are black nylon with a single chromed slider covered with a black plastic stamped with iHome's logo. The center compartment has dual sliders, and the zipper runs across the full length of the top. There is no grab handle or loop, but the strap, which connects at each end of the zipper with heavy chromed buckles, is a light, strong, seatbelt-type material. You can easily grab the two sides to carry in one hand, if needed. Remember, this bag is not going to carry a huge amount of stuff, so you won't have trouble managing it with a single hand.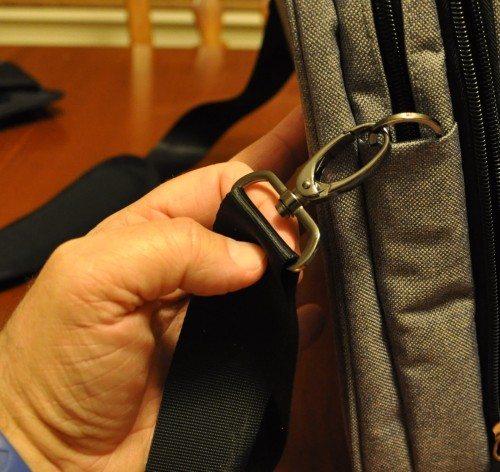 On the back, there is a full-width slit pocket that closes magnetically for quick access to newspapers or flight documents, and the bottom of this has a zipper so that you can slide it over the extended handle of rolling luggage.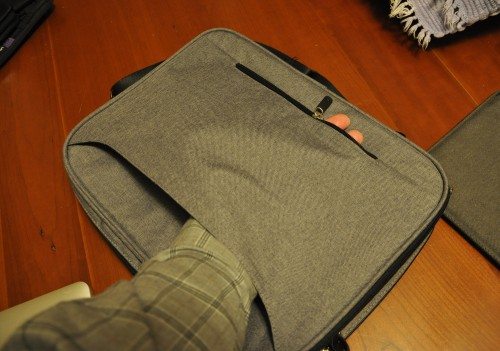 Outside dimensions are 10.5″ x 13.8″ x 2.5″. Overall, it's shaped like a traditional laptop bag, but the internal design and pockets are quite a bit different. There are three "layers" for lack of a better term, with specific, labeled functions for each.
On the bottom layer is a full-sized, plush-lined sleeve for your laptop. Not your giant 17" monstrosity, or that super-thick beast you've been schlepping around since the late 90's, but a slim, modern, Ultrabook-type laptop – 13″ screen, tops. iHome says it's for a 13" MacBook.  The zipper for this layer runs around the top and down one side, so there's no worry about it flapping open and you losing your MacBook Air to a "gravity incident."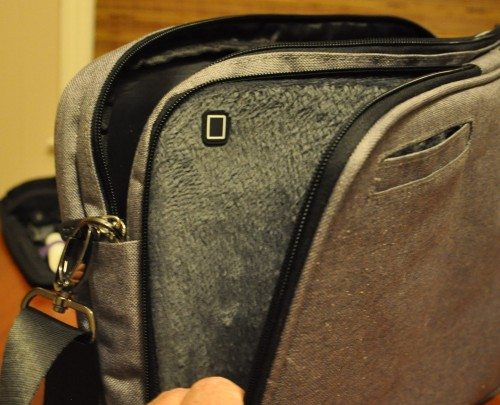 The middle layer is just a 1.5 inch wide full-sized compartment where you can fit full letter or A4 files, books, or maybe a fresh shirt and tie for your meeting. Not a water bottle, your dSLR, or your kid's stuffed animal. It's tight, but roomy for what it's designed for.
The top layer is where things take a really interesting turn. It's divided into two halves, each of which is opened from a narrow end. On one side is a plush-lined iPad pocket which will only fit a standard-sized iPad or smaller tablet. It won't hold my iPad in its JAVOedge envelope, and even with an Apple Smart Cover, it's a tight fit. Naked is best. The zipper goes across the top and down the side, but, like the MacBook compartment, does not open wide for safety. On the outside of this pocket is a slip-in pocket, plush-lined, sized for an iPhone. (Yes, it will hold an iPhone 5.)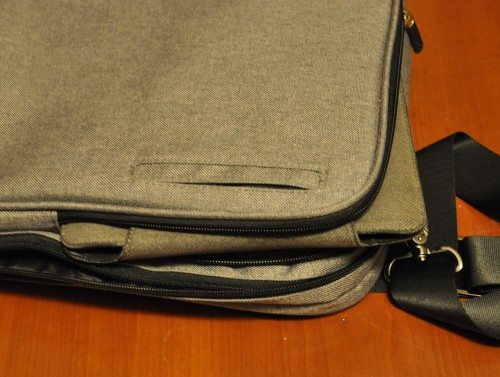 The other half of this layer is devoted to a pocket with several accessory pouches, designed for power adapters and cables. The sizes are perfect for your MacBook, iPad and iPhone chargers, and earbuds/EarPods. (This one is magnetically sealed.) There's room for a little more, and there are two elastic pen loops, as well. This section zips completely from the center of the top to the center of the bottom, but the outside padding is stiff enough to prevent it from flapping open wide. On the top, there is no indication that the top is divided.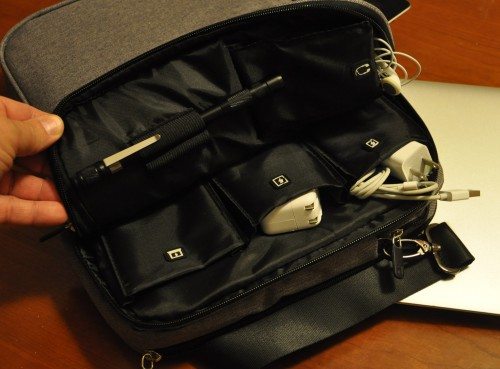 There have been times in my life when I lusted for a bag exactly like this. Heading out for a quick trip where you know you're not going to need all the emergency items we tend to carry, where you're only gone for the day or a few hours, this is a perfect bag. My wife can't wait for us to use it on our next flying vacation, since it will easily hold in a single bag what we struggle to manage in two.
It fails for me as a frequent-use bag is in two areas: the tightness of the interior pocket and the size of the iPad pocket. If I could get my iPad in there with any type of cover or sleeve, it would be a no-brainer for me to use this as my regular bag, at least on days off when I don't need all my work stuff. If there was a little more wiggle room on the size and shape of the middle layer, where I could put in some slightly bulky items, without worrying about cracking the screen on my iPad, I'd be thrilled.
As it stands, though, it's a great little bag for when you need exactly what it excels at – carrying your devices and chargers and a few flat files. For that, it gets five stars.