We use affiliate links. If you buy something through the links on this page, we may earn a commission at no cost to you. Learn more.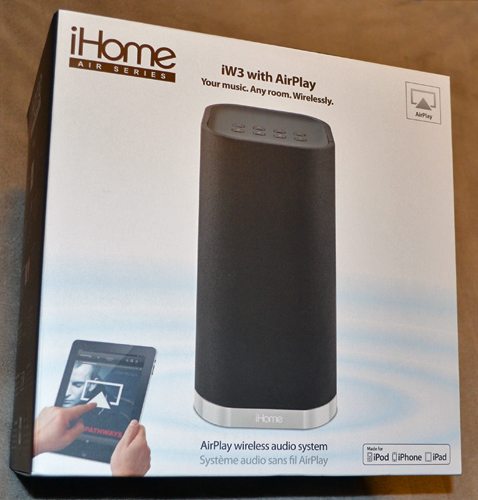 iHome makes a lot of nice accessories for Apple products, and I've gotten to review quite a few things.  I've reviewed docking speakers and Bluetooth speakers, but the iW3 AirPlay Wireless Stereo Speaker System is the first AirPlay speaker from iHome that I've gotten to try.  As you know by now, I have a lot of Apple products in my house.  I now have a mixture of iOS devices with the old 30-pin connectors and the new Lightning connectors, so docking speakers aren't very convenient anymore.  AirPlay speakers that don't rely on any connector are the way to go in the Cloninger household these days.  So, let's give the iW3 a closer look and listen.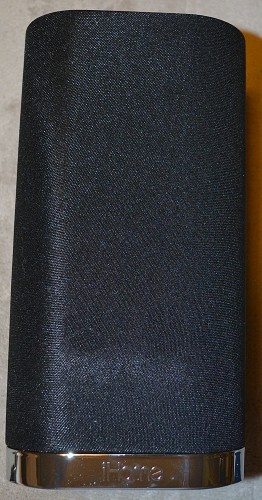 The iW3 is a black monolith with a silver band at the base.  The front and sides of the speaker are covered with a stretchy knit fabric.  Unfortunately, this fabric is a pet-hair magnet.  My shiba inu's orange hair shows up nicely against the black.  The iW3 also seems to be available in gray and red.
As usual with iHome speakers, I don't find a lot of technical specifications. The speaker is 9.4 inches tall and about 4.6″ square.  It weighs 3 pounds, 10.4 ounces on my digital kitchen scale.  iHome says this is a stereo speaker with four active speakers with "custom Reson8 speaker chambers and SRS TruBass digital sound processing for dynamic audio performance."  There are no specifications for frequency range.
The iW3 is an AirPlay speaker, meaning it connects to your WiFi network and is available to any Apple products on your network.  AirPlay speakers are available to iOS devices, such as iPhones, iPod touch, and iPads, or computers running iTunes that are connected to the same network.  AirPlay, unlike Bluetooth, allows you to connect your music source to multiple AirPlay speakers at once, so you could have several of these iW3 speakers scattered around your house and send music to all of them simultaneously for a house full of sound.  You don't have the 30-ft connection limit with AirPlay.  Your speaker can be anywhere that your WiFi signal reaches.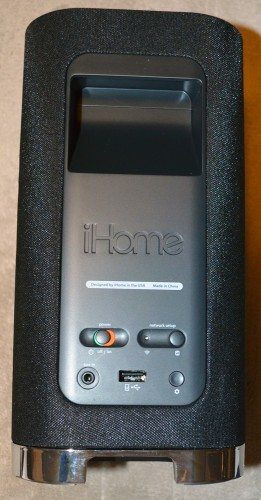 The back of the speaker has the master power switch (button with the orange/red halo on the left) and a WiFi network setup button (far right).  Between them is a network status light that indicates connection setup mode, connection established, and no connection status.  On the bottom row, you'll see an Aux-in connector where you can connect non-AirPlay audio sources with a 3.5mm audio cable (not included).  The middle USB port allows you to connect an Apple device with either a 30-pin or Lightning connector (you'll have to supply your own Lightning cable) to charge the device as you play music in "local mode".  Local mode doesn't use the AirPlay connection, so you can connect non-iOS iPods and use them as the audio source for  the speaker.  The rightmost button is used for firmware updates.
The indentation at the top is a handle for carrying the iW3 speaker.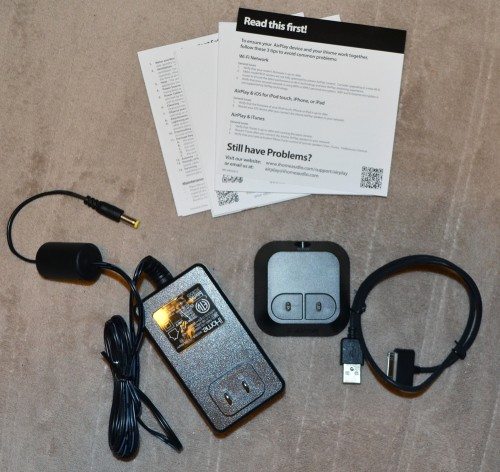 The iW3 comes with a collection of booklets, a power adapter, a charging base (middle of bottom row), and a 30-pin USB cable.  This cable can be used to connect an iPod without AirPlay capabilities, as mentioned before, or for charging an iOS device.  It is also used setting up the speaker using your iOS device and WiFi sharing mode.  I simply turned on the master power switch on the back of the speaker, connected my iPad mini to the USB port on the back of the iW3, and then pressed the network setup button.  (I had to use my own Lightning cable, as the iW3 didn't come with one.)  After a couple of seconds, a pop-up message asked if I wanted to share my iPad's WiFi settings with the iW3.  I said yes, and the iW3 was connected to my network and ready for use.
You can also manually setup the network connection using the iHome Setup app that's been installed on an iOS device you've connected to the USB port on the back of the speaker, or you can use a WiFi-connected computer for establishing the iW3's connection to your network.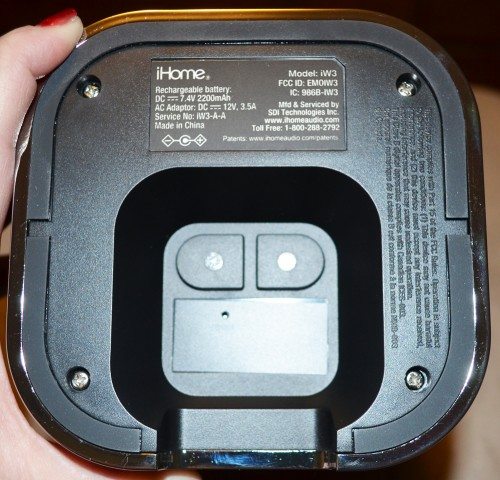 The bottom of the iW3 has a depression with a couple of metal connectors.  This is for the charging base.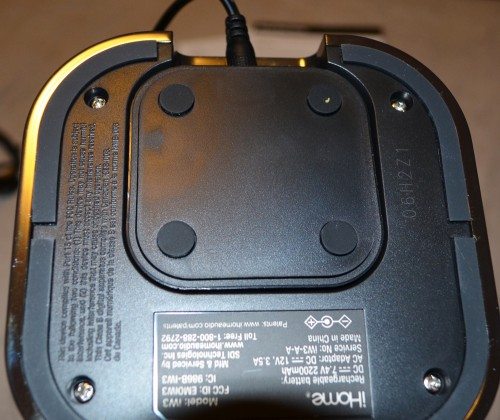 The speaker sits on the charging base.  The base not only provides power to the speaker, it charges the internal rechargeable lithium-ion battery.  When the battery is fully charged (takes about 10 hours), you'll be able to carry the speaker from room to room with you – anywhere your WiFi signal reaches – without having to worry about finding an electrical outlet where you're going.  You aren't restricted to the 30-ft limit of a Bluetooth connection with this speaker.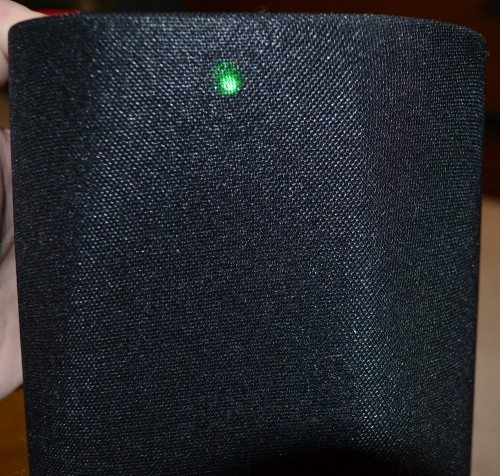 There's a status light at the top of the front.  Solid green shows the unit is on; blinking green shows the volume is muted.  Solid red shows the battery is charging; blinking red shows the battery needs charging.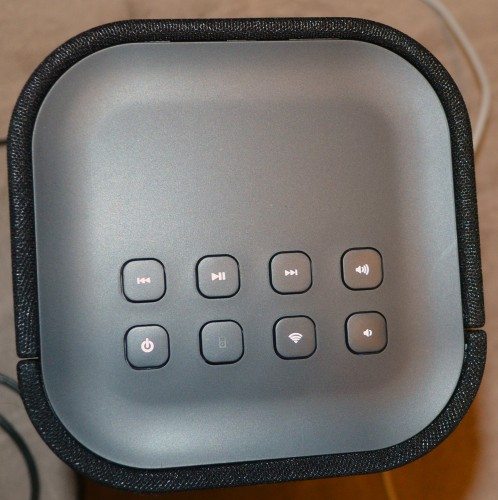 When you are streaming music to the speaker through AirPlay, you can control playback on your iOS device or computer.  You can also control playback and volume using the buttons on the top of the iW3.  Which of these buttons light up and are functional depends on the speaker's mode.  This image shows the AirPlay mode, as indicated by the lighted AirPlay mode button (2nd from right, bottom row).  Other connection modes might disable the playback buttons but leave the volume control buttons active.  The iW3 doesn't come with a remote control.
I connected my iPad mini to the iW3 speaker via AirPlay and gave it a try.  I listened to several genres and various artists.  The speaker has an impressive amount of bass, but it of course doesn't rattle the windows.  You hear the bass, but you don't feel it.  The sound is clean and clear, with no distortion even when I cranked the volume up to an uncomfortable level.  The iW3 can certainly fill the room with sound.  It sounded good at lower sound levels, too.
I listened to vocal music, rock, pop, orchestral, and dance music.  I thought it sounded best with songs that didn't have an over-emphasized bottom end.  Vocals from Josh Groban and Israel Kamakawiwoʻole sounded rich and warm, and the speaker seemed designed for acoustic guitars.  Music never seemed overly bright or harsh.  I listened to Powerman 5000; the song sounded good, but it was missing some of the bottom end – the thumping part that makes you want to get up and throw yourself around the room because you just can't sit still.  If dance/club/hip-hop/rap is your life, this speaker won't be your best choice.  If you prefer pop/vocal/Bluegrass, even orchestral or rock, you'll be pleased with the sound from this small speaker.
Speaking of small, I didn't expect a lot of stereo separation from a speaker this small (although iHome says it's stereo), and I didn't get any separation.  Even though I didn't get dizzy listening to the panning in the intro of Art Garfunkel's I Only Have Eyes for You, the song still sounded good.
I think the iW3 would be a great speaker for your office, dorm room, or anywhere you want good sound from a small package.  With AirPlay, you won't have to worry about keeping your device within 30 feet of the speaker, as you would with Bluetooth.  It has a rechargeable battery, so you could even take it with you on a picnic if you bring along the USB cable (or an audio cable).  You could fill your house with music for a party if you place several of these speakers in a few rooms.  It's a bit more expensive than other iHome speakers I've tried, but not much more.  It seems like a good deal for people like me with a lot of iOS devices, and you won't have to worry about a dock connector making your expensive speaker obsolete.
Product Information
Price:
$199.99
Manufacturer:
iHome
Retailer:
iHome
Pros:

Great sound in a small package
No distortion even at very loud volumes
Sounds good at low volumes, too
Decent bass from a small speaker
AirPlay means you can use it anywhere your WiFi connection reaches

Cons:

Not ideal for bass-heavy music