We use affiliate links. If you buy something through the links on this page, we may earn a commission at no cost to you. Learn more.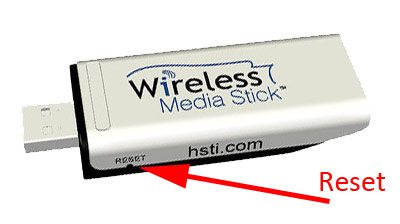 Last year I bought 2 new TVs for my house. I got a great price on both of them, and the HD picture looks great on both of them.  And being the tech guy that I am, I immediately started looking for ways to take advantage of that gorgeous HD screen.  The TVs were not top of the line models, so there are  no wireless capabilities built into the TVs.  So when I started looking at ways to get the media (audio, video, and pictures) scattered throughout my house in various places onto this TV, most of the solutions were a bit 'techy', if you will.  I am an admitted 'tech guy' as I said, and even some of these solutions turned me off because it seemed like you had to jump through 7 hoops to make it happen. I wanted something cheap and simple. So the Wireless Media Stick from HSTi claiming to stream your media to your TV intrigued me. Surely it couldn't be this simple?  Let's find out.
What it does
The Wireless Media Stick (WMS) looks like a slightly thick USB thumb drive.  It has built-in wireless, and it acts as the middle man between your various computers around your house and your various USB-enabled devices around your house, like your TV. So the WMS enables me to wirelessly play on my TV those movies that are located on my computer hard drive sitting in my family room.  It has no storage on the stick itself, so you don't load anything onto the USB stick.  The WMS also does not care what type of media you have because the playback of that media is not dependent on the WMS, but rather on the device (e.g., your TV) that is playing the media. The WMS is just the middle man, so think of it as a simple bridge.
Tech specs
So here are the basic tech specs on this thing, for those geeks among us:  The WMS wireless is 802.11 b/g/n (2.4GHz).  The USB is 2.0.  The frequency range is 2.400 ~ 2.500GHz.  And the security options are WEP 64/128, WPA, WPA2, TKIP, and AES-CCMP.
And as you can see from the picture above there is a small 'reset' hole on the side that would presumably let you reset the device if it gets hung up or something. That never happened to me so I never used that reset hole.
Setup
Never miss one of our posts again. Sent MON, WED, and FRI with the latest gadget reviews and news!
Setup is pretty easy, which was a pleasant surprise to me. Here are the steps:
Plug the WMS into your computer. After a number of seconds you'll be able to open up the WMS in My Computer to see the installation files on it.
Double-click on the file named WMS_SetupWizard.exe.
It will first walk you through connecting to your wireless network.
It will then ask you to choose either 'Basic' or 'Advanced' file sharing.  I chose 'Basic'.  'Advanced' is what you can choose if you have Mac, Linux, or a NAS device.
It then asks you to pick the folders on your computer that you want to share. You just pick the folders you want to share without having to dig into the file system and mess with folder sharing settings. THAT was nice.
A new shortcut shows up on your desktop that once clicked on will open up a browser window to enable you to confirm your WMS stick is communicating with your network and that the folders you picked to share are showing up correctly on the WMS. On this screen you can also get access to settings that enable you to reboot your WMS and reset it back to factory settings.
Limitations
There are some things you need to keep in mind up front when using the WMS.
As I said the WMS doesn't have built-in storage, and you can only share up to 1 TB of storage or 30,000 files, whichever comes first.
The WMS file system implementation is FAT32 which will limit the file size of your media file to 4GB. So if your movie file is larger than 4GB you'll need to re-encode it to a lower quality or split the file into multiple files. I have seen statements by HSTi that NTFS support is in the works but not currently available yet.
The level of performance you'll experience is affected (obviously) by your wireless signal, so if your network is being hogged by your son's online video game play, your media playback may be choppy.
You won't be able to stream things like Pandora or HULU from your computer.  Just media files sitting on your computer.
If you add any media files to the shared folders while the WMS is plugged up to your TV, they don't automatically show up as available.  You'll have to unplug the WMS and plug it back in your playback device.
Performance
I was very pleased with the WMS playback. I was able to plug it up to both of the TVs (the only ones in the house with USB capabilities by the way), and both of them, without one hiccup, played music files, videos files, and displayed pictures from multiple computers in my house. All the drivers and software on the WMS itself, and it requires no power cables of any kind.
The stick was a little bit of a tight fit in the USB port on one TV. I wasn't sure if it was going to work because the WMS is a bit thicker than most USB thumb drives, but I pushed it in slowly and it worked. I can see some TVs being a problem because of the thickness of the WMS.  So buying a short USB extender cable might be needed for some TVs.
I have seen some reviews where people plugged up the WMS to their Playstation or a Blu-ray player that were USB-enabled, but I don't have either of those.  Basically, any USB-enabled media playing device should work with the WMS.
Finally, the WMS also comes with support for connecting to your Android smartphone. I downloaded the free Android app from the Google Play Store, set it up, and I was able to play a video from my phone to my TV.  My phone does not have an HDMI port, so I have never been able to do this before, so that was really cool.  My video did stutter a little bit during the playback, but I honestly think it was due to the age of my phone, which has become a little slow.
Bottom line
For the price of around $50-60 (which is what I am seeing online various places), the WMS is a good value to me. If you already have a streaming device in place such as a Roku player, or your TV already comes with wireless capabilities and streaming media features, then this device probably won't interest you. The WMS fit a specific need I had, which was wirelessly getting media onto my TV that isn't network-capable. And setup was easy.
Product Information
Price:
$50-60
Manufacturer:
Home Server Technologies Inc.
Requirements:

Wireless network
USB-enabled devices

Pros:

Easy setup
Smooth playback

Cons:

Tight fit on some playback devices
Hard to find right now