We use affiliate links. If you buy something through the links on this page, we may earn a commission at no cost to you. Learn more.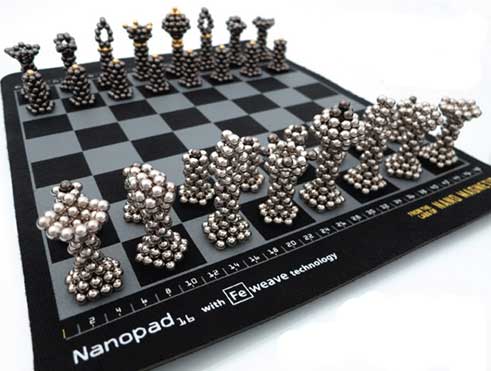 We've reviewed a couple different types of magnetic sphere sets before, but these Nanodots seem to be a step above anything I've had the opportunity to play with. They are currently available in mega size and in different colors and are priced between $24.95 – $49.95 depending on color and the number of balls in the set. You can also buy a Nanopad which you see here. This is a mat that has iron fibers embedded in it. You can use the mat as a base to build your creations or play a game of Nanodot chess.
You may have heard that these magnetic balls have been pulled from store shelves in the US and other countries due to children mistaking them for something edible and ingesting them. Swallowing tiny magnets like these can cause very serious health problems, including death. The company behind Nanodots have been  working on a way to make their magnets safer by using a coating that has a bad taste. This coating doesn't make the Nanodots look or work any differently than non coated Nanodots, but oh wow do they taste yucky. I know this because they sent me a few samples and I tasted them. It's all in a day's work folks.  But seriously, it should go without saying that you should keep these geek toys away from very small children. Adults can still buy Nanodots online at the Nanodot site, as well as Barnes & Noble stores.